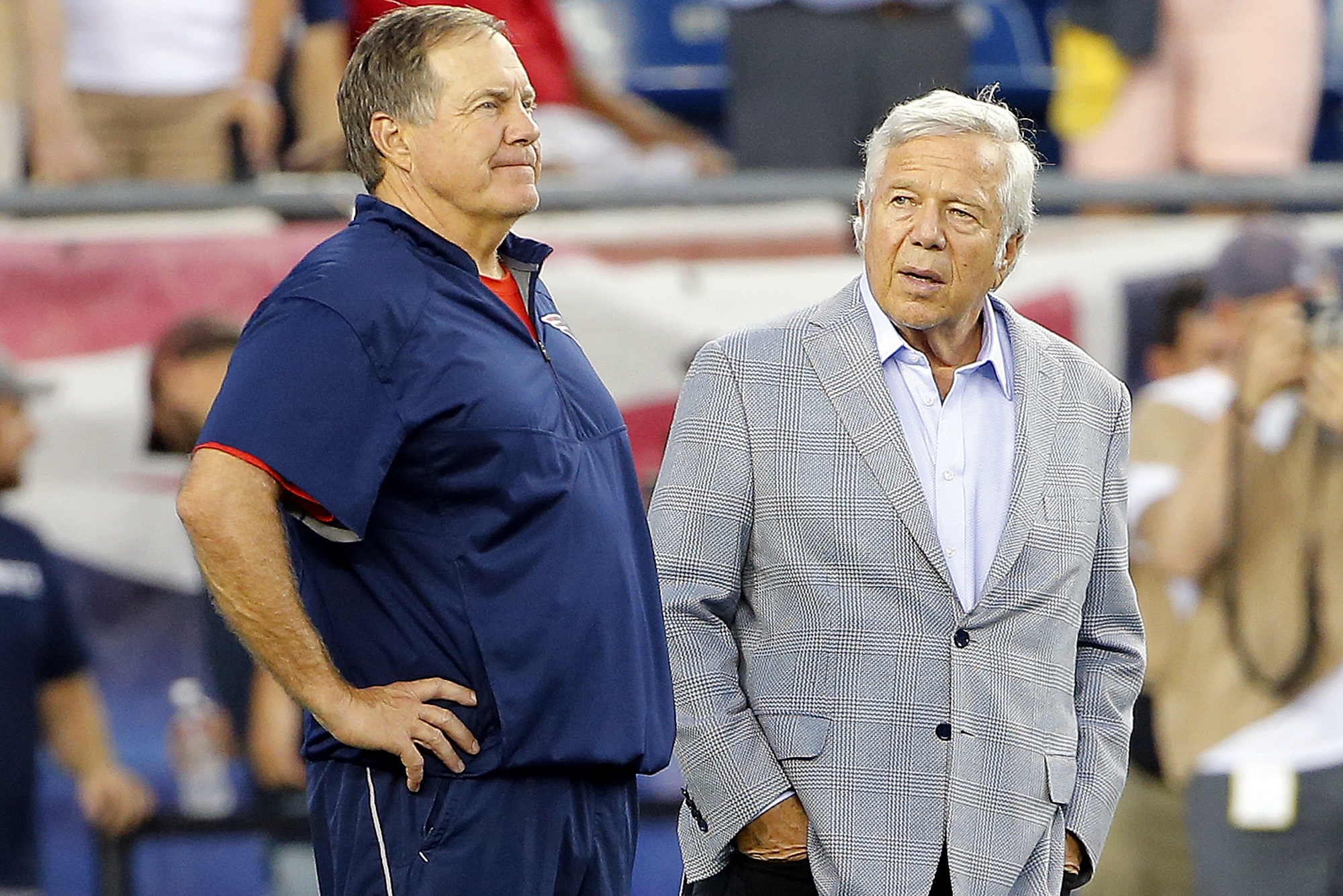 No owner, coach combination in NFL history has been more successful than Robert Kraft and Bill Belichick. The two men symbolized what a successful owner, coach partnership should look like. In recent years however, it seems like the two men are no longer on the same page.
Yesterday's owners meetings in Arizona reinforced the notion that there is a schism of sorts between the two men.
Belichick was non-commital about quarterback Mac Jones being the team's starting quarterback. Kraft on the other hand called himself a "big fan" of Jones.
Kraft however did not do Jones any favors when he mentioned that the rapper Meek Mill told him three or four days ago that Ravens quarterback Lamar Jackson wanted to play for the Patriots. Kraft said he would be open to the possibility but the decision to acquire Jackson was ultimately Belichick's. Translation. I would love Jackson but if we do not make a run at him, it is on Belichick, not me.
When Kraft was asked if he would like Belichick to break Don Shula's wins record, he gave a rather pointed answer.
"I'd like him to break Don Shula's record, but I'm not looking for any of our players to get great stats," Kraft added: "We're about winning and doing whatever we can to win. That's what our focus is now. It's very important to me that we make the playoffs. That's what I hope happens next year."
Interesting response. Kraft further raised eyebrows when talking about current Patriots linebackers coach Jerod Mayo and what he thought of him. In an interview with Judy Battista of NFL Network, Kraft called Mayo a "strong candidate" to be the next coach of the Patriots. He also noted that the team has "other good people" on hand as well.
The one thing both men seemingly agree on is how much money the Patriots spend. Belichick has been under fire over the years for the team's lack of spending. Both men defended the team's track record.
"I think we've been pretty competitive every year that I've been here with the Patriots. That's our overall plan," Belichick said. When asked about the overall relevance of spending correlating to team success, he pointed to the team's previous success. "So I expect it to continue that way. I think the team has been managed pretty well over the last 20-however-many years. So I think we'll continue managing it the way we've been competitive every year. I expect we'll continue to be competitive."
Kraft echoed that sentiment and pushed back on the popular notion that the team doesn't spend to win.
"Bill, in 24 years, has never come to me and not gotten everything he's wanted," he said. "If you're going to sign a quarterback or do what we did three years ago where we spent No. 1, over $120 million, I don't know that it was worth it. But I'm willing to do it if we're going to win. Ownership has always made the cash available. Money spending will never be the issue. I promise you. Or I'll sell the team."
Kraft and Belichick have been the embodiment of unparalleled success the last 24 years in the NFL. For the first in their tenure, we are starting to see a difference of opinion on the direction and future of the franchise.
The upcoming season is a big one for Belichick. Kraft supported him publicly on Monday but will he continue to do that if the Patriots do not make the playoffs next season? That remains to be seen.
For now, these two men have some differences of opinion in regards to the direction of the franchise. Whether these are vast differences is unclear. We won't know until the end of next season just how far apart they are.