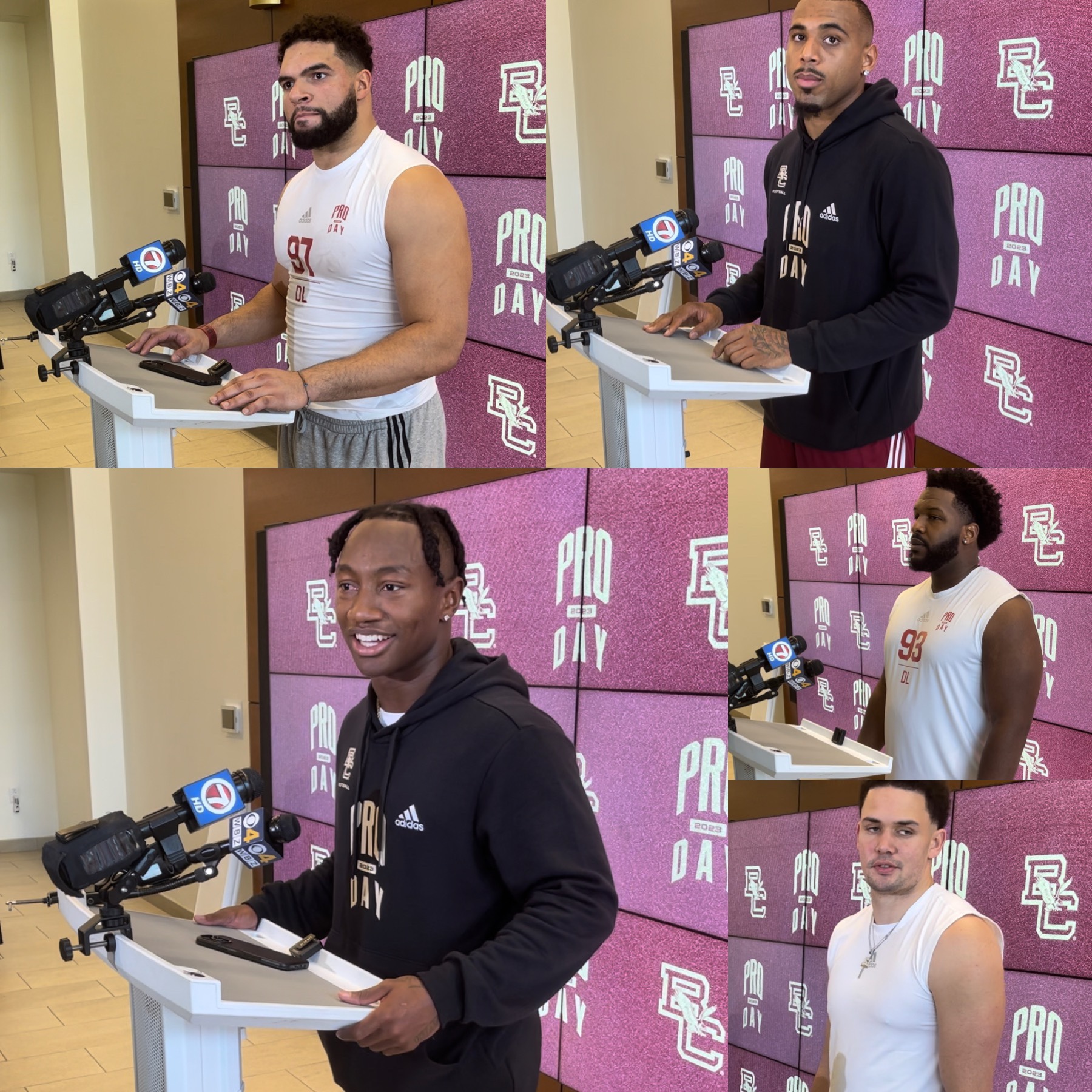 CHESTNUT HILL- Boston College held its annual Pro Day yesterday at the Heights. Seven of the eight participants at the event played for the Eagles at some point in the last four years. The headliner of course was wide receiver Zay Flowers who did not test but did the field work.
Scouts and personnel people from the Patriots, Steelers, Lions, Bills, Bears, Falcons, Cardinals, Giants, Colts were among those in attendance. They watched the following prospects workout.
Boston College
Chibueze Onwuka, DT
Marcus Valdez, DE
Zay Flowers, WR
Jaiden Woodbey, S
Kliff Kurker, WR (2019)
Isaiah Miranda, FB (2019)
Maine
Kobay White, WR (2021)
Purdue
Austin Burton, QB
Thoughts on the workouts
I thought all of the participants had a solid day. Flowers was the star attraction and while he didn't test, he lived up to the hype in the field workout. Eagles quarterback Emmett Morehead threw to Flowers who ran a diverse route tree and showcased his quickness, cutting ability and change of direction. Flowers also displayed strong hands and made a couple off line catches look routine. He solidified himself as a first round pick based on his performance.
Marcus Valdez probably helped himself more than anyone. He looked smooth and fluid in the drills portion and posted solid workout numbers (32″ vertical, unofficial 4.77 40-yard dash). He repped some at fullback as well during the field workouts and looked comfortable catching the ball. Valdez talked about working out with the skill guys afterwards.
"I had to bring it out," Valdez said with a smile. "I tried to use today as an opportunity to show what I can do, be versatile. I did the D-line stuff, into the drops and into the fullback in a short period of time, but felt like I was able to show my conditioning and my versatility…I ran the ball a little bot in eighth grade Pee-Wee. I knew I could do that. I worked on my hands the past couple months and Emmett was great there throwing on point to me."
Fellow defensive lineman Chidobe Onwuka had a solid day as well showing good short area quickness and power in drills. He posted some solid testing numbers (30″ vertical, 5.17 unofficial 40-yard dash) as well. Afterwards, Onwuka was pleased.
"Today was a pretty good showing," Onwuka added. "I feel like I've been training hard for eight weeks plus, so I'm just glad I was able to come out here and showcase it."
Teammate Jaiden Woodbey acquitted himself well. He looked smooth and fluid during the workout portion. Woodbey's greatest strength is his size and versatility. He can play at all three levels something that defensive coordinators cherish in this era of spread offenses. Afterwards, Woodbey was happy with the way his day went.
"I trained as hard as I could, so I'm going to live with the results," said Woodbey. "I did everything I could. I thought I showed what I needed to show out there. I showed teams I can move well, jump high, do all of these things well. I checked a lot of things off my box today, so I'm pleased with my performance."
As for former Eagles Kobay White, Isaiah Miranda and Cliff Kurker, the pro day was an opportunity to show scouts what they can do while pursuing their dream. All three did enough to impress and warrant a shot at playing professionally.
White was most impressive catching the football. He made a ridiculous diving catch in the end zone. Both he and Kurker impressed in workouts. White ran an unofficial 4.45 and jumped 10-feet in the broad jump. Kruker jumped 10-4″ in the broad jump and ran an unofficial 4.55 in the 40 with a 35″ vertical. Miranda looked big physically and with the fullback making a comeback, he could have a shot at playing at the next level.
Former Newton South, UCLA and Purdue quarterback Austin Burton also participated. Burton ran an unofficial 4.65 40-yard dash and jumped 9-5″ in the broad jump. Burton threw the ball well in the field workout and was pleased by his overall performance. He was also thankful that Boston College allowed him to workout at their pro day.
"I live in Newton, so it's down the street from me, so I just wanted to kind of stay local. I reached out to Coach Hafley and they were kind enough to let me throw. I really do appreciate all they've done," Burton said. "It's a blessing for me to have them open their doors to me because they really didn't have to do that."
It was a good day overall for the players who participated. Scouts came to see Zay Flowers but left impressed with other players as well.