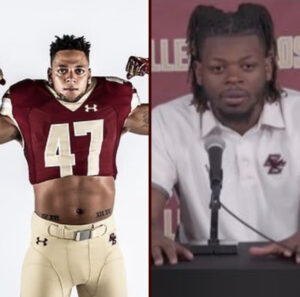 It's been a long, strange journey for both Kobay White and Cliff Kurker, but it's funny how things work out.
Both guys were at Boston College for the Eagles' Pro Day on Friday and both put on a show for scouts, despite no longer being part of the BC program. White of course finished his career at Maine last season, while Kurker – a former Needham standout in lacrosse and football and now an assistant football coach with Waltham – was done at BC in 2019, but the dream still lives for both.
Kurker had a 10-7″ broad jump, a 35″ vertical leap and an unofficial 4.55 40-yard dash. The former four-year UMass Lowell lacrosse player and member of the Jamaican national lacrosse team made sure he took advantage of the opportunity as best he could.
"For me it was an incredible full circle moment today," he said. "I fell in love with the game of football in the last row of Alumni Stadium as a kid and to be able to come back and workout in front of NFL teams at the same place I can't even put that feeling into words. Overall I feel good about my performance, but there's certainly always room for improvement. I'm super grateful to Boston College for giving me the opportunity to not only play on the team, but return two years post graduation to compete at Pro Day and hopefully turn my dreams to reality."
Kurker said he did have some conversations with scouts showing interest, but if it doesn't work out, it's safe to say lacrosse is a fine backup option.
"I did speak with a a few scouts afterwards in particular the Winnipeg Blue Bombers from the CFL, he added. "Depending on what happens with football this summer I've been selected to compete in my second (lacrosse) World Championship this summer."
As for White, injuries savagely took away a large chunk of his BC career and things never got going with Maine like many people thought they would. White put all that behind him and posted some incredible numbers on Friday. White ran an unofficial 4.45 and posted a 10-4″ in the broad jump. He also had the catch of the day during receiver drills, tumbling in the end zone after making a diving catch on a ball from Austin Burton.
"It was good to be back, it's where my career began, BC is who I am," said White. "I loved the opportunity to compete and get after it with my former teammates. I definitely wanted to come in and have a great day and with Zay not doing drills. He was able to support me throughout and give me tips on how to attack the Pro Day. I'd be lying if I didn't think I was going to do well I worked hard and felt like this was long over due…fighting back from injury and just being able to give it my all made the day special."
There are far more stories like the ones Kobay and Cliff are writing than there are the lifelong success stories where guys don't face much adversity. Both White and Kurker are phenomenal examples for young athletes to follow and prime examples of chasing your dream until someone says you can't anymore.
Luckily for them, BC had about 150 people in Fish Field House on Friday to watch those guys ball out and write their next chapter.