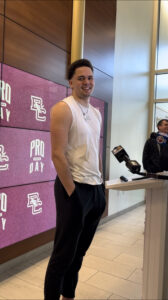 CHESTNUT HILL – Steve Burton has seen and covered every big event in this area when it comes to sports, but the event he was at Friday might've been harder to watch than anything else he's seen during his time with WBZ.
Burton's son Austin – who began his young football career with Newton South and has had stops at UCLA and Purdue along the way – was able to throw at Boston College's Pro Day as dozens of NFL scouts and both local and national media looked on.
Not only did Burton throw well, but he performed at a high level in some of the testing, including a 4.65 (unofficial) 40-yard dash and a 9-5″ broad jump. In what amounts to the biggest job interview of his son's life so far, the older Burton could only stand and watch nervously with the rest of the media.
"It meant a lot, it's been a journey," Steve said after the events concluded. "Watching him progress and get better…and our goal is just to get better each day, that's what he's trying to do. To be out here…I've covered so many BC Pro Days, but then when it's your son, it's like…I just wanted to take in the moment. It's not as nerve-racking as watching a game, but everybody's looking at him. These scouts are out here watching him, so as a dad, you want him to perform well. I'm thankful he had a good day. I get more nervous than he does. He's pretty confident with all the work that he's done, He's a confident kid, so I'm thankful for that, but as a dad, it's tough because you just want to see him do well so badly. It was fun to watch him."
Austin was asked during the post-event media scrum what it meant to have his father in the building.
"He's annoying, you know? Tried to get him out of here," Austin joked. "No, it's fun. He's just been such an important figure in my life and has really shown me the way, so it was nice for him to be here and supporting me."
Both Steve and Austin couldn't have been more thankful for BC's hospitality as well. Given the fact that he was never an Eagle, they technically didn't have to open the doors to Fish Field House for him while showcasing their own guys.
"I live in Newton, so it's down the street from me, so I just wanted to kind of stay local. I reached out to Coach Hafley and they were kind enough to let me throw. I really do appreciate all they've done," Austin said. "It's a blessing for me to have them open their doors to me because they really didn't have to do that."
"We can't thank Boston College enough," Steve added. "They did not have to let him in, I want to thank Coach Hafley and the BC staff for allowing him to come here and throw. It meant a lot to our family and it means a lot to him. They did not have to do that, so for them to open their doors to us, it meant a lot."
The work isn't done now for Austin or his family, but no matter where he ends up, the Burton's will take it in stride.
"We want to take it all in," said Steve. "He's going to continue to work, continue to get better and wait to see who he's able to sign with. We've got the draft coming up, but, we're just thankful. God has a plan for his life and I just always ask Austin to glorify God through this process."