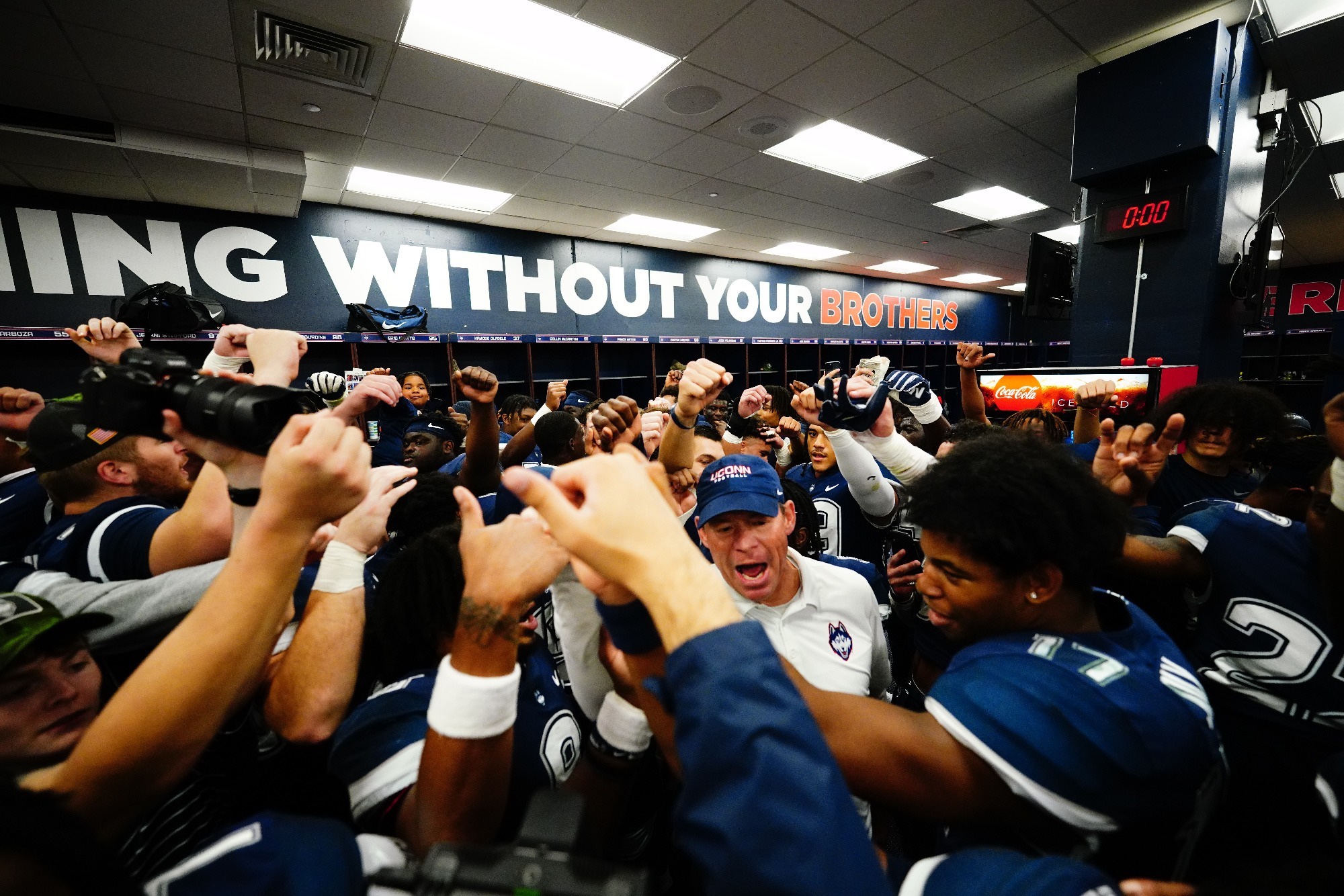 UConn kicked off spring ball this week. Expectations are high for the Huskies as the team is coming off of a 6-7 season and a bowl bid in Jim Mora's first season.
With several starters returning on both sides of the ball, all eyes will be on this team as it looks to take meaningful steps towards being consistently competitive.
Here are five areas we'll be watching.
1. Status of the quarterbacks: The big question going into the spring is the status of quarterback Ta'Quan Roberson. Roberson tore his ACL the second drive of last season's opener against Utah State. Freshmen Zion Turner took over and led the Huskies to six wins and a bowl bid.
We don't know if Roberson is fully healthy but if he is, he will participate. Otherwise expect Turner, Cale Millen, Tyler Phommachanh and Maine transfer Joe Fagnano to get all the reps this spring.
2. Returners on offense: Offensively the Huskies return everyone except center Jake Guidone. Four of five starters return along the offensive line led by guard Christian Haynes who could have declared for the draft but opted to stay in school.
At running back, Louisville transfer Jalen Mitchell will bolster an already strong backfield that features Victor Rosa and Devontae Houston. At 5-foot-10, 221lbs, Mitchell is the ideal complement as a power back. In 2021 he rushed for 722 yards and five touchdowns so he has been productive in the past.
Wide receiver is a question but only because we do not know if wide receivers Cam Ross, Nigel Fitzgerald and Keelan Marion are fully healthy. If they can rep this spring, this will be a deep and talented receiver corp that will be tough to match up against.
Michigan transfer Louis Hansen is a player to watch at tight end.
3. Front seven is stacked: Sokoya McDuffie, Eric Watts, Jelani Stafford, and Dal'mont Gourdine all return along the defensive line. They will control the line of scrimmage for All-American linebacker Jackson Mitchell who finished last season with 140 tackles.
The Huskies had to dip into the portal for linebacker reinforces and added UCF/Kansas transfer Eric Gilyard and Noah Plack from Delaware. Both are expected to step in and compete for playing time right away.
4. Replacing Tre Wortham: The Huskies return plenty of talent in the secondary highlighted by Much of the secondary returns, including Durante Jones, Malcolm Bell, Chris Shearin, Malik Dixon-Williams and Kaleb Anthony. Replacing Wortham however will be difficult. Mora and the defensive staff are hoping West Virginia transfer Mumu Bin-Wahad and Washington transfer Zahkari Spears fill that void this spring. Both are talented and athletic. Spears has terrific size at 6-3.
5. This spring should be easier: Last spring was about installing a new offense and defense. This spring will be about moving forward to next season and building on what the Huskies did last season. I think you will see a much different approach.
The Huskies have established a standard and with that comes high expectations. There will be a lot more eyes on this team now. Let's see how they handle it starting this spring.