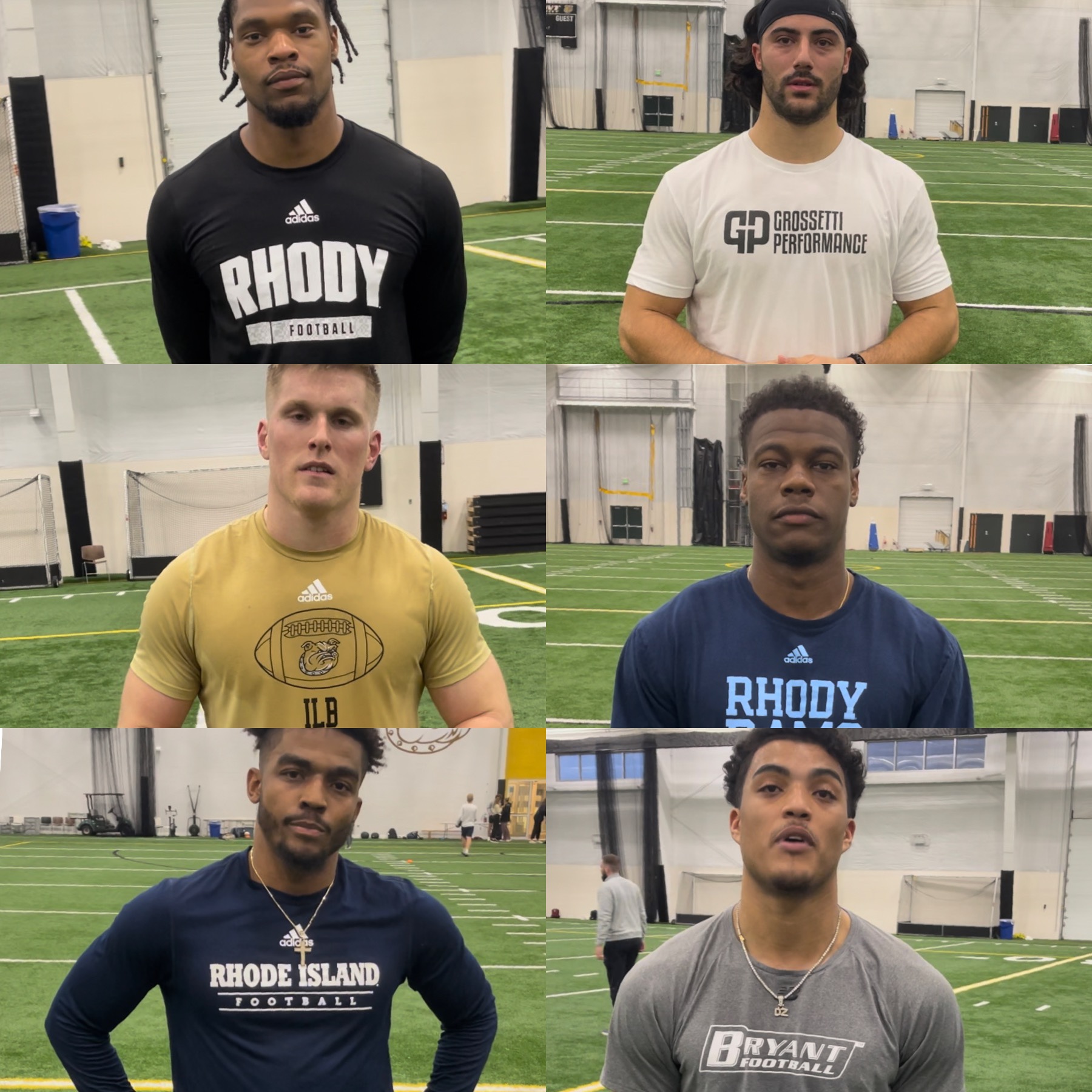 Scouts from the Seahawks, Giants, 49ers, Chargers, Patriots and Winnipeg Blue Bomber were on hand to watch several prospects work out at the Bryant Pro Day.
The following players worked out for the scouts:
Bryant
Ryan Saddler, LB
David Zorrilla, WR
Rhode Island
Marques DeShields, RB
Oneil Robinson, S
Caleb Warren, TE/FB
Jordan Jones, CB
Davey Schaum-Bartocci, P
Ed Lee, WR
Henry Yianakopolos, S/LB
New Haven
David Onyemem, LB
Thoughts on the workouts
I was throughly impressed with Bryant's Ryan Saddler and David Zorrilla. They rose to the occasion and had solid workouts. Saddler in particular had a good day. He Benched 225 18 times, had the best vertical jump of any of the participants at 38 inches and ran a 4.71 forty. He proved that he has the physical make up of a guy who can play off the ball. Zorrilla did most of his testing at Harvard. He ran the forty and did the vertical jump but his primary focus was the on field workout and Zorrilla impressed by running clean routes and displaying strong hands and a wide catch radius. He profiles as an X but can play the Z as well.
URI had the most participants at the event. All seven players helped themselves and improved their stock. Cornerback Jordan Jones had a great workout and looked like a solid day three option for teams. He ran a 4.49 forty and jumped 37.5 in the vertical jump. He put up 11 reps of 225. Jones is a humble, hard working young man who has the athleticism and the ball skills to play on the outside or in the slot.
Wide receiver Ed Lee had a good workout. He ran a 4.53 forty and he looked smooth getting in and out of cuts in the field work. Lee felt he could have done better but he definitely helped himself. Tight end/fullback Caleb Warren put up 17 reps of 225 and he looked good in the field work. Warren is a terrific route runner and it showed. His ability to move around in formations makes him a valuable commodity.
Running back Marques DeShields acquitted himself well putting up 14 reps of 225, jumping 31 inches in the vertical jump and broad jumping 9'8. DeShields looked fluid in drills and the on field work and proved he can consistently catch the ball out of the back field.
Safeties Oneil "Buzz" Robinson and Henry Yianakopolos both popped during their workouts. Both looked fluid and smooth in their drills and they tested well. Yianakopolos had the most bench reps at 23. In this era of versatile 3X3 safeties, both can play in sub packages and play in all three levels. Both also have special teams potential as well.
New Haven and former Bryant outside linebacker David Onyemem tested as well. He moved well in drills. His two testing numbers that jumped out to me, his vertical jump which was 37 inches and his broad jump was 10 feet. Onyemem can play as an edge or off ball linebacker.
Last year there were only two scouts at this pro day. This year there were six. Scouts are starting to realize that there is talent in the Northeast and they want to evaluate it first hand.