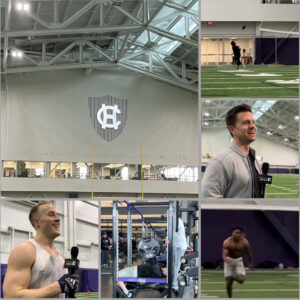 WORCESTER – Days like Thursday are becoming the norm at Holy Cross.
NFL scouts, media members and coaches from other local schools were all on hand to watch Holy Cross, UNH, Bentley, Brown and New Haven athletes display their talents at the Crusaders' Pro Day. Peter Oliver, Liam Anderson, John Smith and Derek Ng all had good days while head coach Bob Chesney watched on, smiling from ear-to-ear for virtually the entire three-hour session.
All four guys were solid in their respective on-field drills and some of the numbers were off the charts. Oliver ran a 4.57 40-yard dash and nearly leapt out of the weight room with a 37.5″ vertical jump. Anderson had 20 reps on the bench (at 225) and also displayed some ridiculous athleticism with a 10-8″ broad jump. Smith was FLYING in the 40 (4.44) and put up 18 reps when benching. Ng was solid in all of his field goal attempts from various spots on the field. Having to wait for everyone else to complete their drills and testing before finally kicking added a bit more pressure to the situation too, but it didn't seem to phase Ng. Old friend Ayir Asante was even back to help out despite transferring after last season. Asante looked as smooth as ever, hauling in everything New Haven QB Connor Degenhardt threw his way.
Chesney wasn't just smiling because his guys all performed well, but because more and more eyes are now gazing on the program seemingly by the day. Thursday's event wasn't just an opportunity for guys to try and take one more step towards their lifelong dream, but it was a showcase for all things Holy Cross.
"To just have these NFL scouts come through, have the other coaches come through, have some of the younger brothers of these kids come through and say 'I can't believe this is an FCS program,' and we're just hoping to progress and get better and better every day," he said. "I think that any time you have the chance to highlight some of the positives for your program, you want to try and do that."
For Oliver – like everyone else – this day has been on his mind for a long, long time. So, did it measure up to what he thought it would be like?
"Yeah. I remember coming in the other years past to see what it was like, so I kind of had a general idea of what the environment was going to be like," he said. "Pretty much, they tell you how the drills are going to be and then running routes at the end so, yeah."
Merrimack's Anthony Witherstone had himself another fantastic day as well as the talent across New England was also on full display. Witherstone had a 37″ vertical jump, ran a 4.59 and was fluid in every drill. His teammate Tyler Roberts continues to impress on the Pro Day circuit, proving he's a versatile player (31.5″ vert) and UNH's Sean Coyne also flashed, putting up a 4.48 40 and 14 reps on the bench while running smooth routes. His teammate Pat Flynn (OL) had 19 on the bench and showed his athleticism in position specific drills. Degenhardt has been a busy man, throwing at Harvard's Pro Day, UConn's on Wednesday and then again on Thursday. In all of them, he's shown an ability to make every throw.
It was also a full circle day for Degenhardt, who was a Crusader for a big chunk of his college career.
"Yeah, definitely, it was really full circle," he said. "Starting my career here and then being able to do my last Pro Day here, definitely a special moment. I'm really appreciative of Holy Cross letting me come back and throw to these guys in front of scouts."
It was another fantastic day for all of New England football as the NFL (and even one guy from the CFL) turns its eyes towards the Northeast more and more for young talent.
For Chesney and the Holy Cross program, it was just another day becoming a nationally recognized brand.
"I think it should be," Chesney said when asked his thoughts on this being an annual event now on campus. "To have this facility, I think it would be a shame not to invite other people and have the whole Northeast here for this thing. If it was a one-stop-shop for all of these guys I think it would be great. It puts you in a position where a lot of guys from a lot of different levels could be here competing and working out in this facility.
"I think it's pretty special and a great thing for our program and our school."