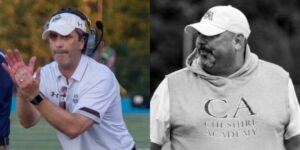 By Jake Klein
NEFJ Correspondent
According to sources familiar with the situation, Cheshire Academy head coach Dan Mehleisen has stepped down and will be replaced by defensive coordinator Bill Mella. A school spokesman confirmed the report Wednesday.
Mehleisen, who took over as head coach in 2021 following the departure of David Dykeman and coached the Cats to a 3-6 record in his only season at the helm, will leave the school altogether at the end of the academic year. The school says he'll pursue coaching opportunities closer to family. His alma mater, Christian Brothers Academy in Albany, is considered a potential landing spot for the Latham, New York native.
According to sources familiar with the situation, Mehleisen had been weighing a potential departure throughout the early stages of the winter, and recently made it official when he addressed his players in a team meeting.
Meanwhile, the 53-year-old Mella moves into the head coaching position with experience at nearly every level of football in Connecticut. He spent time as an assistant coach at both Trinity College and Wesleyan University with stints as head coach of Southington High School, prep powerhouse Avon Old Farms, and Bassick High School, a trade school in Bridgeport. He guided AOF to the NEPSAC title game in 2017.
Mella inherits a blossoming situation following one of the school's worst seasons in over a decade. Before informing his team of his decision to step down, Mehleisen landed three four-star transfers from Loomis Chaffee—twin linemen Jacob and Jerod Smith and quarterback Dante Reno. His incoming group of recruits is expected to total nearly 20 players, one of the largest in New England.
Under Mella, the Cats aim to return to prep prominence after a string of seasons marked by subpar talent. From 2010 to 2018, they went 61-10, appeared in six NEPSAC bowl games, and won four. Three players from that span have since appeared in the NFL. They're 15-22 since.