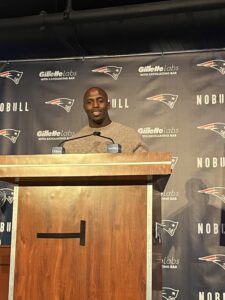 Another chapter to the story that is the 20-year Patriots dynasty was closed on Tuesday afternoon.
With about 30 current players and coaches on hand inside The Hall at Patriots Place, Devin McCourty was joined by his family as he made his retirement official in a beautiful ceremony that lasted about an hour and included some stories from Bill Belichick, a few remarks from Mr. Kraft and two different video tributes.
One tribute was a highlight reel of special moments in his career and the other was a litany of current and past teammates sending well wishes – including Tom Brady, Stephon Gilmore, Vince Wilfork, Julian Edelman, David Andrews, Matthew Slater, Deatrich Wise Jr.  and others – before McCourty took to the stage for his speech.
One of the guys McCourty made a point to single out was former running back and Patriots legend Kevin Faulk. The now former Patriots safety talked fondly about Faulk and the guidance he provided during McCourty's rookie season, ultimately setting the tone for his stellar, but more importantly, consistent 13-year career.
"The best moment for me was that my locker ended up being right next to Kevin Faulk's and he texted me this morning and said congrats," McCourty said. "I think back to just my time here, was really defined by my rookie year and my locker being by Kevin's. Kevin played running back, played 14 seasons at running back, but he would always pour into me. We would sit there and he'd be like, man, you know you need to get a routine. Whatever your routine is, just do it day in and day out. If they move the game, you move your routine, just stick to your routine. I used to get in the sauna every day because Kev got in. I hated getting in the sauna, but he was like 'build a routine,' and I didn't know what I wanted to do, so I'm just going to follow Kevin and James Sanders.
"Each year, I might switch something up a little, but I stuck to that routine for 13 years and that's what this building has been a part of for me. It's been so many individuals that care about other individuals more than themselves. Taking the time to do great things."
Prior to McCourty's touching speech that lasted about 15 minutes, Mr. Kraft opened things up jokingly saying that his brother Jason is the reason Devin is a three-time Super Bowl champion and not just a two-time champ.
"The play (Jason) broke up, that pass in the end zone, I think everyone is thankful. We thank you Jason for the role you played in allowing your brother to be a three-time Super Bowl champion," Kraft said with a grin, of course talking about the big play Jason McCourty had to break up a touchdown in the 2018 Super Bowl against the Rams.
"I tell him all the time," Jason quickly replied while sitting in the front row.
Belichick followed Mr. Kraft and talked about his first meeting with Devin and how stunned he was at McCourty's overall knowledge on defense. Belichick also admitted that when Jason was a member of the Patriots – and even before then – the two of them got him good with some twin shenanigans.
"So, I want to say it was the (2014) Super Bowl against Seattle…the day before the game on Saturday everybody goes over to the stadium for the team picture and families are there. It's a great opportunity for everyone to experience being down on the field and kind of the Super Bowl atmosphere and all that," Belichick explained during this particular story. "It's the day before the game and I'm kind of a little bit in the zone, so I see I think Devin walking up to me and he says 'hey coach, I'm not going to be able to make the meeting tonight, but I'll be there for curfew,' and he kind of breezes on by.
"My jaw dropped. I'm like, this is the day before the Super Bowl. That was actually Jason. Then, Devin walks up right behind him with the 'gotcha! I'll be there (Jason) can't be there because he's got other stuff going on, but I'll be there. So, then of course, when Jason came to the Patriots, then these two guys killed me…I couldn't tell them apart. It was brutal. They got me I don't know how many times. It's gotta be double digits."
McCourty was clearly humbled by the room full of teammates, coaches, team personnel and media members on hand. At the end of his speech, he left everyone with a quote from Bill Russell that epitomizes who he was as a leader of men for so many years.
"Everybody coming here today, thank you. I don't understand why y'all came, but I say that with all my heart, I appreciate it," he said. "It's been a hell of a ride, it's been a hell of a journey. I'm so content with my career that I'm sitting here very happy in front of you guys. I can't wait to come back. I got to play with a great group of guys and each time one of them goes into this Hall of Fame or the big dog National Football Hall of Fame, I can't wait to be there to support, because my ride here was just with players I never would've imagined playing with and getting to create and establish such great things with. I'll leave you guys with a quote that I heard Bill Russell say as I watched his documentary. He said 'if you leave your kids with a million dollars, he really would have left them with nothing. But, if he teaches them how to be better people and how to live life the right way, then he gives them everything.'
"All you guys gave me that opportunity to live life the right way and I'm proud to say I'm a father of three and because of you guys, I'll be able to show them how to live the right way. Lastly, I just want to say thank you."