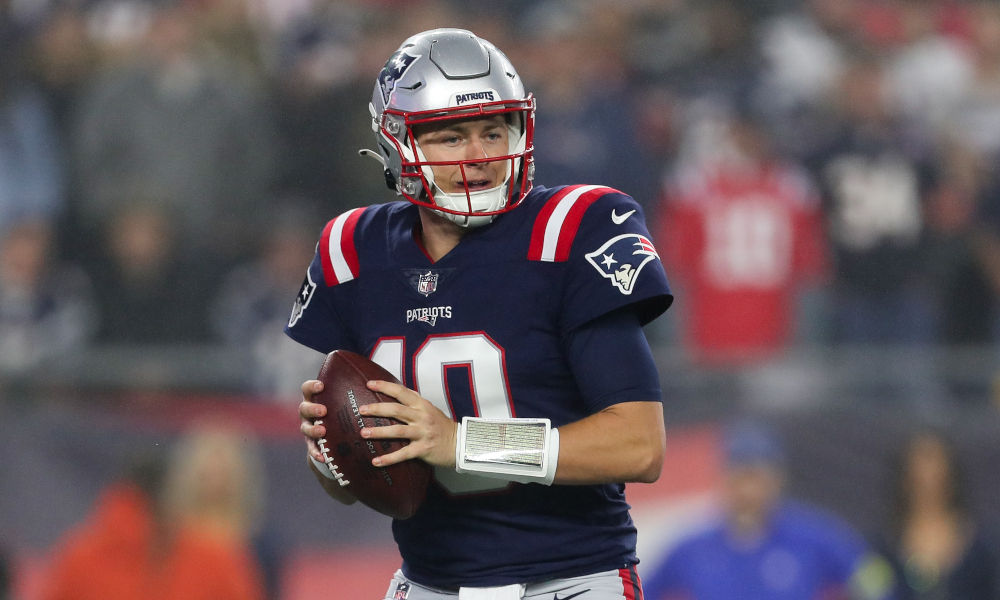 Mac Jones will be the Patriots starting quarterback in 2023. No more speculation of a possible trade to the Las Vegas Raiders looming over him. The Patriots are his team and the team has equipped him with a new offensive coordinator in Bill O'Brien and several new skill players to go with him. Now it is up to Jones to live up to his end of the bargain and prove that he can be the guy to quarterback the Patriots for years to come.
Excuses can no longer be made for Jones. He has to prove that he is the guy this season and beyond. The pieces are around him now. He has to take the next step in his development. Jones had a great supporting cast at Alabama and he thrived. He hasn't always had that in New England but he does now. He has three good receivers in Ju Ju Smith-Schuster, DeVante Parker and Kendrick Bourne. He has two good tight ends in Hunter Henry and Mike Gesicki. As an added bonus, he plays in front of one of the best running backs in the league in Rhamondre Stevenson. Add to that newly signed James Robinson and the Patriots have put quality pieces around Jones.
Bill Belichick still has work to do to improve the offensive line and he could add another receiver to the mix, but there is enough in place to go along with O'Brien that Jones should show marked improvement this upcoming season.
Surrounding Jones with talent isn't enough. He needs to mature as well.  Simply put, he needs to grow up. Jones has to act more like a leader and play like one too. His on field temper tantrums are no longer acceptable. The childish nonsense he pulled last season every time something didn't go right will not be tolerated by O'Brien. He is a no nonsense coach who will put Jones in his place. Gone are the days of Jones not being able to handle criticism from the coaching staff. Jones better thicken up his skin.
The Patriots are committed to turning things around and competing for a division title and a playoff spot. Internally, the goal has always been the same. It is about winning Super Bowls. After a slow start to free agency, the Patriots have made it known based on the way they are spending that they want to contend. How much of a contender they are ultimately falls on Jones and his development.
If Jones develops and becomes the quarterback the organization thought he could after his rookie season, the Patriots are going to surprise people next season. If he continues to be immature and inconsistent, the Patriots will once again struggle to get to .500 and they will not make the playoffs.
The time for excuses is over. It is put or shut up time for Mac Jones. He has a competent offensive coordinator and a good enough skill group to be successful. If the Patriots do not turn things around next season and are not competitive, chances are it is because Jones underachieved.
To half quote the great Ric Flair. "To be the man…..you've got to act like the man." Jones has now been equipped to succeed. It is up to him to prove that he can be the man when it comes to quarterbacking the Patriots. It is now or never for him. This upcoming season could be his last shot to prove he can be the man.