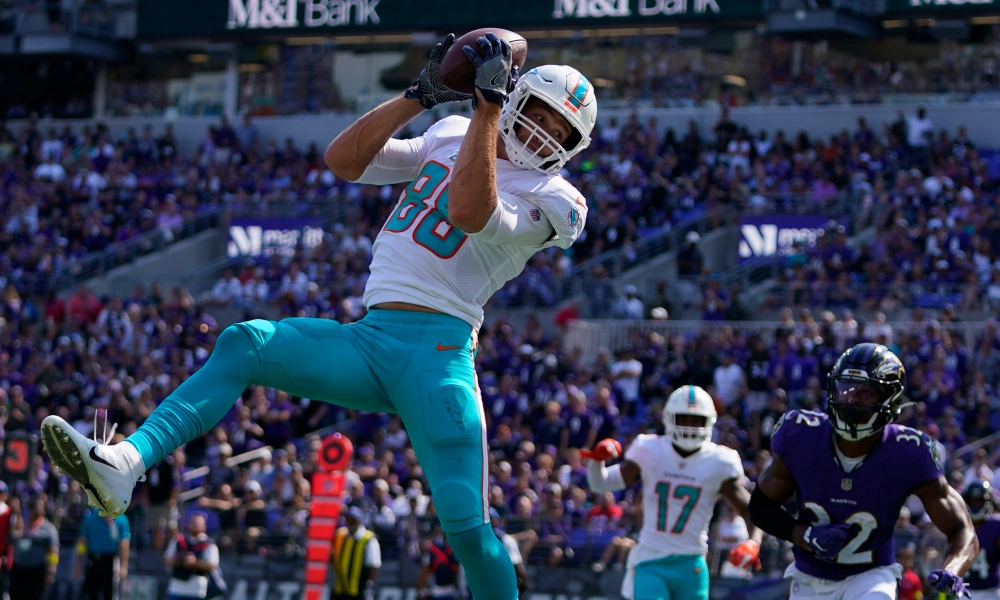 Bill Belichick strikes again. After slow playing free agency and frustrating Patriots fans the first two days of the legal tampering window, Belichick has gone on a shopping spree and his latest purchase is former Dolphins tight end Mike Gesicki who signed a one year, $9 million dollar contract with the team.
Gesicki caught 32 passes for 362 yards and 5 touchdowns last season. He has caught 18 touchdown passes in his career. At 6-6 247, Gesicki is a match-up piece who thrives in one on one, jump ball situations. He will be the perfect red zone complement to fellow tight end Hunter Henry and the rest of the receiving corp.
Gesicki is limited as a blocker so he profiles more as a long U tight end who can line up anywhere in a formation. With his high end athleticism and basketball background, the Penn State product will be a fun piece to move around for new offensive coordinator Bill O'Brien.
Belichick and the staff knows Gesicki well. He has caught 14 passes for 125 yards and 2 touchdowns against them in nine games. Those aren't exactly earth shattering numbers but it doesn't matter. The Patriots have traditionally done well against tight ends, especially ones in the AFC East. Despite that, Belichick holds Gesicki in high regard.
"He's a hard guy to cover. Long. He's a good, crafty route runner. He's slick, but he can get down the field. Very good hands, makes some acrobatic catches. Has enough quickness to separate. That's another hard guy to cover on third down, well on any down. But when you talk about those possession downs, he's effective."
If all goes according to plan, the Patriots will be tough to stop in 12 personnel. Especially with Ju-Ju Smith Schuster and Kendrick Bourne at the F and the Z. Both are terrific route runner who excel after the catch. They can complement Henry and Gesicki underneath when they run vertically inside the hashes.
Belichick's affinity for 12 personnel is well documented. The Patriots offense has been among the best in the league when they have had two tight ends that complement the receivers and the running backs in the passing game. Bill O'Brien coordinated one of the best offenses in team history in 2010 when he had Rob Gronkowski and Aaron Hernandez. He likes to play in 12 personnel a lot so there is no doubt he had input in the decision to sign Gesicki.
Provided they stay healthy and Mac Jones bounces back, the Patriots should have one of the top skill groups in the NFL next season. At least on paper.