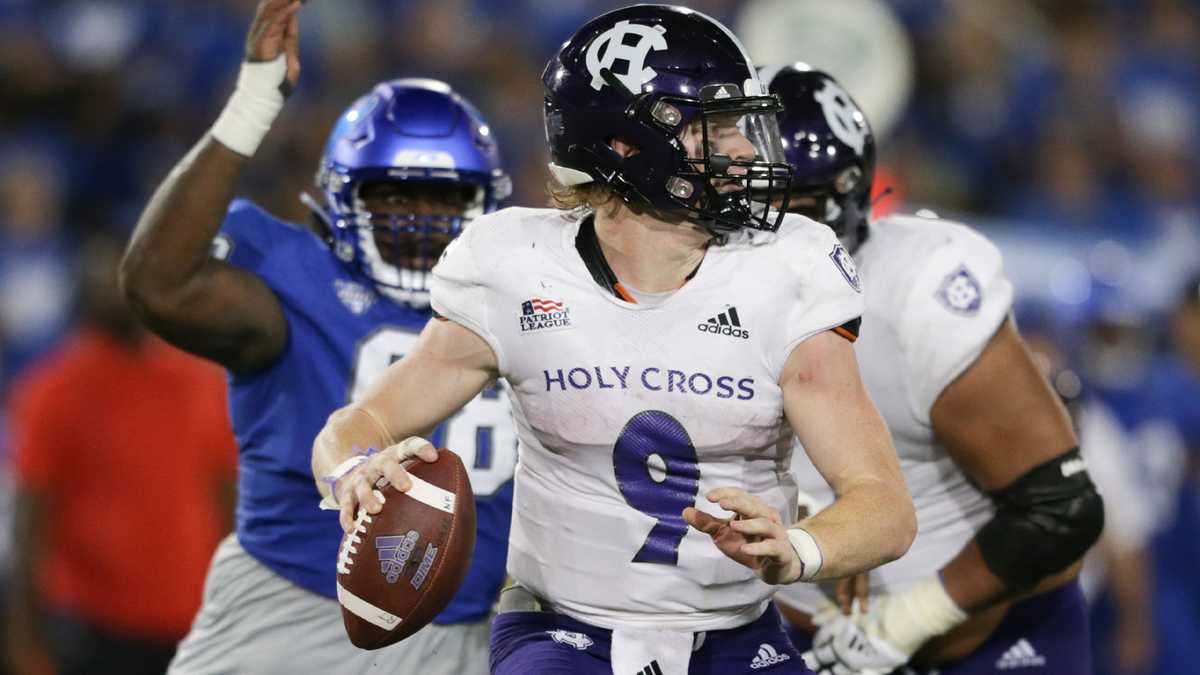 The Holy Cross Crusaders kicked off spring ball on Thursday and there is plenty to talk about as the four time Patriot League champions under go some major changes this spring.
There are a lot of familiar faces that were core contributors that are gone and need to be replaced. Replacing those players will not be easy but Bob Chesney and his staff have done such a good job in recruiting that there is plenty of talent on the roster that can contribute.
Talent development and getting guys ready to play on Saturday will be the focal point of this spring. The Crusaders have a lot of work to do in both areas.
Here are five areas to focus on this spring with the Crusaders.
1. Replacing familiar faces: The Crusaders have to replace several players who were stalwarts on their teams the past three years. Linebacker Liam Anderson, running back Peter Oliver, wide receiver Ayir Asante, defensive lineman Jake Reichwein and Dan Kuznetsov are among the players who are graduating or have transferred. Now the focus shifts to developing the guys who were behind them and getting them ready to play this fall.
2. New offensive coordinator: Holy Cross will have a new voice on offense this spring as former offensive line coach and offensive coordinator Chris Smith left to become the assistant offensive line coach of the New York Giants. Quarterbacks coach Dean Kennedy was promoted to offensive coordinator. The move makes sense as Kennedy knows the offense and he has done a great job with the quarterbacks. The offense should run smoothly without any interruptions.
3. Sluka's development: Mathew Sluka has become one of the players in the country but there is always something you can work on in the spring. We know how good Sluka is as a runner and he really came on as a passer last season but he can take another step in that area. Look for the Crusaders to emphasize throwing the ball a little more this spring to get Sluka on the same page with his receivers.
4. New faces on D: There will be a lot of new faces on defense but the Crusaders will still have plenty of leadership to lean on. Linebacker Jacob Dobbs should be back from injury after missing most of last season. Dobbs along with cornerback Devin Haskins who also returns will lead a defense that will be young but talented. Defensive coordinator Scott James has done a tremendous job with this unit. There might be some growing pains this spring but I expect this unit to improve over the course of 15 practices and be locked in going into fall camp.
5. Pound the Rock: Holy Cross runs the football. It is what they do. With a stable of big backs and a veteran offensive line back, the Crusaders ground game will once again be a focal point this spring. We know Holy Cross loves to run to set up the pass so they will take their fair share of deep shots but finding a back to replace Peter Oliver and replacing Nick Olsofka will be key.
Holy Cross has been the dominant college program in New England the last two years. For the first time since Chesney has been head coach, the program faces some challenges in terms of replacing talent. Luckily, Chesney and the staff have recruited well so the cupboard