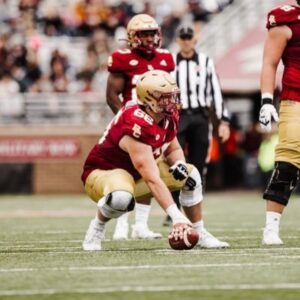 The Eagles up front heard all the noise last year. It was impossible not to hear it given how loud it was at times.
BC's offensive line was in shambles and simply never recovered. Well, 2022 is over with and through three spring practices in 2023, the confidence all of the big guys have in each other up front is glaring. There's depth, size, agility and some downright nastiness in the group and when you pair that with an offensive line coach in Matt Applebaum that just about everyone knows and trusts, it's safe to say things should look much different.
"Fuel to the fire, but it's steady work," Drew Kendall said following the third of 15 practices on Thursday morning. "Nothing changes. A little more of a chip (on the line's collective shoulder), but can't let the outside noise get to your head too much. You've got to keep working and just put your head down."
The feeling within the group is different than it was just a few months ago and Kendall has already felt a shift.
"Totally, the energy out there is way different," he said when asked if he could already feel a difference. "We just went at it out there today, it was fun. It was a physical practice, but yeah, the energy is probably the best it's been."
The buzzword around the O-line this spring and even during the winter is and was depth. Kendall was one of those guys bitten by the injury bug that seemed to hang around for far too long in 2022. Head coach Jeff Hafley knows there just wasn't enough last year – especially when you're pulling defensive guys over to the other side of the ball – but that's no longer the case.
"We've got a lot of depth," Kendall said. "A lot of guys played last year and we brought in two new guys. They're fitting right in great, fighting in with the scheme, so, it's going to be a whole new mentality. We're going to roll guys in most likely and just bring it to them. No more sitting back, we're going to bring it to them."
The addition of Applebaum can't be judged on three spring practices of course, but if you listen to any of the guys currently playing for him, the re-hire has already been a success. Particularly from a communication standpoint with Kendall, which is pretty valuable when he's starting with the ball in his hand on every snap.
"He actually recruited me out of high school, so having him back is great," Kendall said. "We see a lot of things eye-to-eye, a lot of the same schemes that I think I like to run and he likes to run and teaches them really well. So, he brings that knowledge and I see a lot of things close to him, so maybe at center I'll be able to help the guys and bring the guys along and if they don't understand exactly what he's saying I can try and help them out there too. Just having that as the center with the O-line coach, it's really beneficial."
As far as this line working with two offensive coordinators, it's been fairly seamless so far.
"I like it a lot," said Kendall. "Two really great offensive minds coming together and I think Shimko has a really good handle on the pass game and Chud obviously understands the run game really well. They both obviously understand both really well, but just having them both collide and mesh the best offense they can together is going really well. It's big (having familiar voices). With Coach App, a lot of guys that were here were recruited by Coach App or already worked with him, so everyone really understands what he's trying to do here. It's not like we're trying to learn a whole other…O-line techniques or any of that stuff, so that's really important."
Kendall is technically a veteran now, especially after being named a freshman All American, but having the big man Christian Mahogany back next to him isn't a bad thing either on the field or off it in terms of leadership.
"Oh it's great, I love having that big 330 next to me at guard,"he said with a laugh. "It's really helpful and he's awesome, it's going to be great to have him back."
Kendall's relationship with Emmett Morehead is also going to be critical to the success of the BC offense this season. So far, so good.
"Me and Emmett are really close, so we work a lot on pass pro, run game, making sure we see it all together. He's a very vocal guy and he's funny with it, so it's been great, he's really stepping up," he said.
BC's most glaring hole on offense pretty much throughout the Hafley reign has been the lack of a running game. Those words seem like they're coming from Bizzaro world when it comes to this program, but there's been an early emphasis with that for the guys up front too.
"One thing is getting healthy, getting strong and gaining that confidence back," Kendall added. "Right now, we're kind of mixing some things up, but we were hitting some washers out there today, so we're really getting back after it and I'm excited. I think it's going to be a really big step up."
Hafley has stressed competition amongst this group early and often and Kendall believes the addition of the two big transfers has already done wonders in that department.
"They're mixing in with the ones, some are starting with the ones, but we don't really have set one's yet because there's so much competition. Everyone's rotating around and it's really driving us. Everyone wants to get that spot."