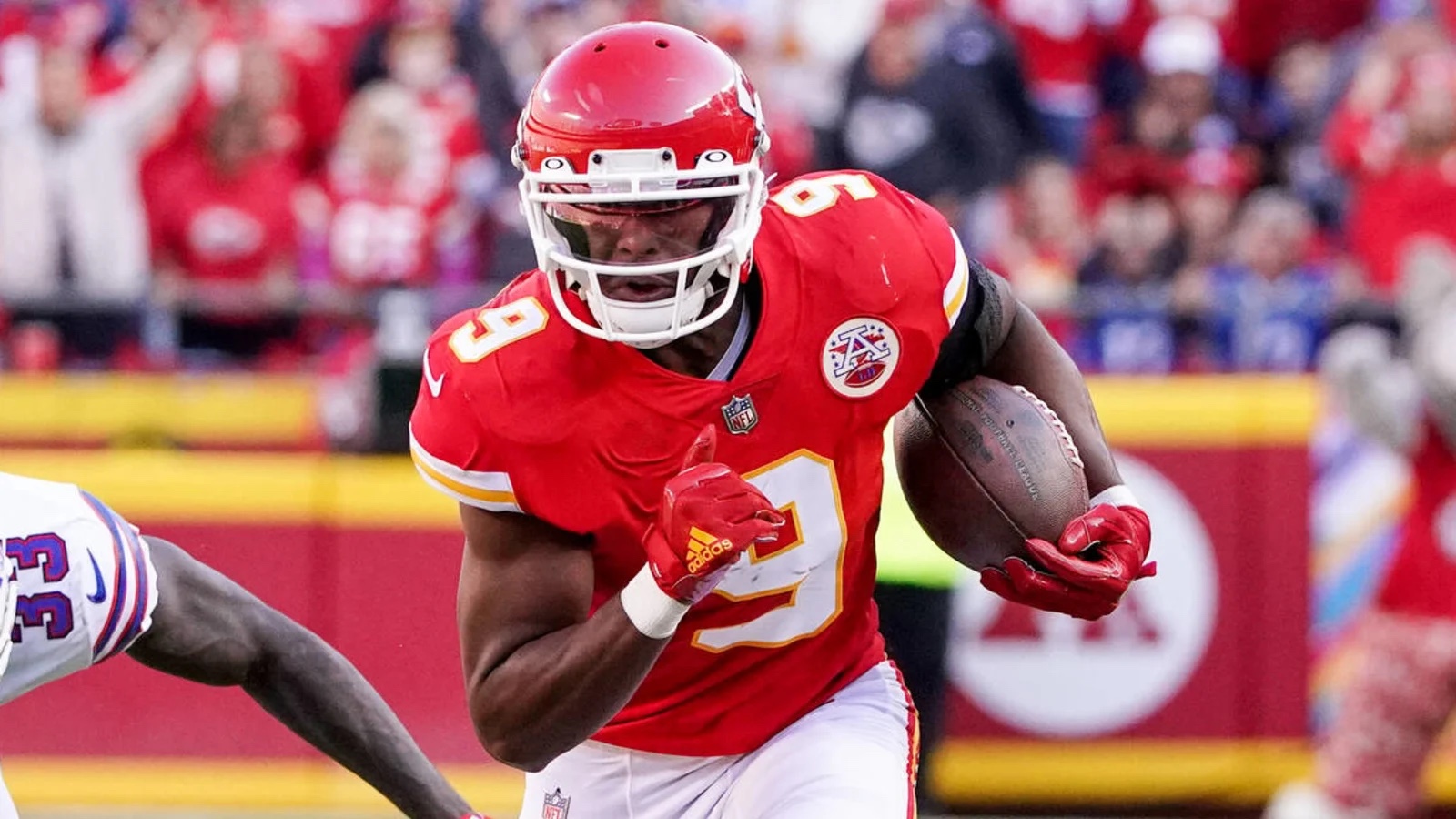 The Patriots signed former Steelers and Chiefs receiver Ju-Ju Smith-Schuster to a three year deal worth up to $33 million dollars. The signing comes a day after former Patriots receiver Jakobi Meyers signed with the Las Vegas Raiders.
On paper, this is more of a team friendly deal for the Patriots. Smith-Schuster got $16 million guaranteed while Meyers got $10 million guaranteed from the Raiders. Meyers deal however has more annual AAV than Smith-Schuster's. In essence, the Patriots are getting Smith-Schuster on a 3 year, $25.5 million dollar contract.
On the field however Smith-Schuster is the better player and the numbers back it up.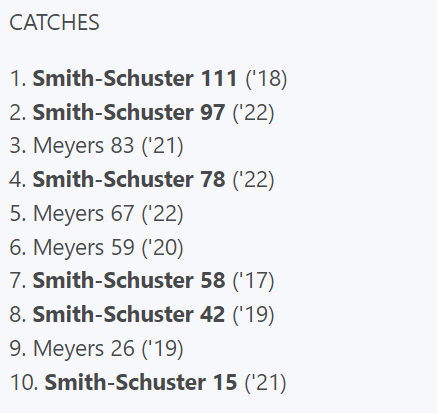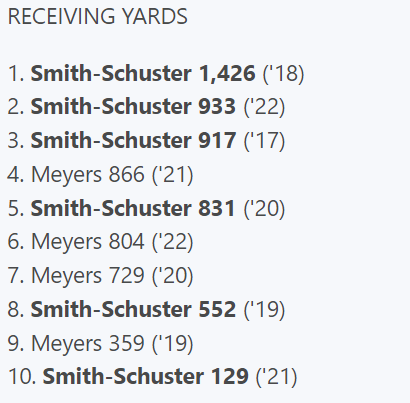 Images courtesy of Zack Cox, NESN
At 6-1 215, Smith-Schuster is "power slot" receiver in the mold of an Anquan Bolden. He runs good routes, is sudden and can create separation on his breaks. Meyers is taller at 6-2 but he is more your classic possession slot receiver.
Smith-Schuster excels at yards after the catch. He was top ten in the NFL in that category last season ahead of guys like Stefon Diggs and Jamaar Chase.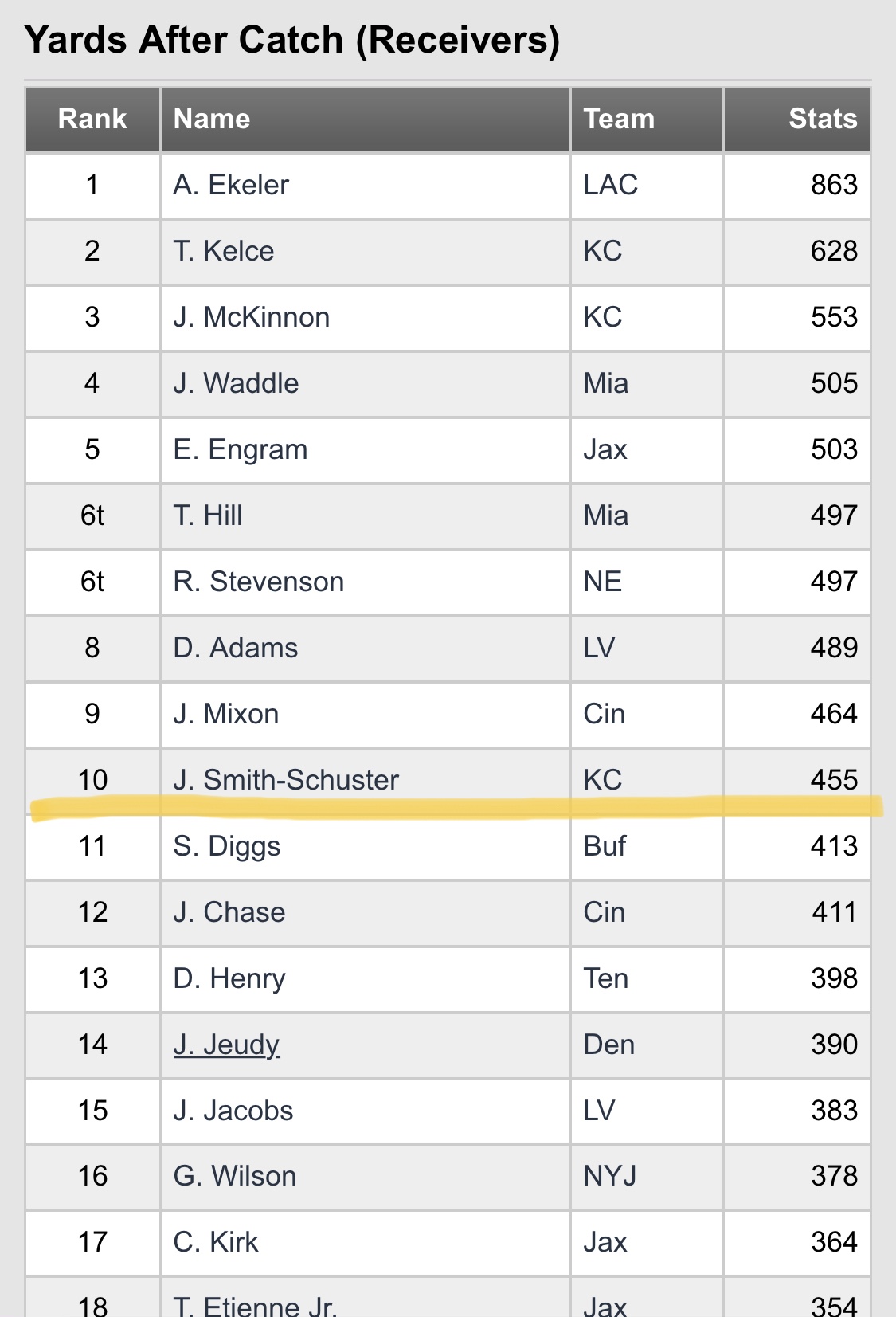 Statically, Smith-Schuster had a better season in 2022 than some of the other receivers the Patriots have been linked to. He put up better numbers than Jerry Jeudy, DeAndre Hopkins and Courtland Sutton.
Meyers was a productive player for the Patriots. He has been the team's leading receiver the last three seasons. He was a homegrown talent and a fan favorite. I don't think anyone would have objected to the team re-signing him. However, the Patriots got better with Smith-Schuster. He is exactly the type of receiver Mac Jones needs to develop. A dependable target with great hands that can make plays after the catch.
Too many times last season, the Patriots had to drive the ball to score touchdowns. They lacked a big play element or a receiver who can make plays after the catch. They have a receiver now that can make chunk plays and shorten drives. I think Smith-Schuster complements the other receivers on the roster well.
Many have compared this signing to Nelson Agholor from two years ago but I think Smith-Schuster is better than him and will be more productive for the Patriots.
The big thing for Smith-Schuster is health. He needs to stay healthy. If he does, he will fit in just fine in Bill O'Brien's offense. He gives the Patriots the best slot receiver they have had since Julian Edelman.
Is there some risk, reward here with Smith-Schuster? Absolutely. In many respects, the in-depth numbers favor Meyers but Smith-Schuster has more upside in the eyes of the Patriots because he is better at finding holes in zone coverage and extending plays after the catch. That is what the Patriots wanted ultimately.
NEW Patriots WR JuJu Smith-Schuster's #ReceptionPerception profile.

– Cleared 81% success rate vs. zone coverage in each of the last 5 seasons
– Has never been a strong performer downfield or against press and man coverage.https://t.co/97WOIGwBly pic.twitter.com/EQoSnaoxbX

— Matt Harmon (@MattHarmon_BYB) March 15, 2023
Let's see if Bill Belichick's gamble pays off. It didn't two years with Agholor but the Patriots are hoping that this experiment will pay off because Smith-Schuster fits the system better.