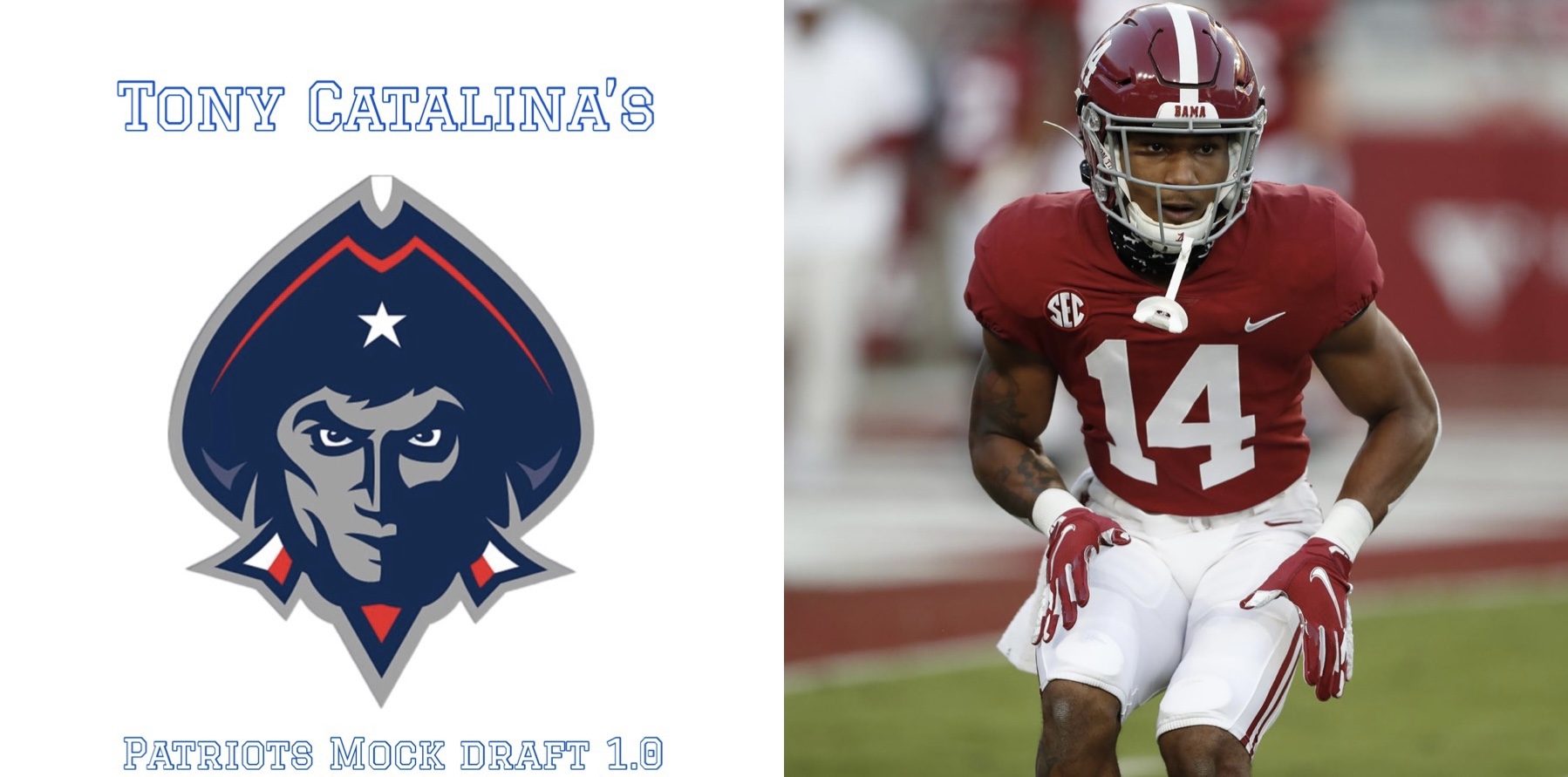 As the NFL's league tampering period is off and running a lot of roster decisions are being made that will help make the picture more clear come draft time. The Patriots have been willing participants with the sendoff of tight end Jonnu Smith and the re-signing of cornerback Jonathan Jones. Look for more moves to be made in the coming weeks but as it currently stands, let's take a look at a draft that can help the Patriots fill some of their roster holes with the best players available on the board.
*Mock Draft provided by Pro Football Focus Mock Draft Simulator
1.14 – S, Brian Branch, University of Alabama
6' 193 lb | 2 INT, 2 PD, 52 tackles
Per The Draft Network:
"Brian Branch is a true junior prospect that has been a key contributor to the Alabama secondary since his freshman year. Over the years, Branch has proven his value as a player through his versatility. Branch has transitioned to playing multiple positions across the defense, aligning at deep safety, strong safety, nickel, linebacker, and has been the end man on the line of scrimmage in certain blitz packages. Branch is an instinctual defender who, through his short-area quickness, acceleration, and high motor, appears to always be around the football. Of all the positional alignments Branch has played in over his career at Alabama, he looks most comfortable and has been most productive closer to the line of scrimmage playing the nickel/hybrid LB role.
Aligning as a defender in the box, Branch does a good job of play recognition and has the athleticism that allows him to get to any spot on the field. Against the run, Branch has good closing speed and is an efficient tackler. Branch on occasion is a violent tackler that has a physical presence about himself, making him a tone-setter on defense. Against the pass, Branch shows best in zone coverage where he can read the QB's eyes, jump routes, and deflect passes to be a disruptive defender. Branch also has the range as a defender to make plays on the ball, tracking the ball in deeper portions of the field to intercept the pass. Branch is also disruptive as a blitzer, timing up the snap and applying pressure to the quarterback."
2.46 – DE, Felix Anudike-Uzomah, Kansas State University
6'3" 253 lb | 8.5 sacks, 9 QBH, 8 TFL
Per The Draft Network:
"In his three-year career at Kansas State, Felix Anudike-Uzomah has been very productive, totaling 100 tackles, 20 sacks, and eight forced fumbles. Anudike-Uzomah has received many accolades for his play on the field, including being named 2021-2022 Big-12 First-Team All-American, 2022 Big 12 Defensive Lineman of the Year, and 2022 Big 12 Defensive Player of the Year.
Anudike-Uzomah profiles as a player with an explosive first step, plus-level functional strength, and good lateral agility—all of which support his ability to be a productive edge rusher. Anudike-Uzomah aligned in multiple alignments along the defensive front, but his best position appears to be when he is aligned on the outside shoulder of the tackle. From this alignment, Anudike-Uzomah has free access to run the arc around offensive tackles, win the edge, and get to the quarterback. Anudike-Uzomah shows to have an in-depth pass-rush repertoire that he can use to win. Anudike-Uzomah is able to use a two-hand swipe, jab-swipe bull rush, and his most effective/explosive move is an explosive rip move where he is able to get under tackles showing good hip flexibility and balance to get to the quarterback."
3.76 – WR, Nathaniel Dell, University of Houston
5'10" 155 | 109 receptions, 1,398 yards, and 17 TDs last season
Per The Draft Network:
"Dell takes the majority of his snaps as a slot receiver but has shown the ability to line up as an outside receiver, line up in the backfield, or be in motion to have free access releases at the snap. When lined up as an outside receiver or in the slot, Dell uses speed using rapid foot-fire to win against press situations. Dell's quickness has the ability to make defensive backs miss—if they miss Dell with their punch, he has the ability to immediately get upfield and stack defensive backs. Dell runs quick, snappy, and precise routes, and is difficult for most defensive backs to match and mirror within his route.
With the ball in his hands, Dell is an electric player. He has great short-area quickness and change of direction which allows him to make defenders miss in close confined spaces. Dell also profiles to be a quick accelerator and has the speed to simply outrun defenders and defeat pursuit angles."
4.107 – CB, Tre'Vius Hodges-Tomlinson, TCU
5'9" 177 lb | Three interceptions, Three PD, and 44 tackles last season
Per The Draft Network:
"Hodges-Tomlinson is an extremely athletically-gifted player with impressive man coverage skills. As TCU plays mostly man coverage in their defense, he is tested many times a game and his skills show greatly. His ability to stay square and mirror a receiver as they stem to try and open his hips is a credit to his footwork. He is smooth in and out of breaks and is able to flip his hips with ease when necessary.
His speed is a huge advantage to him, as he has the ability to quickly close the distance if a receiver has beat him and gotten separation. However, his eyes can get him in trouble, as he can get caught looking in the backfield for a run and give up the crack-and-go or other deep, double-move shots. Still, he is extremely versatile and has played multiple reps at corner, nickel, and safety against high-powered Big 12 offenses. At the point of attack, when the ball is in the air, he is a high-energy competitor who has great ball skills to make a play and force a breakup."
4.117 – LB, Dorian Williams, University of Tulane
6'1" 220 lb | 78 tackles, 5 sacks, 2 INT, 2 FF
Per The Draft Network:
"Williams features a sturdy and muscular frame with good length and large hands. A sufficient athlete, Williams has the movement skills necessary to drop in coverage and pursue the football to the sidelines. While angles can be hit or miss, Williams can close distances when searching to cut off routes and flow outside the tackles. He plays with a hot motor and has proven capable of navigating tight quarters to find the football. Williams has developed into a fairly reliable tackler and features an impressive resume on special teams with more than 700 reps across four seasons."
4.135 – HB, DeWayne McBride, UAB
5'11" 215 lb | 1,713 rushing yards, 19 TDs, and 7.35 YPC last season
Per The Draft Network:
"McBride has very good size for the position and is an above-average overall athlete. McBride is a patient running back who understands how to press the line of scrimmage while waiting for his blockers to get to their landmarks and wait for an opening. He displays outstanding vision and instincts as a runner as he naturally finds gaps in the line of scrimmage and consistently runs to open space when he reaches the second level. He is able to locate cutback lanes and has the ability to cut back across the line of scrimmage to hit the hole."
6.184 – OT, Luke Haggard, Indiana University
6'6" 305 lb
Per The Pro Football Network:
"Strengths
Light-footed athlete out of his stance with the mobility to match to the apex.
Has good recovery athleticism and can reset base laterally to maintain positioning.
Has enough length to fully extend and prevent rushers from getting inside his torso.
Able to turn and direct rushers outside the apex with modest hip flexibility.
Flashes above-average knock-back power when he's able to fully drive and extend.
Displays good balance and footwork when tracking rushers upfield."
6.187 – TE, Davis Allen, Clemson University
6'6" 250 lb | 39 receptions, 443 yards, 5 TDs
Per The Draft Network:
"As a receiver, Allen is a one-speed runner who can win vertically down the seam but lacks any sort of explosiveness or twitch to be a big-play threat. Allen is a smooth athlete who glides in the open field but is not sudden. He is just an average route-runner and doesn't show the ability to create separation at the top of his route. Allen is at his best when working against zone coverages, as he understands how to sit in zone and make himself available for his quarterback.
Allen is a long tight end with outstanding catch radius and ball skills. He excels in contested-catch and 50/50 situations and rarely will you see Allen drop a pass. Because of his size and length, Allen was frequently used as a weapon in the red zone, an area of the field where he was very productive. Allen is a get-what's-there player with the ball in his hands, as he lacks any sort of change of direction or short-area quickness to be a threat after the catch."
6.192 – WR, Bryce Ford-Wheaton, West Virginia University
6'3" 224 lb | 62 receptions, 675 yards, 7 TDs
Per The Draft Network:
"West Virginia wide receiver Bryce Ford-Wheaton has flashed promising physical abilities over the course of his career with the Mountaineers, highlighted by a career year in 2022 that saw him take on his biggest workload yet. Ford-Wheaton projects as a developmental possession receiver at the NFL level who has the size and body control to win in contested situations but he will need to clean up and refine how he addresses the football and his route-running to reach that full potential."
6.210 – C, Ricky Stromberg, University of Arkansas
6'4" 318 lb
Per The Draft Network:
"Pros: Ricky Stromberg is a well-tenured starter at the SEC level. He's seen the best of the best and as a result, you have a pretty vivid picture of his strengths. He's capable of pretty high-level reps in both the vertical run game and working as a quick-reach player to set the point of attack and establish a firm lane to cut back into. He leverages his hands well at the point to combat and manipulate the pads of defenders and carve out a gap in the point of attack.
When tested with power, Stromberg holds up fairly well. He's got a bigger frame for a center and has showcased the needed anchor against power rushers to win one on one. You shouldn't consider him a persistent help player in the front; he can handle isolated matchups. Positional versatility is something that will go as a big plus—having the utility to move him around and reshuffle your line based on injuries is something that always adds value as teams look to negotiate the right balance on their 53-man roster."
7.245 – QB, Clayton Tune, University of Houston
6'3" 215 lb | 4,074 yards, 45 TDs, 10 INT
Per The Draft Network:
"From the snap, Tune plays with great confidence, standing the pocket and working himself through the progressions of the offensive play. Tune trusts what he sees and will consistently deliver the football to his receiver without hesitation. This Houston offense stretches teams both vertically and horizontally and Tune's best throws are in the short-to-intermediate areas of the field. He does a good job of quickly reading coverages and delivering the ball to receivers in both zone and man coverage.
While Tune will be most effective as a passer, he also has an element of mobility that he utilizes. In the pocket, Tune does a good job of evading penetrating defenders and escaping the pocket to make a play. Tune also has the ability to keep the ball on option-style plays. Tune should be categorized as a mobile quarterback and not a dual-threat quarterback, but he does possess enough athleticism to make impact plays picking up yardage with his feet."