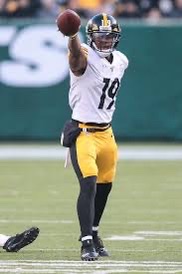 Image courtesy of Vincent Carchietta-USA TODAY Sports
The Patriots made their first big addition of 2023 on Wednesday.
With the "official" start of free agency, New England signed former Pittsburgh and Kansas City wide receiver JuJu Smith-Schuster to a three-year, $33 million dollar contract. Smith-Schuster is 26 and was a second round pick by the Steelers in 2017.
Smith-Schuster had a strong rookie year (58/917/7) before exploding for 111/1,426/7) in 2018. in both 2017 and 2018, JuJu also had season-long touchdown catches of 97 yards. He took a dip in 2019 (42/552/3) but rebounded in 2020 (97/831/9) before missing the majority of 2021 with an injury. JuJu played just five games that season after playing 14, 16, 12 and 16 his first four years in the league.
Last year with the Chiefs, Smith-Schuster played in 16 games, catching 78 balls for 933 yards and three touchdowns. The odd thing about his deal is it's basically identical to the one Jakobi Meyers got with the Raiders, but, there's no denying he's an upgrade from Meyers both in size and ability.
If this is the first move in a series of them to upgrade the offense then it's an outstanding decision by the Patriots. If he's the only move, then you have to wonder why they didn't bring Meyers back and also bring in JuJu as an addition rather than a replacement.