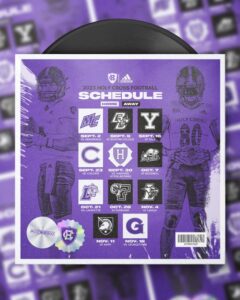 Image courtesy of Holy Cross Athletics
On Thursday evening, Holy Cross will be back on a field as a team for the first time since the soul-crushing defeat in the FCS playoffs.
With guys like Matt Sluka and Jalen Coker back offense and some familiar faces on defense, there's little reason to believe that HC can't have another magical season and make another deep playoff run.
Now, in fairness, going undefeated and matching the incredible ride the program had last year is probably too much to ask, especially when you take a look at the schedule Bob Chesney's crew is facing this season. On Tuesday, the team unveiled its 11-game slate ahead of the first spring practice.
SEPTEMBER 2 vs. MERRIMACK
This opener has become one of the better ones on the New England calendar each year. Merrimack has established itself as a legitimate threat each season in the NEC and despite losing to the Crusaders at home last year in the opener, made it a game before HC pulled away. This is a great test for Chesney & co. to open things up.
SEPTEMBER 9 @ BOSTON COLLEGE
If this was 2021 I would tell you right now that HC might win this game. BC probably wins, but it won't be a cakewalk by any means. Holy Cross' offense might give this Eagles' defense some fits, especially if Sluka can control things with his legs and keep the BC offense off the field. Upset? Probably not, but it's definitely not out of the question.
SEPTEMBER 16 @ YALE
HC thumped Yale in its home opener last season but the Bulldogs – who are also the defending Ivy League champs – will have revenge on their mind. This is another extremely tough test early on in the season and a game I could see going either way.
SEPTEMBER 23 vs. COLGATE
The first "easy" game on the schedule and it doesn't come until late September.
SEPTEMBER 30 vs. HARVARD (AT POLAR PARK)
Pretty much the same thing as the Merrimack matchup here. This rivalry has become one of the best in all of New England and adding the element of a cool backdrop at Polar Park means this should be one hell of a ball game that could go either way.
OCTOBER 7 @ BUCKNELL
The Bucknell and Lafayette stretch is one HC absolutely has to sweep. No way around it.
OCTOBER 21 vs. LAFAYETTE 
See Bucknell.
OCTOBER 28 @ FORDHAM
Arguably the most epic finish in Holy Cross history happened at Fitton Field last season during this matchup. Fordham is really the only team in the Patriot League that presents a threat to disrupting HC's hopes for a five-peat. This will be the toughest game of the year aside from the Boston College game.
NOVEMBER 4 @. LEHIGH
No excuse not to win this game unless the team is decimated by injuries.
NOVEMBER 11 @ ARMY
Very difficult road test especially if there's crappy weather late in the year, but a game Holy Cross can and should win if they're the team we all think they are,
NOVEMBER 18 vs. GEORGETOWN
Should be a celebration day with Senior festivities, maybe a Patriot League title clinch and possibly even another home playoff game clinching scenario.
I have a feeling the Crusaders won't be going unbeaten this year, but if you haven't gotten out to Fitton Field for a game during this special run the team has been on the past few years, there are plenty of great opportunities to be a part of one of the best atmospheres in all of New England with this home slate. As always, we'll have plenty of Crusader coverage throughout this spring leading up to the season.