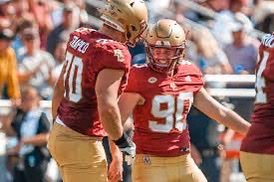 Image courtesy of BC Athletics
When spring ball rolls around, 99.9999999% of people never think about kicker unless it's an absolute glaring hole.
For BC fans, the thought that kicker could be a big time position battle before the 2023 season begins hasn't been a topic of conversation, but it very well could be a critical spot.
For now, it's Connor Lytton's job to lose. During his first season in 2021, Lytton was on his way to being the next big thing for BC. Lytton went 11-12 on field goals and made all 25 of the extra points he attempted. Lytton's leg strength was obvious from the first time anyone saw him kick. That first season, he was 4-4 from distances of 20-29 yards, 5-6 from 30-39 yards and 2-2 from 40-49 yards. Then, last year, the crap hit the fan.
Lytton was just 9-17 last season. Which, first of all, speaks volumes about just how bad the offense was – the fact he only attempted 17 field goals means the offense was barely in the red zone. But, he was 4-7 from 30-39 yards and just 1-5 from 40-49 yards. He was still 24-24 on PAT's.
Head coach Jeff Hafley was asked how important Lytton having a bounce-back year is for the team and he didn't mince words.
"Huge," he said. "I showed the team (Tuesday) in a team meeting, he was 10-11 in practice. Today, he didn't miss one. It's a new year. We've stressed a bunch of different things to him and we've gotten some guys to help him. I have confidence in him. He had a great first year. We'll consider last year a bad inning and we'll move on. I have confidence in him, but we're going to need him to make those kicks."
The Eagles have only had two spring practices so far so the competition hasn't really ramped up yet, but Leominster's Liam Connor (Middlesex) could push Lytton. Redshirt freshman Mika Montanan could also be part of the mix for field goals or kick off duty as well. Hafley also talked about that competition.
"Those are crucial, which is what we saw last year. Liam (Connor) will compete with him, so there's definitely some competition. Just like at any other position, we're going to play the guy that gives us the best chance to win," Hafley added. "So, whoever is most consistent with field goals and extra points will be our field goal kicker. Liam came on strong last year and won the kickoff battle. He's got a really strong leg and is a really good athlete. Those guys are in it right now. That's our job to create that competition and make those kids, we've got to make them."