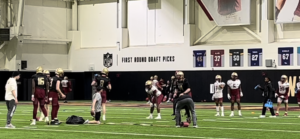 Following the second day of spring practice on Tuesday morning, BC head coach Jeff Hafley talked about the assimilation process for his new coordinators, particularly on offense.
While nothing has changed schematically on the defensive side of the ball, the offense has been giving the defense fits early on since everything is brand new.
"Chud wasn't really part of the scheme and structure of everything we were doing, so it's a whole new voice in there," Hafley said. "The scheme is different. The terminology is different. It's like we brought in a coordinator from the outside. This isn't just run what we've run. This is going to look very different and sound very different. There's an attitude and a different energy. I think they're picking up the scheme pretty good. It's harder on the defense because they haven't seen much of this stuff. There's some playmakers out there too. Joe Griffin isn't practicing yet, he will soon. George Takacs isn't practicing yet, but he will soon. The team's got a good feel to it. We've got to build, we've got to get better. That's what the spring is for. It's very positive and it's exciting right now."
While BC is being very careful with some of its elite playmakers right now, quarterback Emmett Morehead is also using this time to hone his leadership skills while getting on the same page as Chudzinski and Shimko.
"I think he's emerged as a leader throughout the offseason so far," said Hafley. "He's got a really good relationship with both sides of the ball, offense and defense and I think you saw it last year. It's not just the offense, he's also got the defense behind him. You could see that in the offseason work outs, how hard he works. You can see it in practice. He'll jaw back and forth. Him and Donovan were going at it today – in a fun way – but, it's been good. He's got a lot of leadership qualities. He has to gan experience and play more and more, but it's there. Hopefully we keep progressing."
The most important piece of the new-look offense is the offensive line, obviously. The chemistry is coming along nicely, even if it is just two practices in to the 15-practice slate. A big reason for that is not just the experience for the young guys from a year ago and vets like Mahogany, but also the familiarity with new (old) O-line coach Matt Applebaum.
"The nice thing is, Matt knows a lot of these guys. Matt recruited most of these guys…he already has a relationship with them," Hafley added. "Then, with (Shimko and Coach Chud) they're working through the scheme. Matt's got a really good eye on the run game and protection stuff. They're piecing it together, so I think having that relationship helps. I think he's excited about the group. It's a group that went from 'who are we going to play and pulling guys from defense?' to 'who's going to be the starting five?, which is night and day from where it was last year. We just have to stay healthy."