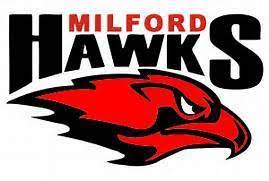 With the loss of a talented senior class, Milford is expected by some to come back down to earth. Surely, the Scarlet Hawks can't win a share of the Hockomock League Kelley-Rex and make another Final Four postseason run again.
For those doubters, the Hawks might have a surprise in store.
Milford should be very good again, and are in reload, not rebuild, mode. Milford will compete in Division 3 next season, and will be among the favorites to win that state title.
As for their top players, the Hawks have a lot of talent, most of which shined to some degree or another last season.
Nick Araujo is a 6-foot, 230-pound kicker, linebacker, and running back. A Class of 2024 player, Araujo will have Division 1 options as a kicker, but will have options at the D2 or D3 level for other positions. A big, strong back with good feet, he carries the ball well and defenders just bounce off him.
The offensive line will be a strength. Three 2024 starters return in Kiko Lee (5-10, 230), Tony Dew (6-1, 285), and Oliver McKee (6-1, 265). Milford will have the type of size to push teams around, and coach Dale Olson loves to use that running game to wear down defenses.
Other 2024 players who will make an impact are outside linebacker, defensive end, and running back Nate Scudo (6-0, 210) and wide receiver and defensive back Damien Carter (6-0, 210). The Hawks will have a very good skill group, and those two are part of the reason why.
Going to the 2025 class, Andrew Rivera (6-2, 210) is a hybrid outside linebacker/defensive end who plays H-back on offense. He was inserted late in the year in 2022 and scored six touchdowns in four games.
Two 2026 players to watch include CJ Farrell (6-0, 170), a wide receiver and defensive back, and Ian Carter (6-2, 180), a safety and wide receiver. Farrell saw a lot of time as a freshman and both have a bright future.
Neon Dion
One player who should see more attention come his way in the coming months is 2024 Amherst athlete Jameson Dion.
At 6-0, 186 pounds, Dion is a playmaker at running back, wide receiver, defensive back, and kick and punt returner.
In three and a half games this past season, Dion rushed for 746 yards and 11 touchdowns and made one interception.
Dion has excellent speed, but former Amherst coach and current Western New England assistant Chris Ehorn notes his college position may be safety for the way Dion comes down and hits people.
A starter for the Hurricanes since his freshman year, Dion does a little bit of everything for them, and Ehorn said he "does it at a high level."
Right now, Dion has interest from UNH, UMass, and some FCS programs, but his recruitment has not really picked up yet. That should change, though, as Dion is one of the better players in the area.