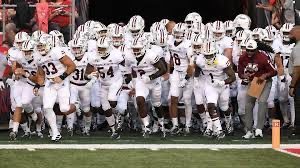 FOXBOROUGH – It's almost time UMass fans.
Year two for the return of Don Brown and a higher bar for the program is what the Minutemen are looking at when taking the field for the first day of spring practice in three weeks. That "high bar" may only be three-ish wins for now (it's going to be a slow build, start preparing yourselves again now), but there clearly needs to be some type of clear progression.
Brown spoke to us on Friday night at the MHSFCA Coaches Clinic at Gillette Stadium and talked about where he thinks the team is at with April rapidly approaching.
"We have three new quarterbacks. we have three new running backs, we have four new receivers. We've got two more offensive lineman and then eight defenders from front to back," he said. "We've been having a busy month. The entire month of February with winter workouts, mat room and all the things we've been able to accomplish. I couldn't be more happy with the guys and I can' tell you how vastly we've improved."
All those position battles might ordinarily scare some staffs into thinking they don't have their full grip on the roster. Not Brown. Brown is more than happy to see multiple guys fight it out at multiple positions. UMass is in a stage where no one's job is safe and that's a good thing.
"One thing I believe in is there's no scout teams on film. Nobody gives a look to anybody. We all compete," he said. "There'll be plenty of time where we have two actual scrimmages or work sessions going on on two ends of the field. Everybody gets equal reps. Everybody gets reps. Everybody gets a chance. I owe the players that."
(The full interview with Coach Brown can be seen on our YouTube channel Sunday. We will let folks know exactly when on social media)