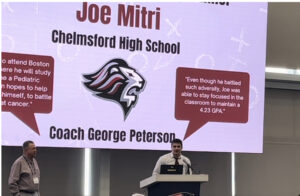 FOXBOROUGH – While the MHSFCA Coaches Clinic at Gillette Stadium every year is mostly just a giant networking event and a place to talk ball, Saturday's luncheon is always special.
Not because of the pasta, garlic bread or meatballs served at Gillette Stadium, but because one special player is recognized every year by the association and Gold Athletics with a Leadership Scholarship.
This year's recipient was Chelmsford's Joe Mitri. Mitri – who is headed to Boston University – is a cancer survivor and based on the words of his head coach George Peterson while introducing Joe on Saturday, one of the greatest teammates you'll ever find in high school athletics.
"We had a leader within our program this year who has faced so much adversity as a young man in his time at Chelmsford High School, that it just provided him with so many leadership qualities and was just absolutely phenomenal for us," Peterson said during his speech. "In 2019, I took over at Chelmsford High School and Joe Mitri was an incoming freshman…a couple days prior to the first day of the season, I got a phone call telling me Joe Mitri had been diagnosed with Hodgkins lymphoma. Obviously, all the preparation and time we put into that season kind of got pushed to the side and the concern immediately went to the health and well being of a player within our program. I reached out to Joe and talked to him and it was unbelievable, his resolve and attitude he had.
"I didn't expect to see him much after that phone call. I thought it would be the last time I saw him for a while because he was about to go through his treatment and his chemo and all that stuff and be dealing with adult things as a 15-year old kid coming into the high school. A couple weeks in, we're at practice and we share the field with our freshman….he's walking around with his teammates, patting them on the back, giving them five, doing the things a great teammate does. I thought it would be a one time thing or a couple times here or there, but he was there on a daily basis. He was consistent and he showed up every single day for his team and it was never about him….meanwhile, he was going to class every day and earning straight A's in the classroom."
Mitri went into remission in the spring of 2020 (the Fall II season), but got a severe finger injury, ending that campaign his sophomore year. As a junior, Mitri quickly found himself in a different leadership role.
"Unfortunately, at the beginning of that season, one of Joe's really close friends and teammates was diagnosed with a really, really rare form of cancer called angiosarcoma. It's a cancer that usually only happens to adults that are 60-70 years old. I think he's the youngest person in the world to have that form of cancer and the first person he reached out to was Joe," explained Peterson. "How he went about his battle with cancer. What he needed to do. What the mindset should be like, and Joe has been by his side the entire time and Nick continues to fight and Joe is right there beside him still as he continues to go through it."
Mitri was injured five games into the year, breaking his hand, ending his season and putting up yet another road block. Last year, Mitri finally got to play in all 11 games for the Lions, leading as only he could.
"If we got a turnover or something, you would see Joe sprint onto the field like 'yes, this is my opportunity to play. Here we go guys, we're going to make a stop, we're going to turn the ball over," Peterson added. "He's the most respected teammate I've ever seen. He's just a kid that has so many values to him that are incredible. He's going to graduate with above a 4.2 GPA…he just got accepted to Boston University…it's my pleasure to present this award to Joe Mitri."
Mitri took the stage to a round of applause and was beyond humble. Mitri was also presented with a plaque that reads: '2023 Massachusetts High School Football Coaches Association Leadership Scholarship. Joe Mitri. If your actions inspire others to dream more, learn more do more and become more, you are a leader.'
"Thanks for having me here today, I really appreciate it," Mitri said. "The scholarship and everything the coaches have done for me. The difference that CHS has compared to other teams is how we're not just a team, we're a family. During the offseason, we're there every day in the summer. We create bonds, we're brothers. Even the coaches, we get a turnover, they get hype for us. You see them jumping up and down on the sidelines, giving us fives. It starts with them. They create the atmosphere. They create everything and they just give us opportunities to go out there and make plays and just be great.
"Without those men, we would honestly be nothing and I owe everything to them. Thank you."