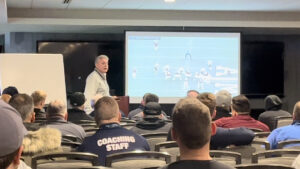 FOXBOROUGH – With spring ball rapidly approaching and the sling off, Don Brown was putting his passion for football on display Friday night.
Brown was one of many presenters over the two-day MHSFCA New England Football Coaches Clinic at Gillette Stadium. Brian Belichick kicked things off with a presentation about defensive run force, fits and gaps around 4 P.M. at the event hosted by the Patriots, specifically Fred Kirsch, Gary Doherty and Dave Driscoll. Ohio State defensive coordinator Jim Knowles was the keynote speaker. Prominent high school and college coaches not just from New England, but around the country are speaking this weekend and Brown presented on third down defense from 7:30-8:30.
After wandering over following a few other conversations at about 8:10, once you got within about 15 yards of the spot Brown was speaking at, his voice echoed. Immediately, "I don't know about you guys, but I go to bed dreaming about this shit, I really do," was shouted during a particular clip on pass rushing, drawing a chuckle from the nearly packed room of about 100 coaches.
Following his hour-long powerpoint, Brown spent about 10 or 15 minutes afterwards shaking hands and chatting ball with every coach that approached him. Even with one or two guys left still looking to talk with him, Brown was drawing plays up on a white board next to the screen, feverishly explaining his thought process in that particular situation to an eagerly listening coach
Brown was nice enough to speak with us exclusively for a few minutes after he was done with everyone who approached him, an interview that will be up on our YouTube page (yes, we're bringing it back. The last UMass video we have on there is from Walt Bell…) this weekend. Even in that five-seven minute clip, his passion for the game and desire to make guys better is incredibly high after such a long career.
If UMass fans are still worried whether or not Brown can truly turn things around, don't be. It's impossible for a team not to feed off his energy and slowly but surely, most – if not all problems – will be solved with aggression eventually.