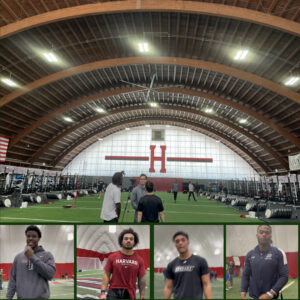 CAMBRIDGE – Around 10:00 on Thursday morning, the parking lot just outside of Harvard Stadium and the hockey rink began buzzing with action.
Guys with hats, hoodies and polos from nearly every NFL team were on hand for a Pro Day that was hosted by head coach Tim Murphy, the Harvard staff and mostly ran by members of the Patriots organization. For three hours, players from Harvard, Merrimack, Bryant, Bentley, Curry and New Haven had one of the biggest jobs interviews of their lives.
After being measured and weighed right at 10:30, players went through the bench press (225lbs.) and vertical jump before walking over to the bubble inside Harvard Stadium. There, members of the Patriots and Packers organization helped run broad jumps and 40-yard dashes before finally getting into position drills for the final hour.
This was just the first of more Pro Days, formal interviews, informal meetings and everything else that comes along with the Draft process for the 11 athletes that were on hand, but getting the first one out of the way after preparing for it basically your entire life is still a bit of a relief.
"I thought the day was a lot of fun, just coming back, seeing old teammates, seeing all the work we put in over the past couple months," said Truman Jones. "It's like everyone I know just kind of went into that mode where they were just training, focusing on that and today's the day we put everything on tape. We had a good turn out of scouts, everyone performed very well and stayed healthy, so I'm very happy."
"You know, a little bit," added Aidan Bourget on if he was relieved. "I think more than anything, it's just another step in the process. So, being kind of done with this chapter, allows me to go on to the next chapter and the next challenge."
Below are bench numbers, broad jumps, 40 times, vertical jumps and for everyone.
TYLER ADAMS (WR, Harvard/Butler)
40 – 4.46, 4.44
BENCH – 23
VERT – 31.5
BROAD – 9'10"
AIDAN BOURGET (RB, Harvard)
40 – 4.62, 4.56
BENCH – 35
VERT – 36.0
BROAD – 9'9″
TRUMAN JONES (DL, Harvard)
40 – 4.64, 4.63
BENCH – 17
VERT – 37.0
BROAD – 10'2″
KHALID THOMAS (DB, Harvard/Samford)
40 – 4.65, 4.66
BENCH – 17
VERT – 33.5
BROAD – 9'9″
TYLER ROBERTS (TE/FB, Merrimack)
40 – 4.74, 4.73
BENCH – 20
VERT – 31.5
BROAD – 9'10"
RODNEY SAMSON (LB, Merrimack)
40 – 4.81, 4.87
BENCH – 21
VERT – 32.0
BROAD – 9'8″
ANTHONY WITHERSTONE (DB, Merrimack)
40 – 4.50, 4.50
BENCH – 14
VERT – 35.0
BROAD – 10'10"
JAILEN BRANCH (DB, Bentley)
40 – 4.62, 4.57
BENCH – 15
VERT – 32.5
BROAD – 9'11"
DAVID ZORRILLA (WR, Bryant)
40 – 4.57, 4.56
BENCH – 13
VERT – 36.0
BROAD – 10'2″
CONNOR DEGENHARDT (QB, New Haven)
40 – 4.77, 4.71
BENCH – (Did not bench)
VERT – 31.5
BROAD – 9'6″
JOSIAS ROMAN (OL, Curry)
40 – 6.11, 6.15
BENCH – 9
VERT – 19.5
BROAD – 6'11"
Bourget's performance on the bench was the most impressive performance of the day non-football drill related, but he also showed he can be a strong pass catcher out of the backfield when Degenhardt was throwing. Some of Bourget's now former teammates were watching and cheering high above in the balcony of the weight room, adding to the spirited atmopshere. The 35 reps – if it was at the NFL Combine – would have set the record for running backs, currently held by Jerick McKinnon in 2014 when he put up 32. Bourget knew the number and was actually pushing for it,
"The support system we have here is awesome," he said. "This team is really like a family and you could tell by everybody that showed up. That definitely help lift us all here today. As far as the bench goes, I had a goal walking into it and that was to beat the combine record. So, 35 was definitely in my mind."
Jones had an incredible day for himself despite the low bench numbers. Jones moved well in every drill, never dropped a ball during others and showed incredible speed for a guy his size. Jones and the other 10 guys know this was just the start, but actually putting on a performance on a day you've been preparing for seemingly forever is pretty memorable.
"It's a very special experience," Jones added. "Guys were asking if they could come (watch/cheer) all week and I was like, I didn't necessarily know, but I'm happy everyone showed up and gave us some support. It just made the room feel more lively and I really appreciated that.
"The next thing is to stay in great physical shape. Not as much combine training and Pro Day training, so probably a little less sprints, but more position-specific work, more defensive line work, more pass rush work and then still lifting heavy and getting stronger."