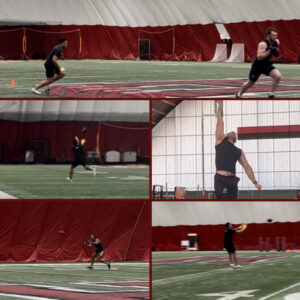 CAMBRIDGE – Harvard may have hosted an NFL Pro Day for 11 guys on Thursday, but it soon turned into a show featuring three guys from Merrimack and one from Bryant.
The Bulldogs are coming off their inaugural season as a Big South School and were competitive in just about every single game last season. Meanwhile, Merrimack was a win away from the NEC conference title and can now pursue an FCS postseason bid for the first time this season.
Tyler Roberts (FB/TE), Rodney Samson (LB) and Anthony Witherstone (DB) all represented the Warriors incredibly well, while wide receiver David Zorrilla quickly made a name for himself repping the Bulldogs.
Witherstone was fantastic throughout the day, not only showing well in the testing (4.50 40 time, 10'10" broad jump) but also showing his speed and athleticism in actual football drills, particularly with his back pedal and ability to quickly break on the ball. The same can be said for Samson who was in all of the same drills (4.8 40) and Roberts caught every single ball – outside, inside, out of the back field, deep, all of them – from New Haven QB Connor Degenhardt.
"It feels good," Witherstone said after the three-hour interview was over. "I mean, I know we still have another (Pro Day) opportunity in a couple weeks down at Merrimack. Right after this, couple days off and then I'm right back in the weight room. Not a big relief because I still have more work to do, but yeah, going to keep on going."
Zorrilla was just as sure-handed catching balls from Degenhardt and slo flashed his speed with a 4.5 40, a 10'2″ broad jump and a 36.0 vertical leap.
"I don't want to say I'm glad it's over, but I had a good time, it was a great experience," said Zorrilla. "Thank god I'm here, that I got put in the position I'm in today and also, thank god I have another one at Bryant two weeks from now. Overall, it was a great experience, something new. Obviously, I've never been in this situation before, but got to meet a couple new guys, guys I've worked out with the last three or four months, so it's been a great experience."
Coming from the "lesser known" schools can often help guys in these situations. There's a sense of pride for guys from programs like Merrimack and Bryant when it comes to NFL Draft time. The old saying goes if you're good enough, they'll find you, but Thursday was a day for these guys to absolutely make sure they're on the radar in April.
"I definitely have that pride, only a couple guys from Bryant has made it anywhere professionally," added  Zorrilla. "I'm glad to be one of those guys that take pride in the Bryant name and try to go play professional football. Whether it's the NFL, CFL, it doesn't matter."