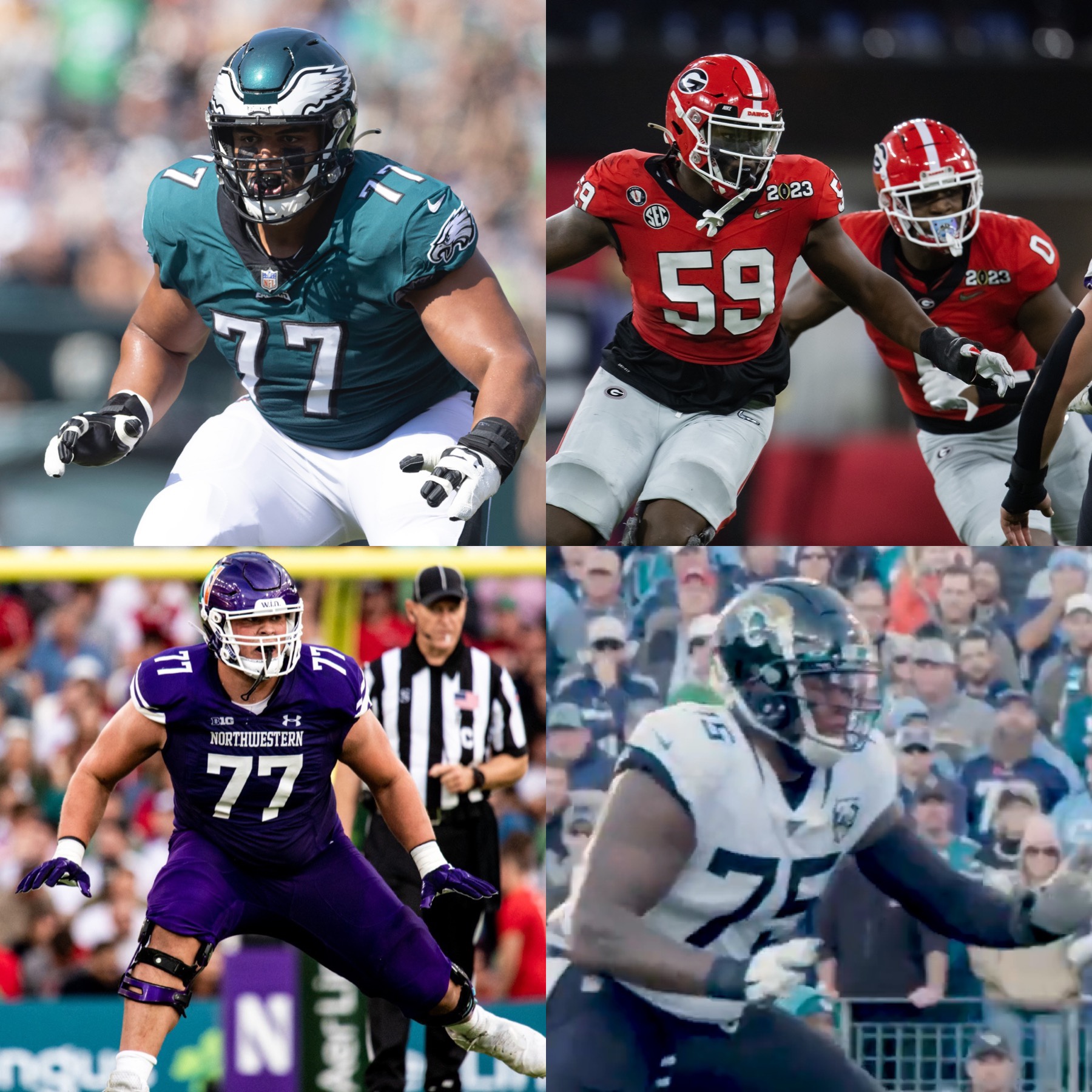 The Patriots have a glaring need at offensive tackle. I still maintain cornerback is a bigger need but they need to address both the left and right tackle spots. The Patriots currently have Trent Brown, Conor McDermott and Andrew Stueber under contract on the active roster. The only other offensive lineman who could play tackle is Michael Onwenu. With Isaiah Wynn and Yodny Cajuste free agents, the Patriots are fully prepared to move and start fresh at the position.
Here are ten offensive tackles between free agency and the draft that fit what the Patriots do.
Free agency
Jawaan Taylor, RT (Jaguars): Taylor is long, athletic and physical in the running game. He moves people at the point and plays with an edge. He would be a major upgrade over what the Patriots have had at right tackle in recent years and would a long term solution at the position.
George Fant, RT (Jets): Fant is a veteran who has also played for the Seattle Seahawks. He would not command the big money that someone like Taylor or Mike McGlinchey would. Fant is athletic, moves well in space and is fundamentally sound as a pass blocker. According to spotrac.com, his projected AAV would be $3.3 million dollars which is well within the Patriots budget.
Andre Dillard, LT (Eagles): The one guy I would like to see the Patriots make a run at. He has battled injuries and inconsistency with the Eagles but he has the length, athleticism and make up to be a top 15 left tackle in the NFL if he can stay healthy. Dillard should be an affordable option if the Patriots decide to pursue a left tackle and move Trent Brown to right tackle.
Jermaine Eluemanor, RT (Raiders): The former Patriot could be in play as an affordable veteran option if the Patriots decide they do not want to spend big at the position. Eluemanor is versatile, tough, physical and can even swing to the left side in a pinch. According to PFF, from Week 7 through the end of the season, Eluemunor's 83.1 pass-blocking grade ranked fourth among right tackles, with his 4.0% pressure rate allowed on true pass sets (2.0 seconds or more, straight dropback, screens/play action removed) also the fourth-best mark at the position.
Kaleb McGary, RT (Falcons): McGary had a career year in 2022 after the Falcons declined to pick up his fifth year option. One of the best run blocking tackles in the NFL, McGary is long, strong at the and physical at the point of attack. He gets consistent movement on single blocks and double teams. Can be hit or miss in pass pro but if the Patriots are willing to spend some money, he could be a viable option.
Draft
Peter Skronski, OT, Northwestern: Forget about arm length. Skronski is a day one starter. He could play both tackle spots or kick inside to guard. He is strong at the point of attack, fundamentally sound and has a high football I.Q. Reminds me a lot of Logan Mankins physically.
Broderick Jones, LT, Georgia: Jones actually measured taller than we originally thought. That extra inch in height makes a world of difference. He tested well at the combine flashing the athleticism (4.94 forty at the combine) that pops on tape. If the Patriots want a left tackle anchor for the next 8-10 years, Jones could be that player at 14.
Blake Freeland, BYU, LT: Freeland ran the second fastest forty time behind Jones at the combine. He ran a 4.97 at 6-7 7/8 302 pounds. Freeland has the length and athleticism to play either tackle spot and excel. He needs to play with more bend and generate more lower body movement as a run blocker but the physical tools are there for him to develop into a pro bowl caliber player.
Cody Mauch, 6-5 302, OT, NDSU: Mauch is a Patriots type lineman in that he offers versatility. He can play guard or tackle and excel at either position. I get some Joe Thuney vibes here. The Patriots would have to take Mauch earlier than they did Thuney but he could be a linchpin of the offensive line for years to come. Strong run blocker and pass blocker. He would be a dominate pass blocker at guard.
Matthew Bergeron, 6-4 7/8 318, OT, Syracuse: Another swing tackle with guard potential. Bergeron's film was good. He is technically sound, plays with good leverage and bend and gets movement at the point in the run game. He is an athletic pass blocker who moves well laterally and can handle wide techniques as a tackle. Bergeron is a good football player who takes a business like approach to the game, something the Patriots will like.
The Patriots will have options in their quest to improve their offensive line. How they approach free agency will give a good indication as to what they will do in the draft.