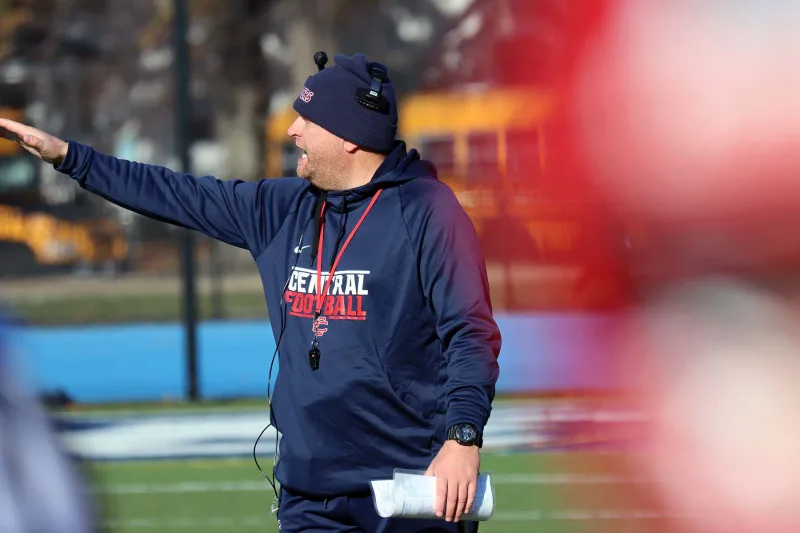 In our latest in a series of interviewing local coaches, we wanted to catch up with Central Catholic head man John Sexton.
The longtime offensive coordinator for the Raiders, Sexton takes over for Chuck Adamopoulos this season.
We wanted to get sexton's thoughts on the job and what lies ahead for one of the area's most successful programs.
Here is a quick Q&A.
AK: What's the best sign in your eyes that you guys will keep it rolling there? What have you seen so far from your players that make this a smooth transition?
JS: The best sign that I've seen that we will be able to keep things going in the right direction has been the buy-in from the guys. We've had an excellent winter season with the bulk of our roster participating in indoor track, wrestling and basketball. We've also consistently had between 50-60 guys here before school in the morning for conditioning workouts. The kids have really been working hard.
The other sign that we will keep going in the right direction is that the entire staff will return intact. We have a really experienced staff, most of the guys are graduates or work in the building or both. The staff cares about our kids and the program deeply and I trust them implicitly so I'm certainly grateful they've all decided to stay on.
AK: How experienced are you going into '23? Is it a building thing or are you in a good spot?
We certainly lost some really good players this year to graduation and not to minimize their contributions but that happens every year. All the good programs lose good kids every year. That's why you need to have a constant emphasis on developing your entire roster.
As far as '23 is concerned we are pretty seasoned and experienced in certain areas and we will rely on that group for leadership as we move into the spring season and early summer. We are young and green in other areas for sure but the one thing that the entire group has shown so far is a penchant for working hard together. We will hang our hat on that until we can get some of these new guys the requisite experience needed.
AK: How often does Chuck counsel you and give you advice?
Chuck and I start each school day in the Raider Cafe at 7am over coffee. We talk every day, very often multiple times a day. I know that I don't have very far to go when I have a worry or concern or want to bounce an idea around. That's a pretty great resource for me, for all our coaches really. He's seen it all and to not get his take on things would be foolish. There isn't anyone now to tell me to send the punt team out there on 4th and 6 however so that will probably have to be monitored closely.
AK: What will be different about Central under you? What will be the same?
As far as what will change it's really not a lot. I think you need to add and subtract each year from a schematic standpoint but that mostly pertains to your own personnel. As far as staying the same: we need to continue to be well prepared each week, we need to continue to practice and play with great effort, we need to continue to love each other and look out for each other.
If we can do those things consistently we will be in good shape.
AK: What do you see in returning quarterback Blake Hebert that excites you?
We are very excited about Blake and his development. He had a terrific sophomore season but the area so far this offseason where I've seen the most growth in him is as a leader. He's been at the front of the line in our drills in the mornings, he's been encouraging his teammates constantly and he's certainly done a lot of work on his body and his own game. He picked up an offer from Rutgers this past weekend and I think there are many more on the way. I can't wait to get back out on the field with him and we are thrilled we have him for two more years. He's a talented athlete but his work ethic and focus, both in school and on the field, are what sets him apart.