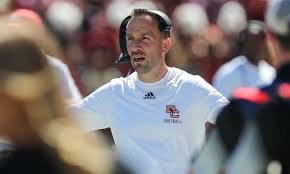 Image courtesy of USA Today
Boston College head coach Jeff Hafley's career at BC has been strange to say the least.
Through two years, Hafley got the Eagles to two bowl games, yet BC couldn't play in either of them due to Covid issues. A year later, Hafley watched as his roster was decimated by injuries and went 3-9. Now, entering his fourth season, the pressure is on and everyone knows it.
While the HC of BC is confident in his staff changes and the recruiting job everyone has done, there's still plenty Hafley needs to and wants to accomplish here. It's been a strange road so far since taking the job in December of 2019, but what has Hafley learned about himself during this roller coaster ride?
"I think every year there's things I need to get better at," Hafley said following the first spring practice last Friday. "What do I focus on? Being detailed. Building the culture in different ways, bringing the team together. Making sure my message is clear. Holding the guys accountable. The biggest thing I'm going to talk about is attitude and effort. No matter what, we have to have a great attitude, we have to play with incredible effort and a toughness and an edge, because that's the only way at BC."
Hafley acknowledged there's been plenty of learning lessons over the last few years and he also knows that this is a results based business. 2022 wasn't good enough and no one involved with the program is shying away from that.
In fairness, Hafley has been growing as a first-time head coach while his roster has been growing with him. Ultimately, if BC is going to be successful in 2023, it's because everyone from the top down is simply getting older and more experienced, including the head coach.
"I've learned a lot the last couple years," he added. "The biggest thing I'll say again is, we're finally getting older. Most of of our guys now are in year three, not four or five. We still don't have many fifth and six year guys like other teams around the country and we've got guys that have played. That's what fires me up. There's some friggin energy and fireworks going off out there (at practice) because there's competition. Guys want to get the job now."