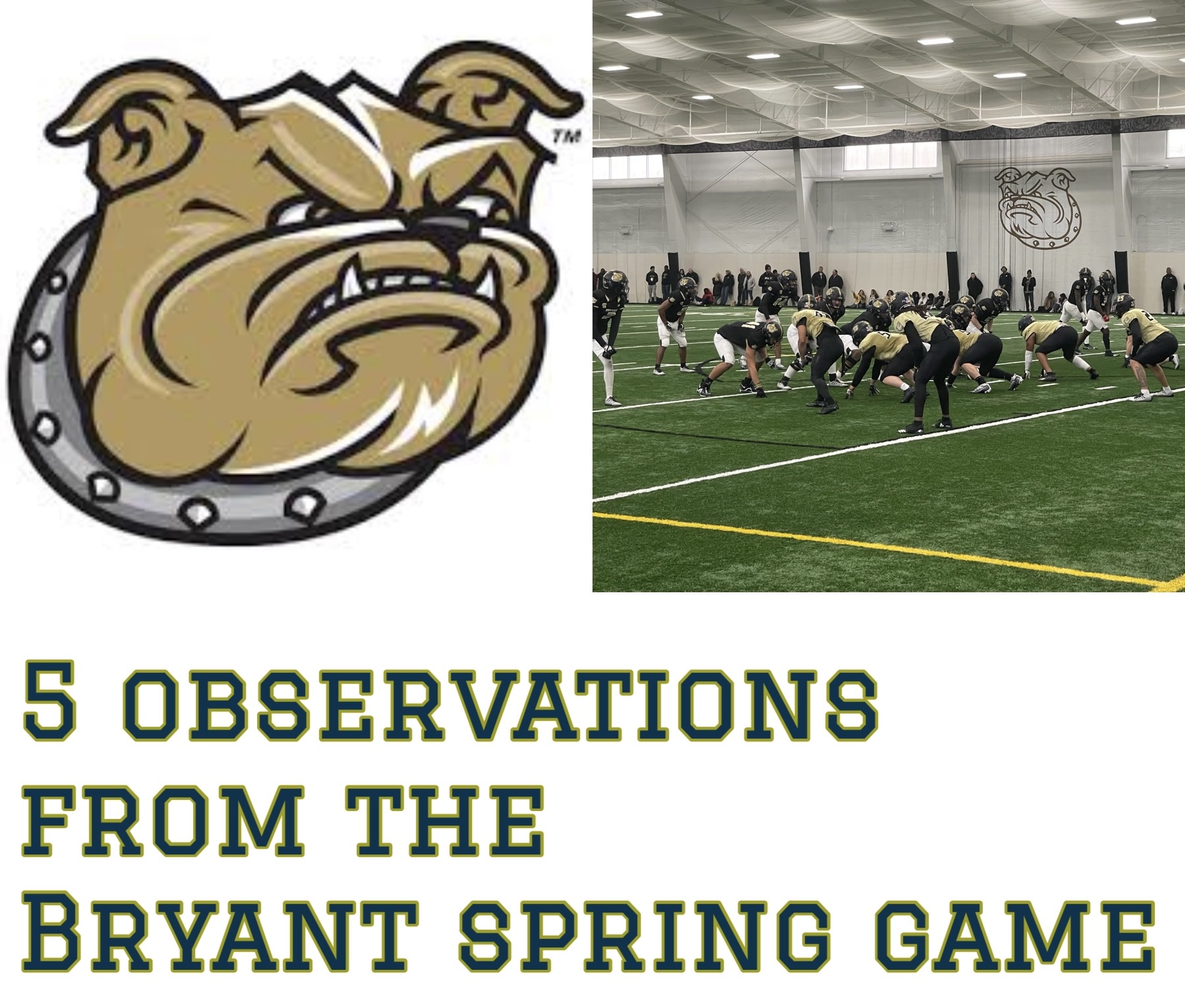 1.Quarterbacks impress: Sophomore Zevi Eckhaus and Freshmen Tre'Von Taylor both looked good at various points in the controlled situational scrimmage. Eckhaus looked in charge and under control. After not practicing at all last spring, he has taken the majority of the reps this season and is looking to build off of a record setting season in which he threw for 3.228 yards and 26 touchdown passes. Taylor on the other looked athletic scrambling and threw a touchdown pass. He did throw an interception but overall the quarterbacks had a good day.
Bryant Coach @CMerrittMT talks about todays spring game and the performance of the team. @BryantUFootball @BryantBGClub #SpringVisit pic.twitter.com/e24kPFhwDy

— New England Football Journal ® 🏈 (@newftbj) March 5, 2023
2. Ground and pound: The Bulldogs were banged up at running back but that didn't stop them from running the football. With all five starters returning along the offensive line, the ground game has been a point of emphasis this spring and it showed in this game. With Bryant running so many RPO's, the running game will once again be their bread and butter. Expect an added emphasis on it in fall camp.
3. Young defense competes but struggles: I thought the defense was competitive especially against the run but they struggled to generate a pass rush and the secondary struggled to match up at times. Defensive coordinator Anthony Barese runs a solid scheme and puts guys in position to make plays. There will be some growing pains with this group as the new faces get acclimated but once they figure it out, this defense is athletic and talented. They will make plays.
4. Tight ends featured: The offense featured the tight ends more in this scrimmage. Bryant runs a multiple offense but the focal point of the passing game last season was the receivers. This season it appears like the tight ends will be more of the focal point with seniors Konor Lathrop, Marc Taglieri and returning starter Jihad Edmond will all an integral role in the offense this season.
5. Depth gets work: The Bulldogs were banged up coming into the game and while that made it tough planning for the various situations, Coach Merritt said it was good to get the back ups some work. You can never have enough depth in football and that is what the spring is for. To give young players a chance to develop and play meaningful snaps.
Bryant will have a lot of new faces inserted into the line up this fall but there is plenty of talent on hand to step in and fill some of the roles. This team is poised to bounce back from a disappointing 4-7 season in 2022.