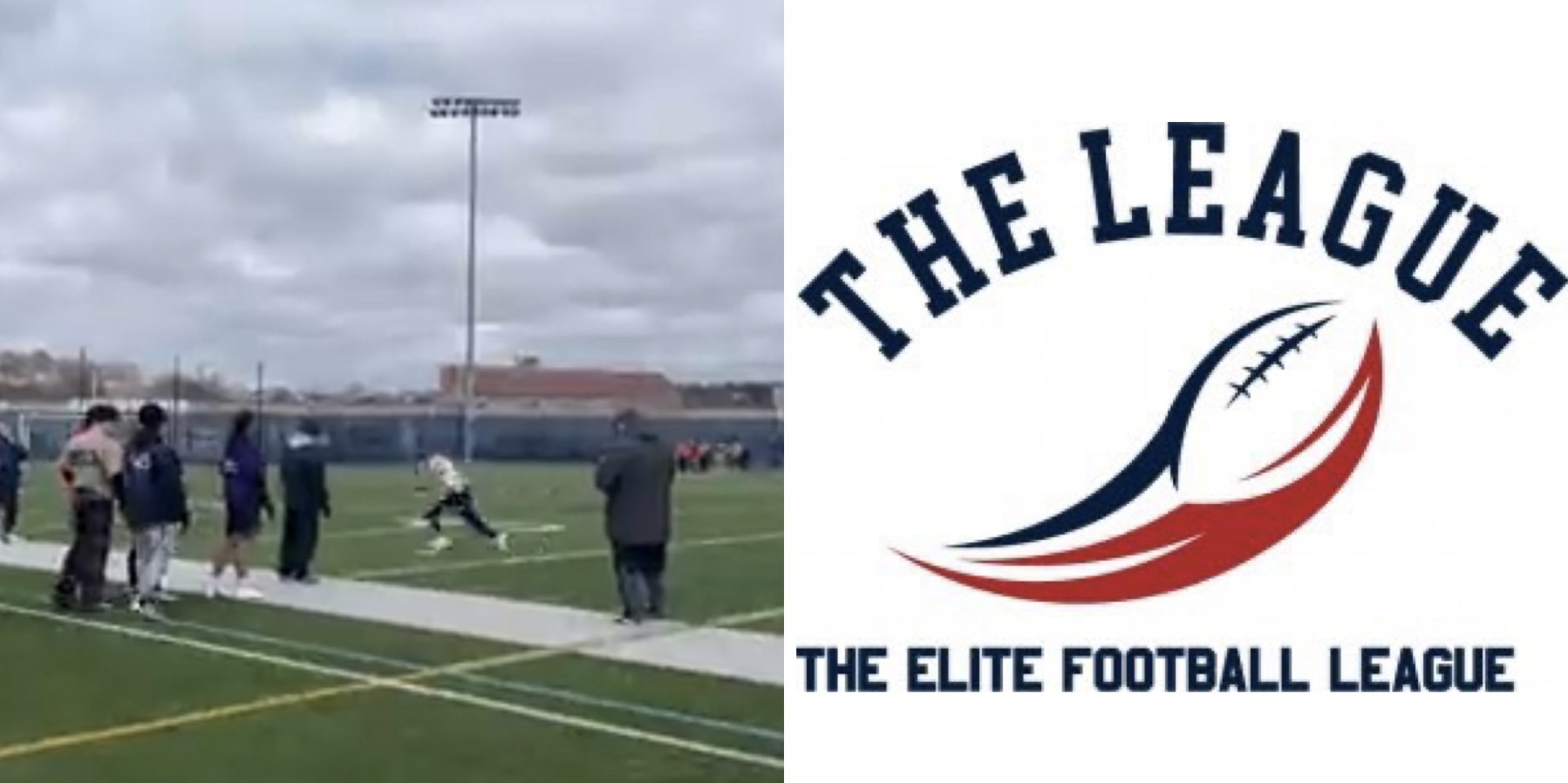 No amount of snow could stop tryouts for The New England Elite Football League, the country's only non-high school affiliated club football league, on Sunday at Malden Catholic High School.
The 2023 tryouts were, as always, invite-only, but every player trying out has an opportunity to make one of The League's five teams.
In the past, EFL alums have gone on to play at NCAA Division 1 schools such as Clemson University, Wake Forest University, Rutgers University, the University of West Virginia, and countless others, displaying the impact that the league can make on its players.
Sunday's tryout consisted of several traditional football drills, the three-cone drill, short shuttle, and backpedal to sprint, among many others. High school and collegiate coaches worked with the players in various exercises, allowing the players to obtain a variety of perspectives and advice.
https://twitter.com/jakethami/status/1632430573623947269?s=46&t=0-klhPVppXQ66vGpXhGesA
Bridgton Academy Defensive Coordinator and defensive backs coach Matt Burgess noted the importance of these drills in assessing a player's agility and athleticism. In addition, Burgess added that "the ability to follow directions in a quick setting" is crucial for players trying to play at the next level. He noted that while he and the other coaches try to keep things as simple as possible in the tryout, the players need to be quick learners on the field if they want to play at the next level.
Quarterback and rising Buckingham Browne & Nichols senior Henry Machnik praised The Elite Football League for allowing players to compete at full contact. "All the other clinics are usually no-contact, no pads. Here, we're playing the full game-like experience," he said. Machnik, in his second year with the EFL, looks forward to hopefully playing at the Division-1 level in college. "I'm just looking forward to camp this summer and getting to know more coaches," he added, taking full advantage of what the EFL offers New England high school football players.
The tryout continued with passing drills, where Machnik and the additional quarterbacks connected with other northeast receivers, tailbacks, and tight ends. The offensive players worked on hitches, corners, quick-outs, and vertical passing concepts.
https://twitter.com/jakethami/status/1632438591509897216?s=46&t=0-klhPVppXQ66vGpXhGesA
For Windham High School tailback Tiger An, he praised his fellow New England teammates. "All these guys are high-caliber athletes. If you want to be a top-tier athlete, you need to play against top-tier athletes." He added, "being in this environment is a big deal for me." An got reps in the passing drills, working on his hands, something he hoped to improve in his game out of the backfield.
Conditions became tougher, however, as the tryout continued, with the wind picking up precipitously. Several vertical passes sailed over the receivers' heads as the quarterbacks tried to combat the elements with deeper throws. That said, it did not stop a pair of EFL kickers from putting on a show, with one kicker nailing a 45-yard field goal to end the practice. The kick was met with oohs and aahs from his fellow EFL teammates and coaches, a clear sign that the purpose of the tryout is about self-improvement and the love of the game.
To conclude the tryout, Coach Mike Wiley broke down the huddle, stressing that the Elite Football League is a one-of-a-kind. The ability for young players to get exposure to high-quality coaching and work with top-tier competition is rare in the off-season for most high school athletes. The experience is second to none.
Buckingham Browne & Nichols tailback and rising junior Bo Maccorkmack echoed those sentiments following the end of practice. "The biggest thing is being able to do everything live. Everything is different. Going into summer and fall with actual game experience gets you ahead of a lot of kids," he said.
When asked what EFL team he wishes to play for this year, with a grin, Maccorkmack noted, "I was on the Junkyard Dogs last year. I like that team."
So, while it may seem like football season just ended, for these players and coaches at the New England Elite Football League, it has only just begun.