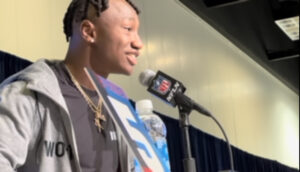 Image courtesy of @andybackstrom
It's tough to have a better couple months than Zay Flowers is having.
With his draft stock soaring despite being on a 3-9 team last year, the guy that holds every major receiving record at Boston College went and worked with the Patriots coaching staff in Las Vegas. Now, this weekend Flowers – in front of his now former head coach Troy Brown – has consistently proven that he's worthy of a first round draft pick, like many people have been saying for years. Just recently, the national media has started to catch up and is also seeing how special of a talent this guy is.
Flowers ran 4.42 and 4.45 40-yard dashes on Saturday before fine showings in the "gauntlet" and while tracking deep throws as well. Flowers' silky-smooth performance in the gauntlet was impressive aside from a late drop on a poor throw (yes, it was a poor throw). The 40-times weren't earth shattering, but for Flowers it was more of the "Mr. Consistency" performance that he needed to solidify what everyone had been saying about him.
Flowers spoke on Friday and was already extremely confident in his abilities.
"I feel like anybody should think they deserve to be the first receiver off the board. I don't really pay attention to any of it. I just try and get my work done and just keep moving forward," he said. "I'm not just a slot. 75% of my snaps was played outside. I think I can move around and play any position that they put me at…I can run every route."
Flowers' story is one that anyone can get behind, and he also acknowledged just how much his family is motivating him as he pursues a life in the NFL.
"That kept me competitive, kept me on my toes.  Kept me high-spirited, they're my biggest fans, my brothers and sisters. I'm living the dream for all of us," Flowers said.
Flowers recently put on some weight and was asked what changed and if he believes he'll be able to be the same dynamic player he is now with the extra bit of muscle.
"Change of diet. Changing the times I was eating," he explained. "More consistent meals and just being on time mentally and doing everything right at the right time. (Flowers said he now weighs 183lbs.) Yeah, I can play at this weight. I'm running at it, so, I've been running with it for four weeks. I think I'll be completely fine."
BC's greatest receiver still found a way to be productive despite so many other problems on offense last year. So, who or what does he attest that to? Surprisingly, the old OC. Flowers also believes last year will help him in the future.
"Coach McNulty allowed me to move to different spots," Flowers said. "He gave me a chance to make plays and also the quarterbacks gave me the chance to make plays with the ball in their hands. Being able to move and learn different positions, I think that would help anybody."
Selfishly, there are many of us that would love to see him get taken by the Patriots with the 14th pick in the draft. While I'd like to believe it's a possibility, realistically New England probably needs to go tackle or cornerback there. Still, wherever Zay ends up, this weekend locked him in to the first round. He'll have people all over the country rooting for him, but none more important than those back home.
"That's what I dreamed of as a little kid, being one of those guys that comes out of South Florida and put on for his city," he added. Being here and being able to do what I'm doing, I think, is a fine example of me doing it."