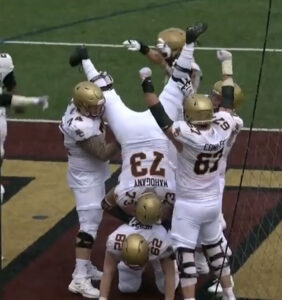 After missing the season with a torn ACL, BC's best offensive lineman Christian Mahogany is officially back in the fold.
Mahogany isn't going full steam head just yet, but he was a participant in BC's first spring practice on Friday morning. Mahogany met with the media for the first time since announcing he'd be returning to The Heights after practice and discussed a number of different things.
ON FINALLY BEING BACK AND TAKING THINGS SLOW FOR NOW
"Excited to be back. A lot of (individual), a lot of off-to-the-side team stuff. We're holding back for now. I'm just trying to get better technique wise with Applebaum, Chud, Shimko, They're all doing really well, teaching us a lot of things. Some new things, old techniques, just polishing up after the ACL. I feel really good right now, but we've just got to see and keep progressing."
ON PUSHING FOR THE RETURN OF OL COACH MATT APPLEBAUM
"I was just wondering, when we got told (Dave DeGuglielmo) was done, we were like, 'yeah, Applebaum seems like the right fit.' We've worked with him, I've had a good career, so it's like I never really changed coaches in a way. I've had Applebaum pretty much my whole playing career with Applebaum and hopefully this last year we just learn more. He spent a year in Miami, so that can definitely help us more than we know. Now with (Chudzinski) and (Shimko) that's three big minds. I'm excited to learn more stuff under (Applebaum) and see where we go from there."
ON HOW THE INJURY HAPPENED LAST YEAR AND HIS RECOVERY PROCESS 
"My numbers are really good right now. My numbers say I'm about 100%, I think it's just more about the cautious side. I haven't really hit anybody in a long time, since like Wake Forest two years ago. Maybe spring ball a year ago. We're just trying…movement wise and stuff I'm back. It's just getting ready to hit somebody I think to where we're just easing myself into that.
"When I was home (last year) I jumped and landed weird. It happened so quick, I didn't know…I've never been seriously injured like that. I didn't really know what happened. I stood up and thought maybe I just hyperextended my knee and then I started walking and it didn't feel right. I got an MRI and next day he told me immediately, 'yeah it's you're ACL,' so started pre-hab and rehab. I give a lot of credit to my doctors back home, my doctors here, they've helped me a lot. The early months were very hard, I've never been through an injury. I wondered if I could do it, that's really where I was at mentally. I've got a good support staff, coach and all my coaches, Hafley especially. Now, where we're at nine months was a couple days ago, the 27th of February, so nine-months post app I feel really good. I'm back to playing football. Just got to get back and September 3rd I'll be ready."
ON DEVELOPING LEADERSHIP SKILLS OFF THE FIELD
"It was tough, I hate missing football games,. I mean, my last, high school four, and then four years here, five years now, the last nine years have been all football. I just wanted to play at the highest level and be able to perform and learn under everybody. I learned a lot from Guge, how he worded things and how he taught. I tried to help the guys off the field, tried to be a leader to the defense, the offense when we played games. It was tough, I wish I was out there out there, but we're here now and that's where we're at. Glad to be back."
ON WHY THE O-LINE CAN BOUNCE BACK THIS YEAR BECAUSE OF LAST YEAR'S STRUGGLES
"Last year was hard. Losing myself, Finn (Dirstine), Kevin Cline, it's hard to work under those circumstances. It's not easy when everybody's beating up on you (outside of the program), it's definitely a challenge they overcame. We played well in a lot of games and we have to remember a lot of those guys had never played big time football like this before. We tried to ease them into it without any outside distractions. Now, they've got a year under their belt. We've got a lot of new guys, a lot of competition coming back. I'm excited and we're going to be ready. We're going to run the ball this year."
ON THE DECISION TO RETURN AND THE VIDEO HE POSTED ANNOUNCING IT
"The NFL was more of the side I was on, I was never going to transfer. My mom received phone calls, I never got any personal calls. My mom, my high school coaches, but I didn't have my degree. I'm finishing this year, so that was a consideration of coming back…the NFL we got some feedback back after the injury, some stuff I didn't want to hear, so I came back to school. I just want to finish what I started. I just love BC, also. The coaches have pretty much been here my whole playing career, so might as well finish it and enjoy the ride as long as I can. There was never a question of going to another school. That was it for me.
"The video, we knew Zay did something like it last year, that was obviously NFL stuff. I knew some people were saying I was leaving or transferring, we just wanted to mess with people a little bit. It was funny and hopefully we got a laugh out of it."