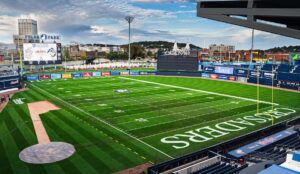 Image courtesy of Holy Cross Athletics
The first two versions of the EBW Football Classic at Polar Park have been over at halftime.
The two blowout victories have been a fantastic experience for those wearing purple and white, but in such a special setting, more competitive games are really what we should all be looking for. The first two games against Colgate and Bucknell at the home of the WooSox have ended with Holy Cross winning by a combined score of 99-10.
That most likely won't be the case when Harvard visits for the third installment of the game on September 30th. The matchup and location were announced on Friday. The Crimson and the Crusaders have had some pretty epic battles over the last few years, with last year's game in historic Harvard Stadium providing an electric atmosphere and a thrilling finish, a 31-20 win for Holy Cross.
Ticket information will be announced in the coming months for the "EBW Football Classic," named for the late Edward Bennett Williams.
"Edward Bennett Williams was the most influential person in my professional life—and among the most influential in my personal life," said Red Sox Hall of Famer Larry Lucchino, now Chairman and Principal Owner of the Worcester Red Sox in a statement put out by Holy Cross on Friday. "He was a giant in the field of law — particularly trial law, a legendary sportsman in both football and baseball, a proud and distinguished alumnus of Holy Cross, and a key force in the creation of the Colonial League, precursor to what is now known as the Patriot League.  We are deeply honored to present the third annual EBW Holy Cross Football Classic."
"We're grateful to our friends from Holy Cross and Harvard for their partnership in bringing the third annual EBW Football Classic to fruition," added Worcester Red Sox Executive Vice President & General Manager Dan Rea.  "After strong games to start this series the last two years, we're looking forward to continuing the momentum and seeing 'ten thousand men' and women from both schools turning out for an unforgettable matchup."
The Holy Cross football program is quickly becoming nationally recognizable and games like this only enhance that recognition, especially for recruiting. If Harvard can get a win it'll be just as important for their recruiting purposes as well. Any and every New England matchup is critical in the cut-throat recruiting world these days.
"As we continue to invest in our relationship with the Worcester Red Sox, moving the Harvard game to the heart of the city in a truly special venue is something we are very excited about," said Kit Hughes, Holy Cross Associate Vice President and Director of Athletics. "Division I Athletics at Holy Cross is a vehicle for engaging communities and telling our distinctive story to a broad audience, and we know that this year's game will help to showcase all the great things going on with our football program, College, and city. Certainly, to do something that has never been done in a rivalry dating back to 1904 is pretty special for everyone involved."
Holy Cross and Harvard have met 73 times since the first meeting in 1904 and the Crimson hold the all-time series lead 45-26-2.