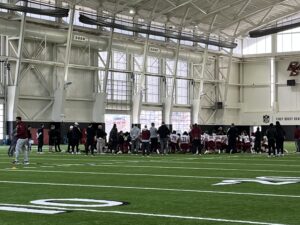 Fans might not like what they hear, but head coach Jeff Hafley stood by his offensive and defensive staff moves following the first day of spring practice Friday morning.
For 19:32, Hafley stood at the podium and explained in great detail his thought process behind some of the new moves and why he believes the staff he's put together can be successful.
One of the biggest criticisms from the unhappy, inpatient fan base was the fact that it took so long for Hafley to announce the offensive moves, even though ultimately the decision was to keep everyone in hose. Hafley explained that while we may not have publicly known what was going on, internally the decision had been made for a while.
"Some of you guys will ask me why have I been waiting forever to get it out there. These guys have been here and we've been working. The offensive staff has been set up since late January," he said. "I wanted to get the whole staff intact and then meet with you guys (the media) here, I knew this would be the first time I'd be with the media and kind of go over the whole staff. I figured rather than break them one-by-one we could go through the list right now."
On the particular changes with OC and for the O-line, Hafley believes everyone that was promoted deserves it and should do well in the new roles.
"I felt like we needed to make some changes. Those are always hard decisions to do, but we did it," Hafley said. "As you guys are probably aware, Coach Chud is going to be a full-time coach. We talked early, he's been full speed ahead since the end of January, early February. We've been implementing the scheme, ready to go. He is going to be the associate head coach of the offense. He's the head coach of the offense. He's offensive development. What does that mean? He's going to develop our scheme, develop our playbook, develop players, develop our staff. Philosophy, foundation, he's going to build it. I think if you look at what he's done throughout his career, he's won a national championship as a play caller, he's had multiple Top 10 offenses in the NFL. He's been a head coach in the NFL. Each year he gets calls from NFL teams, college teams to coordinate or be something. For me, really, an assistant to the head coach…he's one of the best offensive guys I've been around. To get him around full time on this staff, doing what he's doing, it's big. The kids can feel it. They already have a relationship with him because he's been in the building, that's not new. I'm excited about that.
"(Steve) Shimko is a coordinator role. He had chances to leave to be a coordinator in college. He had a chance to leave and go to the NFL. We sat down…Steve's been with me for three years. I think he's a rising star. He sees things extremely quickly. Him and Chud have an unbelievable working relationship. He's really impressive and I think the kids would tell you the same thing. He's a guy people are going to know about I think very quickly. I think he's going to rise through this thing. I'm really excited about him.
"Darrell Wyatt will be the pass game coordinator. Smart. Very smart. Knows the pass game. Knows football. He's coached a ton of first round picks. Hopefully, he'll add another in Zay…Darrell did an unbelievable job with our receivers last year. Talking to Shimmy and Chud, we felt like he could do more. The collaboration with that group right there, it's a great group. It's impressive. You could feel it out there today, you could feel the energy. I could see it as a defensive coach. I'm really fired up about where we're going."
New (old?) offensive line coach Matt Applebaum was probably the most scrutinized hire during the process, but it wasn't just Hafley that wanted him back in the fold.
"Obviously, we brought back coach Applebaum. I thought Matt did a really good job here. I hated when he left. When he became available again, it wasn't just the coaches who wanted him back, the players all came to me and asked if he was coming back. The familiarity, the knowledge, I think you'll see 1. Not only have we upgraded the offensive line with depth now, with guys like Mahogany back, some transfers we brought in, guys who got experience last year when we went through that craziness of someone getting hurt every week. Well, you know what? Now we have depth. Now we have three O-lines out there, where last year we were pulling defensive players playing O-line. They're fired up to have coach Applebaum back and I think if you ask Christian…he wore me out every day asking "is coach App coming back? Is coach App coming back?' It was like alright man, chill out, we'll figure it out. I'm very excited. I want people to be excited and understand this group is going to take big steps."
Tem Lukabu departing as the DC was a pretty big surprise to most when the news broke just a few weeks ago, but Hafley wasn't caught off guard by it. Hafley also believes that the new co-DC's are more than qualified to take over.
"Obviously, coach Tem left. Tem and I have been friends for a long, long time. He had the opportunity to go back to the NFL and that's what he wanted to do. You're starting to see a lot of college guys go in that direction because there's some things that are kind of crazy in college football right now. I'm excited for Tem," said Hafley. "The good news for the players is they never blinked. This is the scheme, really that I was a part of in San Francisco. This is the scheme that I ran at Ohio State. This is the scheme I brought here. None of the position coaches changed and the scheme isn't going to change. Tem didn't coach a position. What I decided to do, feeling that leadership and what we wanted on offense, I'm going to get more involved in the defense, which I'm really fired up to do. It kind of re-energized me this last month. I trust those guys in the offensive room so much, where now I'm going to name Aazaar and Sean (Duggan) coordinators. They deserve it. I didn't feel like bringing someone in and having all of us teach them our scheme, when those guys have been loyal and phenomenal. Aazaar's got a great relationship with our players. He's smart, he's already been a coordinator. Forget the recruiting part, which everyone's already talked about. He's a really good football coach and that needs to be known more than anything, because everyone talks about him as a really good recruiter. He's got a fire to him that I think you'll see come out and I think the personality of the players will come out a little more. I think Sean and Shimmy are very similar. They process at a very high level. They're bright. I think they're going to the off. He played here, he knows what it's like to be at BC and be a BC man. He's got a great relationship with the players and like I said, I'm going to be right there with them in the trenches, in all the meetings. I'm fired up to do that."
There was one new addition to the staff in the form of Paul Rhoads, who is now the new outside linebackers coach. Rhoads – like the rest of the staff – has plenty of experience, but he's also been a mentor to Hafley as well.
"Not sure if this has broke yet, but I hired Paul Rhoads. This one really fires me up…this is one of my biggest mentors. This is a guy I look up to in the game as much as anyone I've ever been around," explained Hafley. "He brings out the best in me. He'll coach our outside backers. We're going to do some scheme things. Play some three-down, get our ends involved, nickel-sam, he's got a lot of experience. He was the defensive coordinator at Pitt for a long time and had a lot of success. Defensive coordinator at Auburn, head coach at Iowa State. We've kept in touch. Motivator. Just has a passion for the game. One of the best teachers I've been around. So, now when you look at this staff, you get an ex-NFL head coach, an ex-college head coach, two guys with a ton of knowledge and a ton of passion. I feel great about this staff. I said to the team, this is as much depth and competition since I've been here. You've got to get old to win, right? We didn't lose much. Now, everyone's back and they're developing and they're bigger and stronger…I think you can see the excitement. I want you guys (media) to feel the excitement, I want the fans to feel the excitement and I want to put 2022…it's over, it's done. It wasn't good enough and that's me. It will be good enough going forward and people should be really damn excited, because I am. You can feel that in here and the players can too."
The biggest worry for most fans was why Hafley didn't go outside the program during his coaching search. Well, he did, and ultimately decided the guys inside the building were the best fits for the team.
"I looked outside. It was about finding the best. When you can bring in guys like I did, it's hard to do. It's hard to get," he added. "Bringing in an outsider like Paul Rhoads, then obviously Chud coming to be a full-time coach, I think they're home run hires and I think people will see that. I talked to a lot of people. I wanted to make sure I was making the right decision and what was best for BC. I went to work after the season. I looked at everything. First, me. What do I need to do better? Then, I looked at the whole staff and I took my time. I looked hard, really hard. All throughout December and all throughout January I looked at every player and then I talked to a lot of people. A lot of phone calls, a lot of Zooms, and I think I put together what fits us, what fits me and what fits BC and not just because they were there."