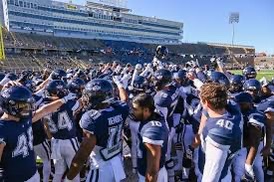 Image courtesy of UConn athletics
A year ago, nobody but the people inside the facilities at UConn saw last year's success coming.
That won't be the case in 2023.
No longer an afterthought following the Myrtle Beach Bowl berth against Marshall and the epic comeback that fell just short, UConn will need to hit the ground running when spring ball begins if they want to maintain the momentum built in the first year under head coach Jim Mora.
Throughout the season and particularly when the team started having an abundance of success late in the year, Mora always said he and the players wanted more every single day. Mora often cited how he was fired from his UCLA job and knows that the only way people will truly take the Huskies' resurgence seriously is if they become consistently competitive. 2022 can't just be a one-off thing.
On Thursday, the Huskies announced they'd be starting spring ball on March 28, with the "Spring Showcase" open to the public set for April 22. Below is the full list of dates for UConn practices:
March 28th
March 30th
April 1st
April 3rd
April 5th
April 6th
April 8th
April 10th
April 12th
April 13th
April 15th
April 17th
April 19th
April 20th
April 22nd (Spring Showcase, 1:30 P.M., open to the public)
In a release, the Huskies PR department added that additional details for the Spring Showcase will be made available at a later date. The excitement for Part Two of 'The Revolution' is palpable, with over 85% of season tickets having already been renewed for 2023. Pratt & Whitney Stadium at Rentschler Field was ultimately a tough place to play and if it can be again, the Huskies should be back in bowl contention. Mora 's squad went 5-1 at home last year, including massive wins over Boston College and Liberty.