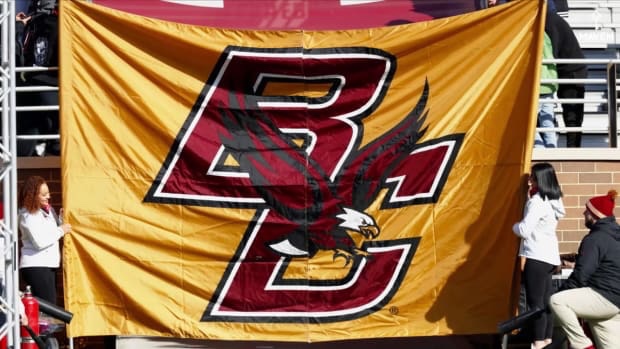 After a tumultuous off-season that saw several players transfer and both coordinators leave, Boston College opens spring practice tomorrow.
The Eagles are coming off of a 3-9 season so this was already a big spring for Jeff Hafley and his staff. With the changes to the staff, this spring takes on an added importance.
There will be plenty of questions that need to be answered this off-season. Hopefully some of the questions are answered by April 15th, which is the date of the annual Jay McGillis Spring Game.
Here are five areas to focus on this spring with the Eagles.
1. New coordinators on offense: Veteran offensive coordinator Rob Chudzinski moves over from offensive analyst to offensive coordinator. Chudzinski hasn't coordinated an offense in college since the early 2000's but his offenses at Miami were prolific. He will pair up with quarterbacks coach and co-offensive coordinator Steve Shimko to turn around an offense that struggled mightily last season under John McNulty. The offense will be a focal point this spring as the Eagles try to find consistency and production.
2. Growth of the offensive line: The offensive line struggled last season but they are a year more experienced and they have a new position coach leading them. Well, sort of new. Matt Applebaum returns to the Heights after a one year hiatus with the Miami Dolphins. Applebaum knows the talent on hand having recruited many of them. He will be charged with a unit that struggled mightily last season giving up 45 sacks.
It is imperative that this group continues to develop this spring. The additions of transfers Kyle Hergel and Logan Taylor should help. They need to step in and make a difference if the Eagles are going to turn things around.
3. Who calls the D? As of press time, we don't know who will call the defense this spring now that Tem Lukabu has left for the Carolina Panthers. One has to assume it will be Jeff Hafley and the position coaches. They will call the defense this spring and Hafley will hire a permanent defensive coordinator after spring ball is over. Either way way, it will take some adjusting by the players getting used to a new voice on the defensive side.
4. New look secondary: Four of five starters from the secondary are gone so there will be a lot of new faces on the back end. Getting many of the new guys like Harvard transfer Alex Washington comfortable with the scheme and giving them reps will be a central focus this spring for Hafley and the defensive coaches. The Eagles have a lot of talent on the back end but it is unproven.
5. It's the Emmett Morehead Show: This is Emmett Morehead's team now that Phil Jurkovec has moved on to Pitt. Morehead looked impressive the last quarter of last season after taking over for the injured Jurkovec. Now he gets a full spring at the helm to entrench himself as the starter. He has a rapport with the skill guys. If the Eagles can get the running game going this spring and carry that over into fall camp, this offense could be very good.