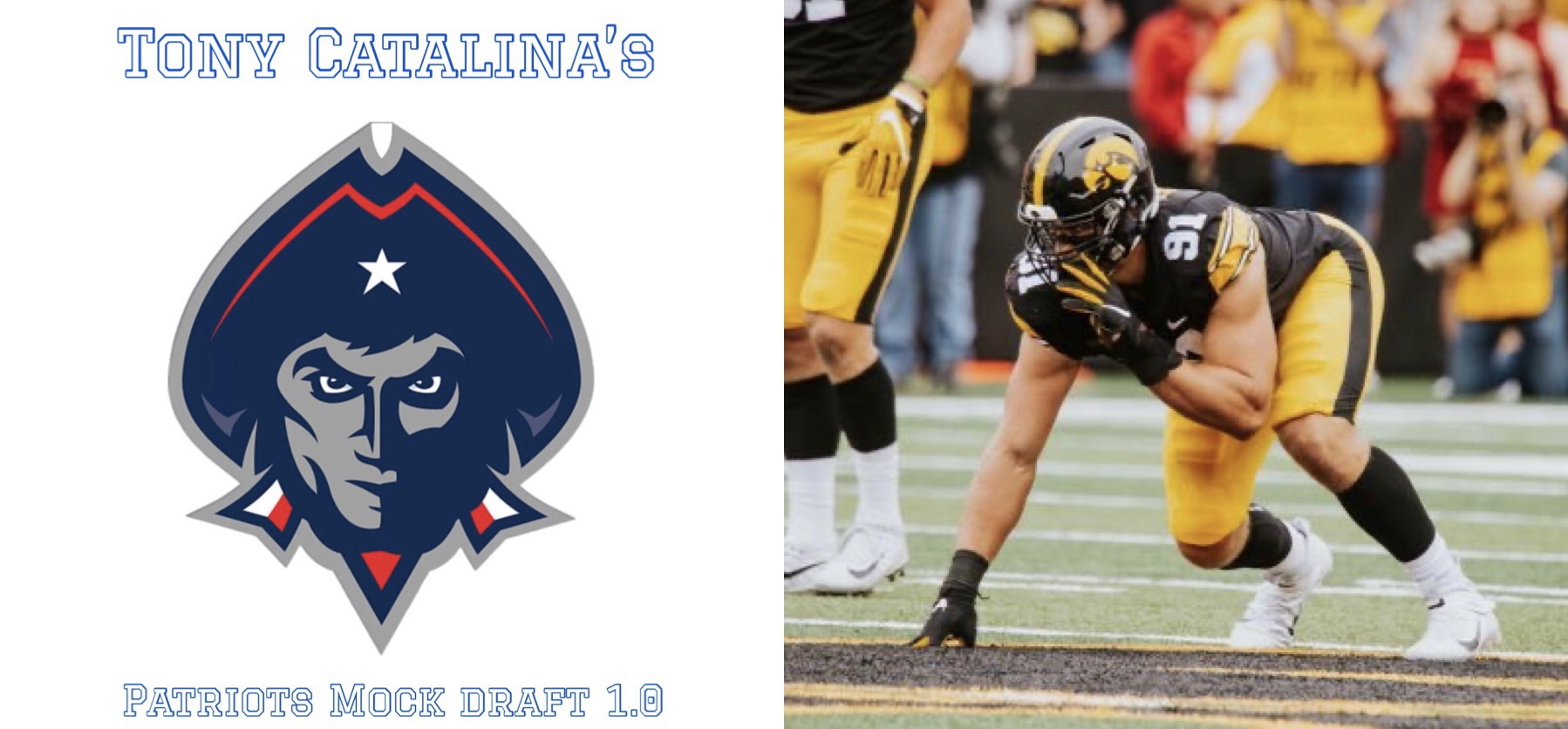 When you look up and down the New England Patriots roster you do see talent, but you also cannot ignore the fact that you can see areas of concern. Much like many teams across the league the Patriots would benefit mightily from hitting a home run in this year's draft and Bill Belichick and company have their work cut out for them to do so. As we inch closer to Draft weekend we will be taking a closer look at what the Patriots can do to address the roster and put together mocks that show where they may lean or where we might suggest they look with a fresh perspective for each edition.
*Mock Draft provided by Pro Football Focus Mock Draft Simulator
1.14 – DE, Lukas Van Ness, University of Iowa
6'5" 264 lb | Seven sacks, nine QB hits, seven TFL last season
Per The Draft Network:
"There's so much to like about Van Ness and it starts with his functional strength. His ability to convert speed to power and play through blockers is outstanding. He maximizes his ability to bull rush and collapse the pocket with plus length, timing, and functional power to truly stress the anchor of offensive linemen. For a player of his body composition, I'm surprised by how much burst and flexibility he has to get off the ball, corner, flatten, and close. A B-gap defender in 2021, Van Ness is playing primarily on the edge and still getting chances to reduce inside. He should be able to bring that type of inside/outside versatility to an NFL defensive line, making him a wide-ranging fit, especially for the amount of fronts in today's NFL that are multiple. Van Ness is a high-ceiling prospect that is still only scratching the surface of what he can become as a defensive playmaker."
Adding Van Ness to this Patriots defense would be a homerun first round pick. Pairing Lukas with veteran Matthew Judon would go a long way to being a fierce defensive front that would give opposing offensive lineman nightmares.
2.46 – OT, Dawand Jones, Ohio State University
6'8" 360 lb
Per The Draft Network:
"Jones is an absolute mauler in the run game. He's a massive and powerful blocker that blasts open running lanes and he can be overwhelming for opponents in college. Jones engulfs opponents as a run blocker and puts them on skates. He has ideal block temperament, aggression, and tenacity. Jones has exceptional length and he uses it effectively in pass protection where he does well to protect his edges and elongate rush lanes. Jones has the type of power in his hands where he frequently stuns opponents and his hands are not easily displaced. His grip strength is outstanding. Despite not having the most nimble feet, Jones is a patient pass blocker that competes to stay square and is deliberate about working his punch to keep rushers at bay."
Dawand Jones is an absolute monster of a man and would be an instant upgrade to the Patriots offensive line room. His length is off the charts and is able to use his size in ways that completely engulfs opposing pass rushers. If the Patriots were able to get Jones in the second it would be an absolute win for the organization on the start of day two.
3.76 – WR, Nathaniel Dell, University of Houston
5'10" 155 | 109 receptions, 1,398 yards, and 17 TDs last season
Per The Draft Network:
"Dell takes the majority of his snaps as a slot receiver but has shown the ability to line up as an outside receiver, line up in the backfield, or be in motion to have free access releases at the snap. When lined up as an outside receiver or in the slot, Dell uses speed using rapid foot-fire to win against press situations. Dell's quickness has the ability to make defensive backs miss—if they miss Dell with their punch, he has the ability to immediately get upfield and stack defensive backs. Dell runs quick, snappy, and precise routes, and is difficult for most defensive backs to match and mirror within his route. With the ball in his hands, Dell is an electric player. He has great short-area quickness and change of direction which allows him to make defenders miss in close confined spaces. Dell also profiles to be a quick accelerator and has the speed to simply outrun defenders and defeat pursuit angles."
Nathaniel 'Tank' Dell in the third round for the Patriots very well could be the steal of the draft. If Dell finds his way to fall into New England's lap they wouldn't walk, they will run the card to the podium. Explosive, dynamic, and a game breaker is the easiest way to describe Dell's ability.
4.107 – CB, Tre'Vius Hodges-Tomlinson, TCU
5'9" 177 lb | Three interceptions, Three PD, and 44 tackles last season
Per The Draft Network:
"Hodges-Tomlinson is an extremely athletically-gifted player with impressive man coverage skills. As TCU plays mostly man coverage in their defense, he is tested many times a game and his skills show greatly. His ability to stay square and mirror a receiver as they stem to try and open his hips is a credit to his footwork. He is smooth in and out of breaks and is able to flip his hips with ease when necessary. His speed is a huge advantage to him, as he has the ability to quickly close the distance if a receiver has beat him and gotten separation. However, his eyes can get him in trouble, as he can get caught looking in the backfield for a run and give up the crack-and-go or other deep, double-move shots. Still, he is extremely versatile and has played multiple reps at corner, nickel, and safety against high-powered Big 12 offenses. At the point of attack, when the ball is in the air, he is a high-energy competitor who has great ball skills to make a play and force a breakup."
The way this draft is falling the Patriots would have to have them feeling great about the talent they are accumulating. Big play offensive weapons and athletic freaks on defense is the best way to describe how these first four rounds have gone. Plug Hodges-Tomlinson into your secondary and watch him flourish.
4.117 – HB, DeWayne McBride, UAB
5'11" 215 lb | 1,713 rushing yards, 19 TDs, and 7.35 YPC last season
Per The Draft Network:
"McBride has very good size for the position and is an above-average overall athlete. McBride is a patient running back who understands how to press the line of scrimmage while waiting for his blockers to get to their landmarks and wait for an opening. He displays outstanding vision and instincts as a runner as he naturally finds gaps in the line of scrimmage and consistently runs to open space when he reaches the second level. He is able to locate cutback lanes and has the ability to cut back across the line of scrimmage to hit the hole."
The Patriots would be getting one of the most productive running backs in all of college football in the fourth round with this pick. These are the type of selections that can change an offense and paired with the Tank Dell selection earlier in the draft, the Patriots offense just got a lot more dynamic and talented for Mac Jones and company.
4.135 – DT, Moro Ojomo, University of Texas
6'3" 281 lb | Three sacks, Three QB hits, and four TFL last season.
Per The Draft Network:
"Ojomo is a versatile defensive lineman that has natural functional strength combined with his length and movement skills that allows him to make impactful plays for the Longhorn football program. Ojomo makes impactful plays in both the run game and as a pass rusher."
In todays NFL you need your interior guys to be able to not only play the run but also be able to provide pass rush. Ojomo is able to do that and should fit in well within the interior of the Patriots defensive front.
6.184 – QB, Aidan O'Connell, Purdue
6'3" 210 lb | 3,490 passing yards, 23 TDs, 13 interceptions last season
Per The Draft Network:
"O'Connell is a tough and gritty pocket passer. He is a rhythm and timing passer that thrives within the offense's structure. He attacks the short region of the field with good accuracy and ball placement. He displayed the ability to put the ball where his wide receivers can make a play on it and is capable of leading receivers away from their defenders. O'Connell processes information at a quick rate to get the ball out of his hands in a timely manner in addition to seeing passing lanes open before the intended receiver enters his vision. This allows him to excel in quick passing concepts. He throws a nice, easily-catchable football."
This is purely a value pick and when you get into the sixth round and a quarterback you like is still around you may just have to select him to see if you can bring him in and develop him into your program. When you have young quarterbacks already on your roster you may not make this selection but the Patriots as an organization are unafraid to do so and in the long run they make find something useful out of O'Connell.
6.187 – S, Trey Dean III, University of Florida
6'3" 207 | 255 total tackles, 13.5 TFL, four interceptions in his career
Per The Draft Network:
"Pros: Trey Dean III is a former corner that moved to the safety position. Dean is a big-bodied defensive back that has great height and length. Dean appears to be a good athlete from the way he can play sideline to sideline. Against the run, Dean does a good job of flowing downhill to the line of scrimmage to meet the ball carrier. Dean is a contact seeker that likes to deliver the big blow. In pass coverage, Dean's experience shows in his ability to play the ball in the air. On deep throws, Dean has the speed to run with receivers down the field and locate the football."
As you get later in the draft you're looking for traits and athletic ability. Dean has those things you are looking for in a late round steal. Given the chance to get into the Patriots building there is a real chance that Trey Dean III will be looked at as a real draft steal down the line.
6.192 – LB, Ventrell Miller, University of Florida
6' 0" 221 lb | 37 tackles, 2 forced fumbles in 2022
Per The Draft Network:
"From the snap, Miller does a plus-level job of reading his keys and blocking schemes to identify the flow of the play. Miller is able to quickly key and diagnose the pay and work downhill toward the line of scrimmage to make the tackle. From B-gap to B-gap, Miller is able to shuffle and trigger downhill. When he can square the running back up properly, he can deliver a solid hit to the ball carrier. Miller embraces the physicality of the position and is willing to take on pulling interior offensive linemen to maintain the integrity of the defense instead of evading his gap."
What Miller lacks in ideal size he makes up for in motor and football IQ. A smart, tough football player that will come in and compete. Miller may start off on special teams but I would not be surprised if he fought his way into the linebacker rotation sooner rather than later.
6.210 – WR, Ronnie Bell, University of Michigan
6' 192 lb | 62 receptions, 889 yards, four touchdowns last season
Per The Draft Network:
"As a wide receiver prospect, you should expect a good route-runner and salesman. Bell does a good job manipulating leverage by selling his stems. He has improved the suddenness out of his breaks to create ample separation in the quick and intermediate passing game. Bell fits the mold as a chain-moving receiver. His stop/start ability and body control allow him to generate yards after the catch. Bell brings versatility to an offense. He is not a static-alignment-style receiver; he can operate as a manufactured touch threat. He thrives off pre-snap movement, limiting defensive backs' ability to be physical with him at the line of scrimmage. Michigan uses Bell in ghost, jet, and orbit motions as the primary option or to indicate the defensive coverage pre-snap. Bell has shown the ability to pluck passes away from his frame. Passes that are outside of his structure allowed him to display his ball skills. His basketball background shows up in his leaping ability to make those out-of-frame passes."
The Patriots use the late rounds to double dip at wide receiver. With some guys possibly on their way out and an overall refresh of the position being a good idea to explore the Patriots bring in a productive late round prospect to come in and compete.
7.258 – TE, Marshon Ford, University of Louisville
6'2" 240 | 33 receptions, 434 yards, three touchdowns last season
Ford was voted an All-ACC honorable mention after his final collegiate season and while there may not be a lot of buzz right now about his draft prospects, if Marshon Ford is able to get into the Patriots building and work with new offensive coordinator Bill O'Brien who is known to use and develop tight ends well, this very well could be one of the late round picks that unfolds nicely for the organization.