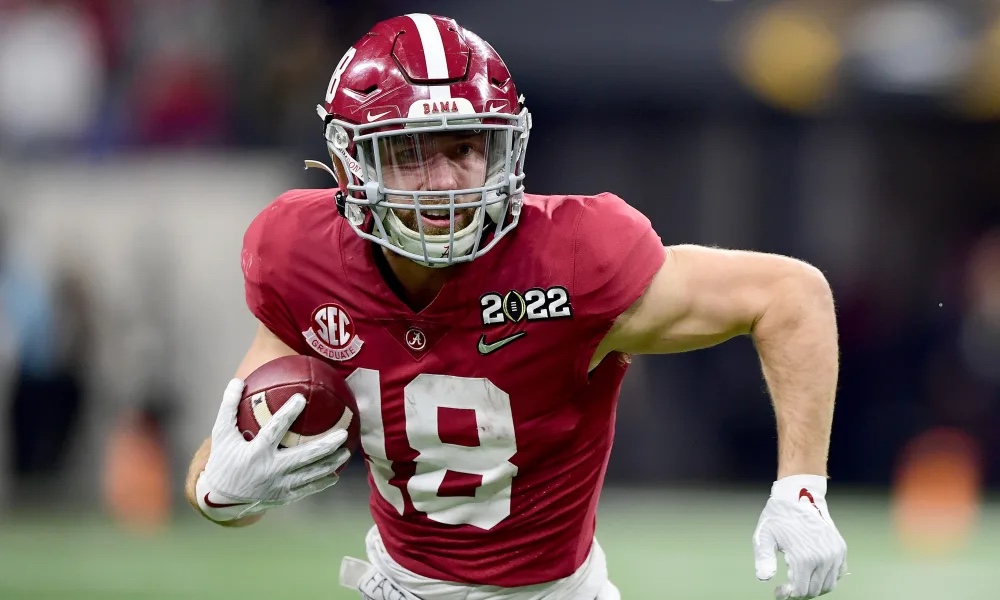 The Patriots are working out former Alabama wide receiver Slade Bolden according to ESPN's Mike Reiss.
The 24 year old Bolden signed as an undrafted free agent with the Baltimore Ravens last April but never played a game with them as he was released in August after a sports hernia injury.
The 5-11 189 pound Bolden played with Mac Jones and under Bill O'Brien at Alabama in 2021. Bolden and Jones were roommates at one point. Bolden speaks very highly of Jones but he also speaks very highly of his former offensive coordinator as he recently told the Bama Standard Podcast.
"Coach O'Brien is one of my favorite coaches. I think O'Brien is gifted when it comes to calling plays. He is a lot better and a lot more gifted than some people believe he is. I have seen him come up with some stuff that — it's not necessarily that it didn't work, it's we didn't execute it right."
Bolden added:"I love him as a person, and I feel like we got really close. I liked him as a person just as much as I liked him as an offensive coordinator."
After working out for the Chiefs and Browns, Bolden has been waiting for another opportunity to prove what he can. Working out for the Patriots shouldn't be a problem considering his relationship with Jones and O'Brien.
If healthy, Bolden could be a good fit in New England working out of the slot. He is a solid route runner who creates separation on breaks and has strong hands to finish.
Should Patriots fans be excited about the possibility of Slade Bolden signing? No but if he ends up signing and has a good camp, you never know what can happen.
For now Bolden knows O'Brien and is buddy, buddy with Jones. That's all we really know about him. It will be interesting to see if the Patriots sign him ultimately.