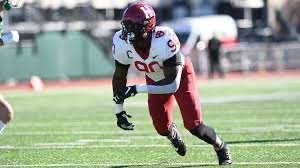 Image courtesy of Harvard Athletics
Truman Jones may originally be from Atlanta, but he's been in Patriots territory for the last few years.
Jones was Harvard's captain in 2022 and recently was part of the West roster in the East-West Shrine Bowl, which meant he got to work with the Patriots' coaching staff for a full week out in Las Vegas. Not many college players can say they were around Bill Belichick, Bill O'Brien, Jerod Mayo, Troy Brown and others for a week prior to the NFL Draft, but Jones was lucky enough to have the opportunity.
When Jones first found out he'd be on the roster that was coached by the Pats and not the Falcons, he was still excited.
"When I first heard I would be coached by the Patriots staff and Coach Belichick, I was ecstatic," Jones told NEFJ in a recent interview. " Since playing at Harvard and living in New England for the past five years, I have developed respect for the New England Patriots organization. I admire their grit, and attention to detail at every level. My teammates and coaches reached out and told me about their brief interactions with Patriots players. I think most of all they were excited for my opportunity from a program that has had such prolific success."
Jones had plenty of meaningful, helpful interactions throughout the week with the whole staff, but worked mostly with V'Angelo Bentley. Bentley is entering his second season with the team after joining the staff last year with the title of "NFL Coaching Fellowship/Defense," but he served as the defensive backs coach for head coach Troy Brown during the All Star game. A defensive backs coach teaching a powerful defensive linemen like Truman Jones, how does that work? Well, in those types of scenarios, guys are just soaking every bit of information up as they can from anyone they can like a sponge, which is exactly what Jones tried to do.
"During the week, it was an incredible experience to work with the staff. At all levels the Patriots staff were incredibly knowledgeable about the game. I was coached specifically by a defensive back coach, and he was providing specific pointers for us as defensive linemen. Seeing this knowledge of all facets of the game inspired me to study more concepts and understand the multiple levels of football," he said. "I felt like the NFL style of preparation aligned well with my learning style. With the additional meeting and walkthrough time, it allowed me to pick up the scheme relatively quickly."
As for one-on-one time with Coach Belichick, it was brief for Jones, but unforgettable.
"In my brief interaction with Coach Belichick, I was impressed with his ability to efficiently communicate and not beat around the bush," said Jones. "We had a three minute conversation, but he gave me enough coaching points to last for the entire week. I think the most valuable lesson I learned from the coaching staff was that I had to utilize all of my skillsets to be competitive at the next level. I can longer rely on just strength or size, but also needed to utilize my quickness and decision making ability to continue to make plays at the next level."
Of course, Jones wasn't the only guy representing a New England school in Vegas. Zay Flowers and Jaiden Woodbey from BC were also out there.
"My interactions with Zay and Jaiden were good. We all shared an appreciation for Boston, and for the New England culture that our programs implemented in us," he said. "I had met Zay at events prior to the week in Vegas, so it was refreshing to reconnect with him again."
Ivy League guys may not get much attention compared to FBS schools, especially at some of the these games that are littered with guys from bigger, more well-known programs. That made the experience a bit more unique for Jones compared to some other guys and also provided Jones with a chip on his shoulder as we enter Pro Day time and eventually, the NFL Draft.
"Coming from the Ivy League, I certainly felt like I had something to prove," Jones acknowledged. "I imagine that the Ivy League is often discounted for being a lesser competition, and looked down upon by Power 5 players. I certainly wanted to prove that my athletic ability and skill set were transferable to play in the NFL. I also wanted to show that against any competition, I can still affect the outcome of a game. After the first practice, the pressure to prove my ability subsided, and I was able to better focus on executing my responsibilities, and playing at a faster pace."
While the entire week served as one big job interview, there's also more important things surrounding the event. Guys got the chance to hang out with children from Shriner's Hospital and were able to provide some special memories for them, just like the kids did for the players.
"The day before the game we played a series of games with children from the Shriners Hospital at the Raiders stadium. It was a great opportunity for us to socialize with the children, and really enjoy ourselves after a long week of practice," he said.
As for the actual game experience, Jones tried to make sure he took in every second not just for himself, but with teammates he had just forged new relationships with too.
"The game day experience was great. With an evening game, there was plenty of time during the day to watch film and prepare mentally for the game. It was also the last full day in Las Vegas and I enjoyed time eating with teammates and discussing what the future would hold for different individuals," he said.
Playing at a school like Harvard and for a coach like Tim Murphy will often prepare guys for anything that lies ahead. For Jones in particular, he was already a hard worker and detail oriented, or he wouldn't have had the honor of being a captain at Harvard. Still, working with the Patriots staff for the week showed him and others just how much it's going to take to succeed in the NFL. Jones should be lucky enough to hear his name called on day two or three of the draft and maybe, just maybe, he'll only have to make a short trip from Cambridge to Foxborough.
"The biggest thing I will take away from the week is that with more time and energy focused on football, there are greater expectations," Jones added. "It's important to utilize downtime to continue to develop as a player and pour all your energy into your craft."
One thing is certain, Jones already has the work ethic to be great that the folks down in Foxborough love to see in young guys, which was evident based on the fact that he was named to the "West's Defensive All Practice Team." This unique experience only enhanced that desire.