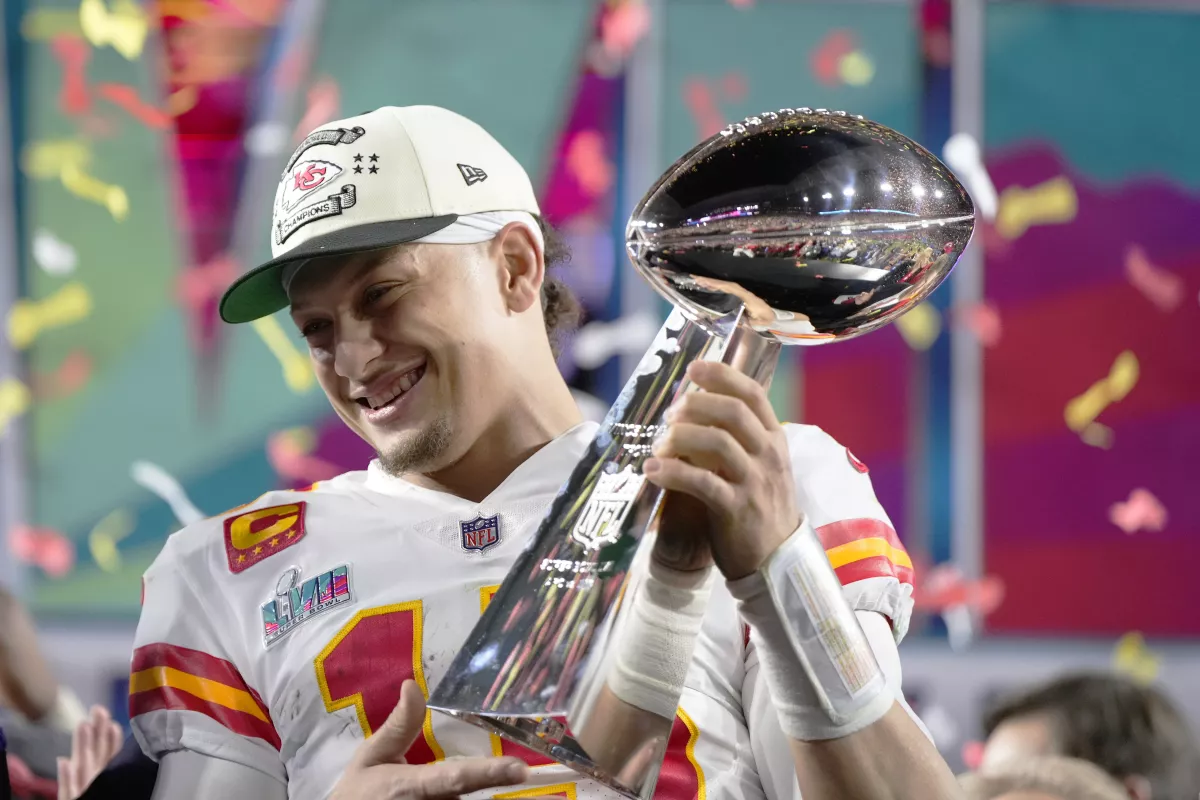 Matt Slocum/AP
Patriots fans, cover your eyes. The NFL's next great dynasty is the Kansas City Chiefs. I know, real prophetic. The reason I think the Chiefs are going to be the next great dynasty partly has to do with Patrick Mahomes and more to do with the way Andy Reid and general manager Brett Veach have built this team.
The Chiefs are built like the dynastic Patriots were. They were built around their quarterback with two to four elite level players or A players as I call them. They are surrounded by a strong group of what I call B and C players. Those players make up two-thirds of the roster and complement the A players. The only difference between the two franchises is that Mahomes got paid up front (he is outplaying his current contract) and given the length of the deal, it won't be a hinderance to the Chiefs when it comes to surrounding him with talent in the coming years.
It doesn't mean that the Chiefs haven't had to make some tough decisions regarding future contracts. They ultimately chose not to pay Tyreek Hill and Charvarius Ward last off-season and face similar decisions this off-season with several players most notably defensive end Frank Clark and offensive tackle Orlando Brown. Clark is due to make $30 million next season. That is not going to happen. He will either be cut or restructure his deal. Brown is a free agent and while the Chiefs would like to keep him, I doubt they would get into a bidding war for his services.
Just like Bill Belichick and the way he managed the Patriots for 20 plus years, Reid and Veach have figured out when it is the right time to move from a player and replace him. They started the process of replacing some of their veteran last off-season when they focused heavily on defense in the draft and signed veteran free agents like Ju-Ju Smith-Schuster and Marquez Valdez-Scantling to replace some of Hill's production. They have done a masterful job in addressing their needs, especially since they lost Super Bowl LV.
The Chiefs will have to make decisions on some key members of both Super Bowl teams. Aside from Brown, safety Juan Thornhill, defensive tackles Derrick Nnadi, Khalen Saunders and offensive tackle Andrew Wylie are all undrafted free agents. Smith-Schuster and Jerick McKinnon are all free agents. Brown, Thornhill, Townsend and Smith-Schuster aside, the rest of the team's free agents are all replaceable. The Chiefs will have roughly $10 million to spend before signing any of their free agents or draft picks. They could however free up a bunch of cap space if they either move on from Clark or restructure him. What helps them financially is that they have a lot of players on rookie deals.
Just like the Patriots, Reid and Veach will do what is best for the team and make the right decisions. They might be sentimental when it comes to some of their players, but they will not overpay or commit to them long term if it doesn't make sense for the team. The Chiefs will make decisions that set them for the long and short term.
Kansas City knows what they want in their players. They know what kind of player fits their schemes and locker room culture. You know they will draft well and you know they will target B and C players in free agency that can produce and fit into the locker room. Just like the Patriots, winning helps. When you win, guys want to play for your organization which means they are will to take less money.
The Chiefs are set up to succeed. Will they have a long run like the Patriots did. probably not. But as long as they have Reid, Veach, Mahomes and Kelce, they are in position to be the NFL's next great dynasty.