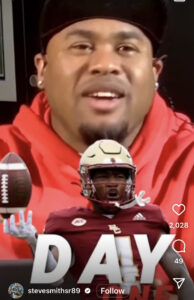 Image courtesy of @SteveSmithSr89
If anyone knows how to judge wide receiver talent heading into the NFL Draft, it's Steve Smith Sr.
Smith could have been a perfect Patriot during his time in the league, but spent most of his career in Carolina. To me, Smith and Anquan Boldin were two guys that would have flourished here that I always wanted to see wear a Pats uniform, but never did.
Anyways, Smith Sr. was tough, dependable, and most importantly, he caught almost everything thrown his way. The "ice up son" stuff with Talib was fun, but it was Smith's abilities on the field that made him so widely respected. His Panthers probably should have beaten the Patriots in the 2003 Super Bowl with Jake DelHome, but thankfully, we were all living in peak Adam Vinatieri time at that point.
Recently, Smith Sr. had a reel on Instagram where he briefly broke down some Zay Flowers film now that draft chatter has suddenly picked up around the wide out now that the national media is finally catching up. Smith had glowing things to say about Zay, which can only help his case to be a first round draft pick, hopefully by the Patriots.
"Silky smooth. Route runner. Balance and body control, unbelievable," he said. "Run after the catch, explosive. He can be a tier-one. He is a day one, plug-and-play type of player. If you watch the play against Louisville over two defenders, he makes the quarterback right. I love a receiver that makes the quarterback right. Love his stuff, man. Balance, body control, in and out, his YAC. Woo. How tall is he? No, you know how tall is he? He's playmaking ability. That's how tall he is. That young man can play football. Like him. Actually, I love him."