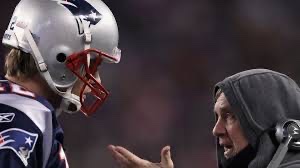 Image courtesy of Inc. Magazine
Ok, admit it. How many of you said "where the hell was this in 2019?" once you heard Bill Belichick appearance on Tom Brady's "Let's Go" podcast Monday night?
The HC of the NEP and the now retired Brady took a pretty deep dive into certain aspects of their relationship for about a half hour on Monday night, much to the surprise of anyone who's rooted for or covered this team since 2000. It wasn't necessarily a surprise that the two talked in glowing terms about each other, but it was surprising that Belichick was willing to go on this type of platform while he's still an active coach in the NFL.
"It was funny, I was out at the East-West game last weekend and of course, you know, Tom's picture is up there everywhere as a player in the game along with a lot of other Hall of Famers, I think there's like 70 Hall of Famers that have played in that game or something like that, but anyway, that's kind of where it all started," said Belichick. "Michigan, the Orange Bowl, the East-West Game. You know…the greatest player, the greatest career, a great, great person. Such an opportunity and an honor for me to coach Tom. I guess it's got to end at some point. But, it's the greatest one ever, congratulations Tom."
Hearing this now, the fan inside you should be boiling. If these two had so much mutual respect for each other, and if Bill can say these things now, why couldn't they work something out to keep Brady here? Why didn't the owner play mediator and tell them to figure it out? Instead, Robert Kraft chose a side and it turns out it was probably the wrong one.
"I think it's more what did he not do to bring out the best in me," Brady added while clearly getting choked up when Jim Gray asked what Belichick did to get Brady's best all the time. "I was just very lucky. I came into my career and got drafted by the Patriots. I always joked, I had no f'ing idea where New England was when I got drafted. I flew into Providence, which really confuses you when you're coming from the West Coast…it was Coach Belichick's first year there and we came in together. I always think, for so many young players, anybody can get drafted to a place, but who's going to turn you into something? Who's going to develop you? Who's going to take you under their wing? Sometimes, it's a player that does it – and I definitely had a lot of players do that – and obviously I had someone that saw something in me that not a lot of other people did.
"I think Coach Belichick and I developed an amazing relationship, really from the moment I was drafted, but really, we spent a lot of time together and he started to teach me what football really was all about…we'd have weekly meetings. Sometimes one, sometimes twice and I couldn't imagine a better teacher to say "hey this is how you play quarterback in the NFL."
Belichick spoke at length and gave an inside peak into the meetings he and Brady had during game planning.
"Tom talks about how much I taught him in those meetings, but I learned so much from Tom because I never played quarterback," Belichick said. "I never saw the game through the quarterback's eyes, I saw it through a coach's eyes. What Tom would tell me that he saw and how he saw it was incredible. During the game, he'd come off and I'd say 'what happened on that play?' and he'd go through eight things that happened…you'd go back and look at the film and every one of those things happened in the exact sequence he explained it to you on the field coming off. I'm like, this guy sees everything. He sees the rush, he sees the coverage, he sees the routes, he sees the depth and he sees a lot of things pre-snap.
"I remember so many situations that came up in games where Tom would refer back to 'yeah, that's what we talked about a few weeks ago when we watched the Detroit-Atlanta game,' or 'yeah, remember when they ran this play in this situation two years ago?' I mean, the memory and the capacity Tom had to remember plays, situations and some finer points like hard counts and getting out of bounds plays and things like that from years before in the exact same situation and time frame was remarkable…those were the things I learned from Tom as a quarterback, how to see the game as a quarterback instead of as a coach…we had a really good relationship, especially in the film room talking football and all that that I'll always treasure."
Always treasure? So, BB was ok working with Cam Newton and now Mac Jones instead of continuing the clearly successful relationship he had built with his quarterback for 20 years? Most people don't shove things away that they treasure, but I digress.
Jim Gray asked Brady about the fact that he and Bill Belichick will forever be tied together, like most great coach-player or teammate duos are. Now, as the re-writing of the narrative becomes clear with the Patriots looking to do a number of different things to honor Brady this year and in the future, the rift between the two was all media driven in their eyes (insert eyeball rolling emoji here), yet Brady still ended up in Tampa. If everything was okay, why wasn't he given an extension? Why couldn't Belichick swallow his ego and give Tom a little bit of special treatment? Why was Brady "the most miserable 8-0 quarterback" at one point? What about his father calling 98.5 and basically telling all of New England his son couldn't wait to stick it to the team? Remember the "damn rights" line? They're all valid questions that we may never get honest answers to. But, don't just sit there and lie to us all.
"I think for me, there's nobody I'd rather be associated with," said Brady. "I think from my standpoint, it's always such a stupid conversation to say, you know, Brady vs. Belichick because in my mind, that's not what partnerships are about. Coach couldn't play quarterback and I couldn't coach. I think the best part about football is – coach says it a lot – do your job. Coach asked me to play quarterback, he didn't ask me to coach. I didn't want him playing quarterback, I just wanted him to coach…in my view, people were just always trying to pull us apart and I don't think we ever even felt that with each other.
"I think when we're in New England for 20 years together, people get tired of writing the same stories. Once they write all the nice things and championships and this, and then they just start going, well, this works, let's just start trying to divide them. I never really appreciated those ways people would try to do that. He and I always had a great relationship and we met all the time. Did we always see everything exactly the same way? Who does in life? What close relationship does anyone have where everything goes like a bright sunny day? No, there were moments, but it was never intolerable. It was always just healthy debates about certain things and we always talked about them face-to-face. That's one thing I appreciate about coach Belichick is he's not afraid to have a difficult conversation too."
The good news is that Bill has clearly softened as he gets older. Belichick's willingness to go on this "retirement podcast" and give Brady more of his flowers is actually impressive. It's also obvious now that Brady is willing to open his arms to the Patriots organization once again. The tributes and Larry Bird Night-like celebration that will eventually happen will be incredibly emotional for the entire fan base, but fans also shouldn't lose sight of what this podcast appearance proves to everyone.
There was absolutely no reason Tom Brady should have ever played for another team and because of it, who knows how many more special moments we were all deprived of.