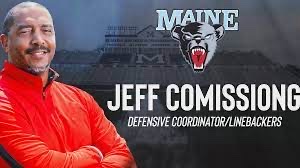 Image courtesy of Maine Athletics
As head coach Jordan Stevens enters his second season at the helm of the Maine program, he'll have a guy who's very familiar with New England running his defense and coaching the linebackers.
The Black Bears announced that Jeff Comissiong has been hired for both of those positions on Tuesday afternoon. For the last two seasons, Comissiong was the LB coach at Cornell. Before that, Comissiong was the associate head coach, run game coordinator and defensive line coach for a year with Hampton and prior to that, he was an assistant head coach and a defensive line coach from 2013-2019 for Old Dominion. Comissiong was a six-year D-line coach at Boston College and was also a D-line coach at Harvard.
Early in his coaching career, Comissiong was part of a Maine coaching staff that won back-to-back conference championships that turned into two straight quarterfinal appearances in the FCS playoffs. Above all else, Comissiong is a former player for Maine, winning four letters after walking on as a freshman and starting at linebacker for two years.
Not only does Comissiong bring a passion for the program with him, but a loaded resumé and several stellar defenses he was at the helm of while on his journey. Last season, Maine had the 87th ranked defense in all of FCS, giving up 6.52 yards per play and 412 yards of offense per game. That's a lot, but the Black Bears might not actually be far off from contending again in the CAA. UNH (5.96/381) and URI (5.29/372) ranked 57th and 56th respectively. So, the gap is there, but it's not huge and this move might help close it.
"I'm excited to welcome Jeff Comissiong back to the University of Maine," Stevens said in the release regarding the hiring. "Jeff is a Black Bear through and through. Jeff is a UMaine grad, was a standout player with the Black Bears, and a former assistant coach at UMaine. Jeff brings leadership and a wealth of experience. Jeff will embrace our student-athletes and they will thrive under his leadership. Welcome home, Coach Comissiong!"