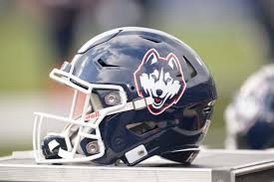 Coming off of a surprising 6-6 regular season and a bowl appearance, Jim Mora and his staff established some much needed momentum and they carried over that momentum into recruiting.
After announcing the first part of their recruiting class in December, the Huskies unveiled the reminder of the 2023 Class.
John Neider (QB/ATH) – Law High School, Milford, Connecticut: The Huskies picked a commitment from the Connecticut Gatorade Player of the Year for the second straight year. Neider passed for 1728 yards and 20 touchdowns. He rushed for 1,153 yards and 15 on the ground.
Danny Shaban (ATH) – Joel Barlow High School, Redding, Connecticut: Shaban had a tremendous season in leading Joel Barlow to a 10-2 record and a Class SS state title. The senior signal caller finished with 2788 all-purpose yards and 46 touchdowns.
Howard Simpson (LB) – Bloomfield High School, Bloomfield, Connecticut: Simpson is long and athletic. He can play EDGE or OLB. At 6-5, he has the length and athleticism necessary to develop into an impactful pass rusher. Finished last season with 56 tackles in 11 games.
Teddy Williams (ATH) – Salisbury School, Salisbury, Connecticut: Williams transferred into Salisbury prior to last season and became a jack of all trades playing receiver, running back, and linebacker.
Chase Fountain (ATH) – Kingswood Oxford School, West Hartford CT: Another versatile athlete who played running back, receiver, and defensive back. Fountain was an all-NEPSAC selection his senior season.
Frank Daniley (RB/LB) – New Hampton School, New Hampton, New Hampshire: Daniely played for Ed Kiley at New Hampton. Tough, hard nosed player who played running back and linebacker and can contribute on special teams as well.
Seth Turner (K/P) – Great Valley High School, Malvern, Pennsylvania: Turner gives the Huskies another kicker who can compete for snaps.
Zach Madison (WR/DB) – Northern Highlands High School, Allendale, New Jersey: Rangy athlete who will get a shot to play both receiver and in the secondary. Depending on where he excels will determine where he plays.
Cody Smith (DL/TE) – Shenendehowa High School, Clifton Park, New York: At 6-5, Smith could play either end or tight end. Has some upside and the staff loved his effort on tape.