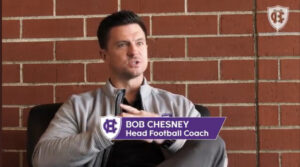 Image courtesy of @HCrossFB
Maintaining a program is one thing, but maintaining a championship caliber program in an era where kids can literally go wherever they want pretty much wherever they want is a whole different ballgame.
With the news that head coach Bob Chesney restructured his deal to keep him in Worcester through 2028, all eyes in the fan base should have immediately turned to the recruiting class that was coming in. Chesney talked about the class in a social media post a couple days after NSD.
"I think Wednesday was a great day for our program," he said. "We were able to sort of close out a couple positions where we just needed to build the depth and build the competition. I thought our coaches did a really nice job in the second signing day of making sure we completed this class."
The most impressive part of this signing period by the HC staff is just how many guys are coming from all over the place. This isn't an All-Northeast or All-Southeast class, every part of the country is represented, which speaks to the relationship building this staff is capable of. It also speaks to how much the brand is growing.
"We got a lot of great football players from state championship teams, All-State recognitions from good football families and good football programs, really scanning all over the United States of America," Chesney said. "That's kind of what we wanted to be able to do. I think our coaches did a great job. I think everyone involved did a great job. I thought our players did a great job when guys were here on a visit and I thought overall, just a productive day."
Chesney also touched on the approach of the staff when looking for the right fit at Holy Cross, as well as certain positions that may be getting looked at a bit closer than others right now as the staff tries to make sure the train can keep chugging along for years to come.
"The position we have the most voids in is the secondary," said Chesney. "We graduate a few guys back there that we really need to be able to build the depth in that position. It's not so much necessarily just for next year, it's also for the future, that's what we're looking to be able to do. Running back in a year from now will open up a little more. Receiver in a year from now will open up a little more, so we really need to just have the full compliment of each position and make sure we're building the depth, which in turn builds the competition we need to see if we ultimately want to be the best.
"We don't want to just be the best on the football field, we also want to be the best in the classroom, in the community, every which way you look at it, we want to be the best. We're looking for the Type-A personalities that come from winning programs, that have unbelievable work ethic and understand what it's going to take to be able to win here."
From a program that many forgot about to one that FCS level players would give up anything to be at, there may be no better time than right now to be a part of the Holy Cross football program and that makes recruiting a whole lot easier.
"I think in general, there's a lot to offer here," Chesney added. "We say 'have it all' and mean that. We're four-time Patriot League champions, we had a chance in that (quarterfinal playoff) game against South Dakota. I think when you start to add it all up, you go from FBS level facilities to NFL player development, to – I think – an unbelievable education and a mentorship program that's really second-to-none, I think you truly can have it all. When you sit on campus and just see the development that's happening here each and every year, it just continues to get better and better and better.
"I don't think you have to give up anything to go to school here. Sometimes, you find that great academic school, but the football is subpar. Sometimes, you find that great football school, but the academics are subpar. Here, you can truly have it all."