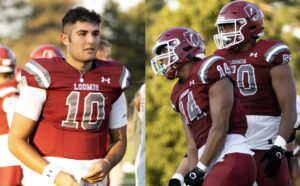 Image courtesy of Aaron Wagnheim
By Jake Klein
NEFJ Correspondent
Loomis Chaffee quarterback Dante Reno and twin defensive linemen Jacob and Jerod Smith are expected to complete a transfer to Cheshire Academy in the coming days, according to sources familiar with the situation.
The switch to Cheshire will allow all three players to graduate high school immediately following the conclusion of the 2023 football season, a move not currently permitted under Loomis Chaffee's academic policy.
Reno, a consensus four-star recruit in the class of 2024, committed to South Carolina in June. He threw for 3,895 yards and 39 touchdowns in 19 games across his two seasons at Loomis.
The Smith's, also consensus 2024 four-stars, hold offers from Alabama, Georgia, and Notre Dame, among other schools. They combined for 163 total tackles and 38 sacks for the Pelicans.
Cheshire finished the 2022 season with a 3-6 record in its first season under head coach Dan Mehleisen. Its last appearance in a NEPSAC bowl game came in 2016. The Cats return four players holding Division-I offers from last season's roster.
When Reno and the Smith twins depart, four non-senior starters from Loomis' 2022 Mark Conroy Bowl championship team—which went 8-1 in Adam Banks' first year as head coach—will have left the school. David Rodriguez, the wide receiver who caught 31 passes for 320 yards and two touchdowns as a freshman at LC, returned in January to Mt. Pleasant High School in Rhode Island.