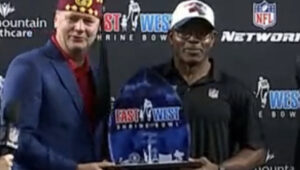 Image courtesy of NFL Network
It wasn't pretty, but Troy Brown always was a gritty player anyways.
The former Patriots receiver turned wide receivers coach won his head coaching debut on Thursday night when the West team beat the East team 12-3 in the East-West Shrine Bowl in Las Vegas. The teams Troy Brown won Super Bowls with were defense oriented, so, with Bill Belichick sitting up in the booth listening to Brown and the rest of the Patriots coaching staff navigate the tight affair, it was fitting that it came down to defense and Michigan kicker Jake Moody's four field goals.
Brown also received a Gatorade cooler bath at the end of the game to cap off the win. Brown singled out Moody's performance during the postgame awards presentation, a big moment for Moody, especially since it was coming from a guy who knows a thing or two about clutch kickers.
"It feels good to get the W, but not the bath though, it was cold man, I'm freezing right now," Brown said with a smile on the podium following the game. "These guys came out, they played hard, they prepared well all week long, so, the bottom line is, we just had to come out on top some kind of way. These guys did it, so thank god we had a great kicker on our football team too."
All week long, the Patriots staff had the ability to really get to know these elite prospects on and off the field, while the players also took part in charitable endeavors and embraced what it was like to be a professional in every aspect during the time spent out in Vegas.
For Brown, this was the first step in what could be a long process towards an eventual head coaching job. For the players, it was an opportunity to showcase themselves as best they could. It was a win-win week for everyone involved, right down to the final whistle.
It never hurts when you can beat Atlanta again too.
"I told them when they came in during the week, this is a job interview for you," added Brown. "Everything that we teach you during the week, you gotta be able to go home and polish it up and redefine it and make it better than it was when you were here, so just keep getting better and better…you now have another four or five months before the NFL season starts back, so just keep getting better as those months go along. Just keep building they're craft and see where it takes you."