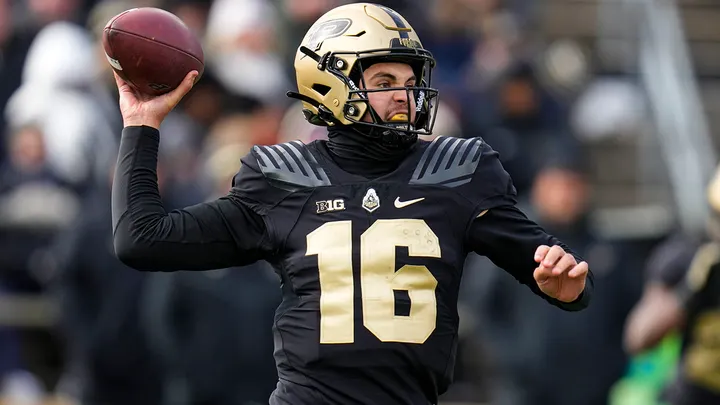 AP Photo/Michael Conroy
Purdue's Aidan O'Connell could be a really good system fit for the Patriots if they decide to draft a quarterback this April.
I have long been a firm believer in the philosophy of Mike Shanahan and Mike Holmgren when it comes to quarterbacks and developing the position. Draft as many of them as you can. Both Shanahan and Holmgren believed that by drafting or signing quarterbacks every year, you could build a developmental stable of quarterbacks that you can either keep or use to acquire draft capital and players. The Redskins drafted both Robert Griffin III and Kirk Cousins in 2012. The Packers at one time had Brett Favre, Don Majkowski, Kurt Warner and Mark Brunell on the same roster and later drafted Matt Hasselbeck.
Bill Belichick espouses to the Shanahan/Holmgren school of thought as well. The Patriots have drafted 12 quarterbacks in his 23 years of running the organization. They have drafted the following quarterbacks:
2000, Round 6, Pick 199: Tom Brady, Michigan
2002, Round 4, Pick 117: Rohan Davey, LSU
2003, Round 6, Pick 201: Kliff Kingsbury, Texas Tech
2005, Round 7, Pick 205: Matt Cassel, USC
2008, Round 3, Pick 94: Kevin O'Connell, San Diego State
2010, Round 7, Pick 250: Zac Robinson, Oklahoma State
2011, Round 3, Pick 74: Ryan Mallett, Arkansas
2014, Round 2, Pick 64: Jimmy Garoppolo, Eastern Illinois
2016, Round 3, Pick 91: Jacoby Brissett, North Carolina State
2018, Round 7, Pick 219: Danny Etling, LSU
2019, Round 4, Pick 133: Jarrett Stidham, Auburn
2021, Round 1, Pick 15: Mac Jones, Alabama
2022, Round 4, Pick 137, Bailey Zappe, Western Kentucky
On average, they draft one quarterback every two years. Brady turned out to be the greatest quarterback of all time so we know how that worked out. The other quarterbacks on this list either stuck with the organization for a period of time, were used as a trade pieces or released. You can never have enough quarterback depth so drafting a quarterback in the middle rounds or later in this draft would make sense.
Mac Jones and Bailey Zappe are tentatively locked in as your first two quarterbacks but neither is the sure thing. The Patriots could very well be looking to move on from both in the next year or two. By drafting a quarterback now, they could develop that third quarterback and have someone in place down the road that they could trade or even start depending on how things play out.
I suspect the Patriots will pass on the quarterback position in this draft but if someone like Purdue's Aidan O'Connell, Houston's Clayton Tune or Minnesota's Tanner Morgan are available day three, the Patriots should consider taking one of them.
Bottom line. You could never have enough quarterbacks. You cannot find the right guy long term if you do not invest in the position.