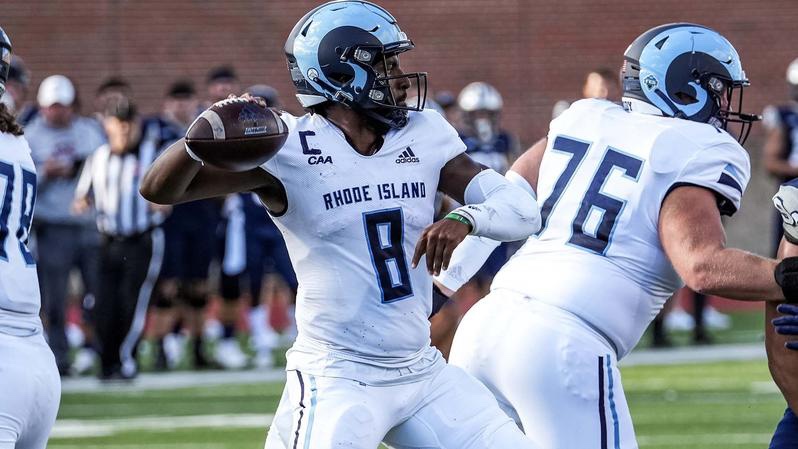 Image courtesy of URI Athletics
The URI Rams got some good news today when it was announced that quarterback Kasim Hill is getting an extension on his eligibility waiver and returning to school for the 2023 season.
The ruling gives Hill a seventh season of eligibility. Hill has started for the Rams for the past three seasons, starting in 24 of 25 games.
Hill began his college playing career at Maryland in 2017, starting two of the three games he played in before suffering a season-ending injury. In 2018, he started 10 games for the Terps, throwing for 1,083 yards and nine touchdowns. Hill transferred to Tennessee, where he was on the scout team in 2019.
In 2020 he transferred to URI but the Covid pandemic pushed that season to the spring. Hill started three games that season leading the Rams to a 2-1 record. The season was canceled after that due to the pandemic but all student athletes received an extra of eligibility.
Hill has gone 15-9 as a starter at URI. He is third in Rhode Island history in both passing yards (5,156) and touchdown passes (39). He is fourth in total offense (5,733 yards), fifth in completions (363), eighth in completion percentage (.542) and ninth in rushing touchdowns (15). Hill is one of two players in URI history to be ranked in the top five in career touchdown passes and touchdown runs.
The Rams graduate two of Hill's top targets, wide receiver Ed Lee and tight end Caleb Warren. Despite that, there is plenty of talent returning on the roster and with Hill back, the Rams should be in the hunt in the CAA once again.
URI opens the season at Georgia State on August 31st. Stay tuned for more on Hill's return when we visit the Rams this spring.