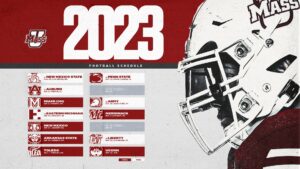 Image courtesy of @UMassFootball
Everyone loves schedule day.
Whether it's the NFL or college, any time you get that slate of games there are few things more fun than going through it and circling the wins and losses in what is a way-too-early tradition for everyone.
On Thursday afternoon, the crazy fans from the Zoo got to have their day as the Minutemen released the 2023 schedule. Here's a quick look and initial thought on each game:
WEEK 0 – @ New Mexico State (8/26)
The Minutemen lost to NMS by 10 in late October this past year, chance at redemption right out of the gate on the road.
WEEK 1 – @ Auburn (9/2)
Keeping this one within 10 is probably best case scenario and not losing by 35 is basically a win. Minutemen might be more competitive with this tier of teams this year, but hard to envision any scenario where they steal a win here.
WEEK 2 – vs. Miami of Ohio (9/9)
Home opener which means McGuirk should be rowdy. Technically winnable game and an early chance to make a statement to the supporters as well as the doubters.
WEEK 3 – @ Eastern Michigan (9/16)
UMass lost by just seven when they went on the road to EM last season. So, a return trip should provide a little bit more of a comfortability factor which could lead to a win.
WEEK 4 – vs. New Mexico (9/23)
Start of a big three game stretch where the Minutemen don't have to travel at all. Need to kick off that stretch with a win in this one.
WEEK 5 – vs. Arkansas State (9/30)
Same thing applies here. UMass lost a 35-33 shootout on the road to Arkansas State a year ago after a failed two-point conversion was the only thing that kept the game from going to overtime. A year better and with a whole new crop of talent, this should be another very winnable game.
WEEK 6 – vs. Toledo (10/7)
Tougher competition here, and obviously it's only February, but I could see UMass going 3-0 in this stretch if the Don Brown effect is really taking shape by this point.
WEEK 7 – @ Penn State (10/14)
See Auburn write up for this one.
WEEK 8 – BYE WEEK
Good time for it, right in the middle of the year basically and the Minutemen get lucky with another one a few weeks later thanks to playing in Week 0.
WEEK 9 – @ Army (10/28)
After Army blew out the Minutemen to end the 2022 season, there's another revenge factor in play here. Won't be easy, but should be MUCH more competitive than the 44-7 blowout in November.
WEEK 10 – vs. Merrimack (11/4)
Aside from the UConn matchup this is my favorite game on the UMass slate. Merrimack is a very tough team and nearly won the NEC conference at the FCS level a year ago. Technically, the Minutemen should win this game, but it might be the best game of the season assuming the Warriors are playing for another conference title and an FCS playoff berth.
WEEK 11 – BYE WEEK
Hard to complain about two of these.
WEEK 12 – @ Liberty (11/18)
Liberty came into UMass and won by 17 a year ago before UConn took them down about a week later. This is one of those games where if UMass has truly made strides in the right direction this year, then they either win it or at the very least keep it close until the end. Hopefully, this one determines whether UMass is playing for a bowl bid in the final week or not.
WEEK 13 – vs. UConn (11/25) (Listed as home/neutral)
Well, well, well. What a way to close the season. Rivalry game at a neutral site (most likely?) under the lights. I'm assuming the game is at Fenway, but no matter where it is, if UMass wants to either put the cherry on top of a good season or salvage another bad one, you win this game. Simple as that.
Again, it's wayyy too early to be doing this, but at first glance it feels like .500 shouldn't be out of the question for UMass. Sure, it's a big leap from a year ago, but with this staff and the talent they've brought in, I think you see a very different team this season.